Lidl Tenerife and why it's different.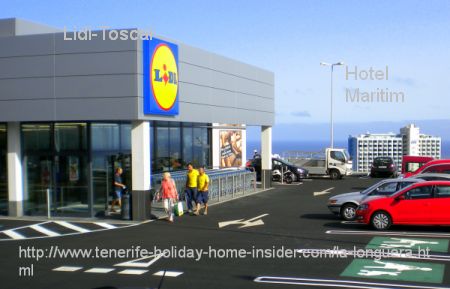 Lidl Tenerife which started its first store in Puerto de la Cruz on February 04, 2010 has a long history that goes back all the way to Germany. There, its first outlet in its modern form was created in Essen in 1971 when the highly successful 26 year old concept of the Aldi brothers was copied.


Guimar stores with two functions
The 27000m2 big collection and distribution store at Guimar near the capital is not only used for delivering within the island. This brain of logistics where Lidl products are sorted and may even be cooled in different ways is an assembly point. Part of its wares are not only dispatched to the rest of the Canary Islands but may even go to foreign outlets all over Europe. However, not much food and drink from Tenerife is competitive enough for that. Yet, exclusivity follows its own rules, such as local cheese from all Canary Islands, honey and wines with a novelty made from bananas, for example.
Guimar mega store address
Plo.Industrial in Valle de Guimar S/N
38509 Guimar
Tel: 922 539395 or 922 539397
What are Lidl Tenerife's commodities?
Food, fresh, canned and frozen which includes produce and dairy products bought locally or sourced within the Euopean community. Everything has proper departments at the Guimar stores. Not to forget are the numerous house brands of Lidl. Then there are simple foods, such dried carbohydrates like beans, peas, lentils, rice, oats and even Gofio, basically what is sold in other Tenerife supermarkets as well. Not amiss are cleaning and grooming products, pet foods, alcoholic and non alcoholic beverages. Bread and pastries are baked fresh in every Tenerife Lidl chain store.
Lidl Tenerife sells all sorts which includes clothes on a irregular basis
Three options of special Lidl promotions
Clothes, electrical and electronic gadgets, and again after some time.
Strictly seasonal products, such as Halloween and Carnival costumes or Christmas decorations
Extraordinary merchandise from specific countries or continents is on offer in all its 10 000 European branches on occasion, This may happen in Tenerife during a so called 'Asian, Mexican, German, Skandiavian or other week'.
Things I found at Lidl which I like
Excellent cheap Polaroid sunglasses
A mordern alarm clock.
My friend Angy often buys things there for the home or for fitness.
In this context she reminds me that Lidl accepts returns within a reasonable period

How Lidl Tenerife has grown

Since 2010, February 04, by the Puerto Cruz store the very first of the chain outlets
by the TF5 freeway, n/s,
opposite La Villa Alcampo Shopping Center
38400 Puerto de la Cruz
Tel: 902 243222 Open: Mon-Fri from 9.00 to 22.00 ( a recently extended time)
Sundays: 9.00-21.00

Also since 2010, February 04, Lidl San Isidro South
at Avda. Democracia
Granadilla de Abona by El Medano
Open: Mon. - Fri. from 9.15-21.15

The shops that followed Puerto Cruz

Upper Realejos Poligano Center, better known by
the general ITV testing grounds where you can't miss seeing Lidl
after passing it at La Corona, La Gañania, Manzana 4
Tel for the public: Not available
38410 Realejos (Los)
Open: 9.15 - 21.15 Mon - Sat. to be confirmed
Note: This shop on a steep hill is only convenient for locals that live nearby,unless you come from the mountains.

More Lidl Tenerife outlets that opened doors in 2010

This happened in different parts of Tenerife, such as Adeje, San Christobal de la Laguna, Santa Cruz de Tenerife Añaza, Las Chafiras and more, details of which find here.

Added in 2014, July 10, Lidl Puerto de Santiago

Where? Avda. Quinto Centenario, 66
Opening hours: 8.00-22.00 Monday to Sunday inclusive
Telephone for customer contact: 922 86 31 27

Note that Mercadona quickly opened an outlet at Playa La Arena about the same time
What does that mean? Obviously, competition is a blessing for the end user.

There was another minor incident in this context. Mercadona Tenerife had augmented the butter price. Lidl opened its first store in Puerto Cruz with much cheaper butter. Quickly, Mercadona lowered its price again to be on par, both at the Martianez as well as at la Vera.

Please note a mistake of address for El Burgado Puerto Cruz. This is very incorrect, as Lidl is around its corner by the traffic circle in Calle Teide. Calle Teide belongs to Los Realejos.

The very special Lidl shop of Toscal Longuera by El Burgado

Definitely the nicest Lidl in the North, as featured above
Why? It seems to get direct sunlight all day long
Well organized shop and laid out like all Lidls.
Longer opening times which start by 7.30 already until as late as 10.p.m.
Conveniently located on 4 different Titsa bus routes from Puerto Cruz to Longuera, Realejos, Icod de los Vinos and La Orotava..
On top of the extremely steep hill above the Maritim Hotel
Butter, meats and its large and varied offer of fresh bakery are as good as Mercadona's, although it can't compete with Mercadona's fresh fish
Lidl Burgado C/Teide is convenient to stop by on the way from Puerto de la Cruz or from the beaches Playa Jardin,

Conclusion,

Although all Lidls are pretty well stocked, I prefer Mercadona in the long run, Mercadona supplies me with a big offer of fresh fish and a few house brands that don't seem to have alternatives at Lidl yet.

Custom Search

From Lidl Tenerife back to shopping in Tenerife




Back up to top?





Back to HomePage of the Tenerife holiday home insider