Monasterio Montaneta makes Tenerife holidays unforgettable.
The Monasterio is a term used by expats of Tenerife insiders. The legendary place is rather called La Montaneta (little mountain) del fraile
of los Realejos by the locals. However, it is a proper attraction of Puerto de la Cruz; it takes only 2 or 3 minutes by car to get to it from the top of Carretera Las Arenas street.
Monasterio Montañeta, as spelled in Spanish, was first a large finca (farmstead), founded centuries ago by a shrewd monk called Antonio the Gomeran.
The Monastery gardens business
However, the the much applauded theme of a monastery was created by an excellent local architect for and on behalf of German business people of Puerto de la Cruz by name of Columbus S.A.
The so called Mesón Monasterio the biggest building by the entrance gave the park its official name.
Tinerfeños love this and everything around it for family holidays or for afternoon trips on week-ends.
Realejos park for children and adult fun
Going to La Montañeta with its small medieval monastery section is today one of interesting attractive Tenerife things to do.
Locals love to take their little kids there. The children adore to run around the gardens with poultry, baby chicken, peacocks, ducks and swans.
Only the ponies, goats and rabbits are fenced in. Look out for one particular rabbit, which is very cute...
The theme park is just above the village La Vera at
3 min. from the biggest Orotava shopping center la Villa Alcampo at 15 minutes by cab (cost about € 4,-) from Puerto de la Cruz. Titsa bus 352 from Puerto Cruz.
Total terrain is 100 000 square meters or 25,71 hectares, much of which is virgin land, hence the ideal nature reserve.
Little ponds with swans or gold fish within the park are very pleasant on a hot summer afternoon.
I love to have typical Tenerife food like conejo (rabbit) and local
red Orotava wine, there. All tastes very good surrounded by unspoiled country air in the semi shaded main patio restaurant of
Monasterio courtyard where Tilandsias which grasp their plant energy from air and sun cling to tall palm trunks.
While spoiled by attentive waiters you will be delighted by the sight of abundant pink bougainvillea, geraniums and ivies. You will discover colorful tiles on walls and typical rural gadgets nearby.
Several restaurants to take your pick
Eating out in this place with 4 large restaurants and several bistros and/or bodegas is a Canary Island treat.
I will introduce you to my favorite Tenerife Montañeta restaurant which is 'gourmet', later on.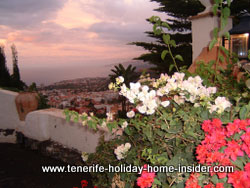 Now, open to the public since 1993 the Los Realejos estate may be enjoyed for great scenic walks with ocean views where a big part of La Orotava valley can be seen. The typical Tenerife details in this oasis are Tenerife culture features worthy of museums.
The amount of cars that you often see in its car park which has space for 200 proves that the Monasterio is not only popular for Tenerife day trips but, also at night.
When I took my daughter there on a mild January winter afternoon she classified it as one of Tenerife attractions made up as theme park on the island which is not to be missed.
You may do a trip to La Vera's Montañeta any time of the year.
Montañeta with popular champagne  breakfasts.
By the way, it's a good spot to meet friends for Sunday champagne brunches as well. His last included restaurant at Meson Monasterio has views to kill for but doesn't serve the typical champagne breakfasts. You get those at the Patio restaurant of the estate.  However,  Restaurante el Mirador is for eating out with best views. 
As I didn't see a booking number, note this one: Tel: 922 344311...
Did you know that the name Meson, which you see often added, stands for its first restaurant by the entrance? Meson means huge house and that's exactly what the Montañeta's number 1 eating place looks like.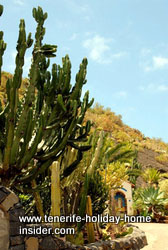 The nature reserve Monasterio park below the mount was turned into a natural park by introducing more plants and trees. The ones which are not indigenous are drought resistant.
What is seen on the mountain slopes has been left to spread by elements and bees..
Never would the monk have believed that this small mountain Montaneta would one day be declared geologically protected area in Tenerife which is documented at the Los Realejos town hall.
This almost free standing estate with its fairly sized mount was not in danger during the 2007 August wildfires, by the way.
With its roundish shape La Montañeta of the monk looks just like an over-sized Pueblo Indian mount in America.
This volcanic elevation is very typical, but not unique on Tenerife Island for its shape. It's a green landmark with a white little chapel on top which one can see from far when traveling on the free way passing below La Orotava or, when approaching from Los Realejos. It is seen from as remote as the Mercedes forests, from La Orotava and, of course, from many areas in Puerto de la Cruz.
Hotel on top of a mountain

The Montaneta of Monasterio is not to be mistaken by the similar looking green elevation in its neighborhood by the Free Way which is crowned by the large red Hotel La Aguillas.
The difference between the 2 mounts is, you can drive up to the stunning Hotel Las Aguilas of Puerto de la Cruz but, not up to the summit of the bigger one.
The height of Montañeta is 370 meters. It's real peculiar that Spain's highest peak Tenerife mount Teide 'where the little mountain is looking up to', is only about 10 times taller with its 3718 meters or 12199feet.
Coming to think of it trips to the Realejos Montañeta are ideal from Tenerife North. They are also easier to plan than excursions to Teide.
Geological history of Montañeta Realejos
It was this mountain of the Monasterio which caused the harbor called Puerto de Orotava to shrink by volcanic deposits, a very long time ago.
How get to Meson El Monasterio Tenerife?
See Mount Montañeta of the monk as landmark in areal Orotava Valley and Realejos photos , which show how close it is to Puerto de la Cruz.
You can also consult do it yourself maps Tenerife. Look for Carretera 333 to Zamora which take from the town center of the old La Vera country road in la Vera Realejos. Go straight up the hill. Take the turnoff sharp to the right after reading Colegio. The latter is a huge, grey building overlooking the TF5. This college resembles a university. There, Christian theology is taught.
Most convenient excursion place from La Longuera
By the way, it's only 10 minutes by car and even in walking distance from our best Panorama apartment nearby. In that case you take C/ Castillo from La Longuera and turn left into the old Carretera La Vera. You get to La Vera village after a short drive straight on. There, look out for the Monastery sign on your right.
For more photos and fun please, see a review of
Tenerife walking with two Swedish girls' at and, from the never forgotten monk's place into Puerto de la Cruz.
From Monasterio back to Tenerife attractions.
The only extra information about this place that I could find is in Spanish and regards data about the Montañeta the Hill of the Monk of Realejos
Back to HomePage of the Tenerife holiday home insider