Why book the Seminar Hotel Semiramis in Tenerife North?
Reserve rooms at the Seminar Hotel Semiramis in elite La Paz Puerto de la Cruz for a medical convention, for example.
Mind that a single person may feel lost in this big 4 star place which lacks a homely feel.
The panorama you get of the Martianez beach front from this town hotel on a slope above the sea is absolutely great. That's the case with or without a magic sundown.
Indeed, that's when the whole cityscape of Puerto de la Cruz is turned into a pink fairyland at dusk.
A great location with a rental car
It must be borne in mind that this hotel is in the suburb of La Paz which is best for getting around with a car or by bus. It would be convenient if there were steps from the hotel straight down to the Martianez beach.
However, the Calzada de Cabras is the only pedestrian way besides the main road. Both require much climbing on the way up from downtown Puerto Cruz. Not fantastic for little old people or those with bad knees...
Beach fun
Below the hotel, spot skilled surfers on the Martianez surf beach.
There, also discover the sparkling lakes of the lush oasis of the Lago or Martianez lido.
What is the Semiramis Hotel resort like?
This big Seminar Puerto Cruz hotel which can host a convention of 900 members is a modern tourist establishment with all usual amenities, such as airconditioned accommodation. It has 287 practically furnished bedrooms. Its exterior which most prefer even for meals is enhanced by 2 swimming pools. There, many green tropical plants give privacy by contemporary garden furniture, such as settees made of cane or leisure couches with sunroofs.
Hotel Semiramis extras
The Semiramis has a playground and pool for kids. Cooking demonstrations complement its restaurant and bar service. This Tenerife North seminar hotel has an exclusive nudist corner on its rooftop veranda.
Seminar hotel spa and Wifi
Its Thai wellness spa treatments include Aloe Vera, hot stone and chocolate massages, Reiki and more. Look out for promotions for as little as €20 per session...
Internet is to be used in all reception areas.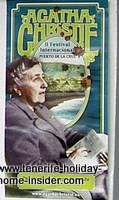 Laid back vicinity
The close neighborhood of Hotel Semiramis reveals one of Agatha Christie's favorite walkways by today's Bougainvillea enhanced property walls. This quiet one way road leads straight down to another ocean view. There, Dragos, Bananas, Strelitzias and Palms frame luxury Tenerife villas.
Watch many paragliders there nowadays, on occasion. They fly so low that they almost knock the hotel's walls and touch down where Mrs.Christie loved relaxing so much.
There was talk about opening up again the access to an ancient saltwater swimming pool on an elevated deck in the Atlantic. This was once connected with the area of the Semiramis. In case, it hasn't materialized yet, not to worry, the hotel has enough good facilies to enjoy water and sun.
Hotel surroundings and shops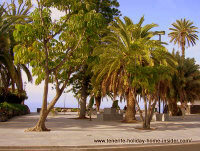 At the end of the road of the Semiramis hotel is the access to the banana trail towards Playa Bollullo. It's a scenic somewhat adventurous track.
Contrary to that, take a leisure walk of about 20 minutes to the mall of the Martianez shopping center down the steps of the Calzada Martianez. Mind, the luxury Spar supermarket renamed Sumo is only 3-4 minutes from the Semiramis Hotel after crossing the beautiful La Paz Look-out depicted beside.
An elite suburb which has it all
Find a medical center, pharmacy, many interesting shops, mini golf, boutiques as well as bars and restaurants of all sorts 3 to 4 minutes from the Seminar hotel Hotel Semiramis. There also, visit one of most beautiful show gardens, called Jardín Botánico which dates back to the 17th of August 1788.
By the way, the intriguing suburb La Paz with its elegant village flair was born out of high demand after an international get together due to an astronomy inauguration on the island of La Palma in 1985.
Distances from Hotel Semiramis
To downtown Puerto Cruz: 7 minutes drive
To La Paz: 3 minutes walk
To TFN north airport Los Rodeos: appr. 25km
To TFS Reina Sofia south airport: appr. 100km
To capital Santa Cruz: appr. 30 km
To Alcampo La Orotava: 5 min drive
To La Orotava: 10 min drive
Real club de Golf Tacoronte: appr. 20km
Buenavista Golf: 40 minutes
Alternative 5 star conference
hotel with oriental Spa at 7 minutes walk from the Semiramis
From Seminar Hotel back to hotels in Puerto de la Cruz Tenerife for all budgets
Please mind that the comment box below is meant to help others. In case you have a question or want to tell me something, kindly use this contact form.

Back to HomePage of the Tenerife holiday home insider