An aerobics photo that speaks for itself.
This lovely aerobics photo was taken by the end of May in 2011.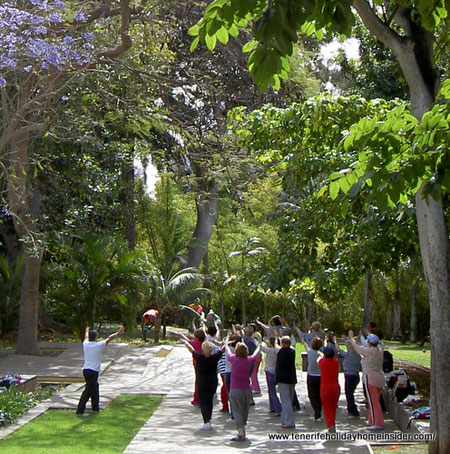 Admire the gentle aerobic exercises by elderly people, as shown by this picture. There, body movements are in full swing in unpolluted surroundings at the subtropical Park Parque Garcia Sanabria, every morning. It's nice to work out there, as the air is never stuffy.
Aerobics photography with healthy environment?
How come there is no pollution?
The reason for the healthy air is the size of Tenerife Island with 2.040sqkm, its geographical location by the Golf stream and the prime Meridian which is precisely the Island El Hierro. Not to forget are the magic Elysian winds.
Ideal Tenerife eternal spring climate for aerobics
Such weather is best for sports, no doubt about it.
The aerobics photo shows women and few men who are all more or less lightly dressed but protected to keep muscles warm. Legs are covered and sleeves are long. The early morning temperature was most
probably around 18 degrees, when a light jacket serves as a standby. Mind that the average Tenerife temperature is 24 degrees for summer and winter.
You'd think that there are no seasons in this Tenerife botanical oasis, until you see some spring buds or flowers of April and May which belong to deciduous plants, such as the Jacaranda tree. This is also your best time to get back into shape, to rejuvenate with easy sports, to make the best of retirement and to simply feel good by improving blood circulation. By the way, this aerobics photo doesn't give full credit to this mostly subtropical flower paradise.
This huge botanical garden called Garcia Sanabria always has plenty of space for aerobic fitness training, or just to stay tuned, as not to get rusty.
Use a jungle gym as aerobics equipment like the young family which we saw at the same park.
Walk in fresh air through semi shaded alleys or on pathways with sandy soil. Bring a friend or an acquaintance. Forget the stress of the town around you. This central Tenerife park with its 67000m2 (723.70sqft) makes it even worth while to cruise inside with a bike. Even the Tenerife capital May festivals leave enough space for aerobics in the park... Any exercise outside counts as aerobics, as long as you also work with your lungs.
Do you prefer water aerobics instead?
Warm water helps to heal bones and joints best. Aerobics in such water is top physiotherapy after surgery, you know...
Many hotels and guest houses in Tenerife have spas and offer such help. Many employ coaches for pool or even jacuzzi aerobics. Go there and enroll, even when your holiday home in Tenerife is not in a hotel. Fitness centers provide help and all have equipment or gadgets for aerobic exercises, too.
Alternative elderly sport for parks
Discover
Jeu de boules
photos of Tenerife bocce,
as a bocce game should also be possible in Parque Garcia Sanabria or in other Parks or park-like town centers of the biggest of all Canary Islands.
From aerobics photo back to hotels Tenerife Island where spas and fitness centers are more and more part of standard services.
Discover what makes aerobics so healthy
here
Please mind that the comment box below is meant to help others. In case you have a question or want to tell me something, kindly use this contact form.

Back to HomePage of the Tenerife holiday home insider
This site is protected by Copyscape

Back up to top?