Cervezeria 7 islas is tops for bars in Tenerife La Laguna for student holidays and most exotic beer brands.
Bars in Tenerife la Laguna are as many as may drench the thirst of more than 30 000 students in this ancient university town of world heritage.
Cervezeria 7 Islas is one of its best.
A young German cook who loves drinking beer took my son and me there for the first time in 2001.
Later, I rediscovered this insider pub after finding it again without problems. Indeed, it stands out.
Why?
There is something rather Irish about it.
This happened during an outing to San Christóbal de la Laguna. We went there to see its Christmas lights which take you back in time for romantic holidays for everybody.
Avoid parking fines!
Leave your vehicle close to the
Cervezeria
of 7 isles in front of a large apartment block with green spaces.
Notice a USA Raina Ale beer advertisement on the bar front, on first sight. Also displayed is the image of Heineken beer which is made in Holland, by the way. It's above the pub's glass paneled entrance door.
But there is more to this La Laguna pub.
What's the main feature of this special of student bars in Tenerife?
Cervezeria 7 Islas must be one of top Tenerife taverns with a most amazingly stocked beer fridge.
Click the photo to see some of its neatly arranged beverages enlarged...
You may discover about 40 or more international brands inside from many corners of the world.
I noticed Belgium beers like Stella Artois.
Leffe beer was there as well as the blue
and white sticker of Quilmes from Argentina.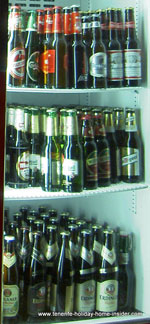 When you click the image of unusual beers, you will glimpse bottles of all kinds of shapes,
colors and stickers.
Read some of their names of exotic beers....
Malt beers, ales, you name them... They are all there, besides Dorada. Mind that this outstanding student hangout of Tenerife pubs is proud of being special.
Cervezeria 7 Islas of top bars in Tenerife
C/ Eraclio Sanches, Edificio Galaxia
next to Pirata Brasileiro
Opening hours: Mondays, Tuesdays and Wednesdays until 12 at
midnight
Thursdays, Fridays, Saturdays until 2.a.m.
Sundays until 11 p.m.
No telephone available
The other photo shows more exotic beers when it's enlarged.
Cervezeria 7 Islas bar La Laguna is one of cheap bars in Tenerife, as students don't have much money.
7 Islas in La Laguna is also one of cozier ones and it looks like some pubs, I have seen in Bournemouth UK which are more Irish than British.
It has low white ceilings with dark wooden beams.
Walls are painted green.
Rustic furniture which is comfortable enough matches well.
All tables, benches and chairs are dark colored, and so is the big triangular bar.
Liquor bottles are stacked up high.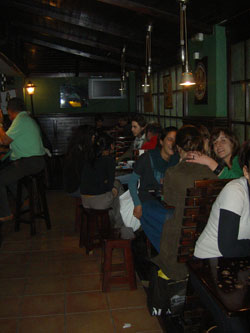 This insider Pub La Laguna is of one of best bars in Tenerife for students with a typical student atmosphere but, everybody is welcome and will feel at ease.
The image shows you many a happy young man and girl sitting at the tables facing the bar. They are all drinking beer. Only one gentleman of more advanced age made himself comfortable on a bar stool.
Occasional rock music is heard, but I don't recollect any from the times I was there..
Don't mind much chit chat in Spanish all around you...
What counts is that conversation at your table is possible without problems of hearing each other.
Food is not really part of Cervezeria (beer inn) 7 Islas.
However, we were served some Tapas on the house by one of the 2 lovely lady bartenders. To sum it up I should repeat that it is astounding that I found 7 Islas pub again after 7 years. This is proof that it's one of few Tenerife bars which left an impression on my mind.
Here, you discover me drinking beer and I am normally not a beer fan.
Some Tapas are left on a plate beside me.
Those with holiday home in Tenerife may mark this astounding pub for a future day trip to San Christóbal de La Laguna which is best reached with a rented car. This is what my companions did when we went to see the student town on Christmas at night.
Find some more information on Tenerife clubs with bars for entertainment Tenerife .
Bars in Tenerife with beer ad on carnival
Discover a rather comical beer advertisement of so called Chicharreros. This is sometimes displayed in Tenerife bars during Carnival. Insiders know that its very funny photo reminds a natural jealousy between Gran Canaria and Tenerife in the context of Tenerife carnival costumes with bar publicity by Dorada beer . The word Chicharrero makes additional fun of the inhabitants of Santa Cruz.
Need a hotel near the student bar 7 Islas?
American friends of mine spoke warmly of a Tenerife Eco hotel of La Laguna which grows its own organic vegetables. No, I am not affiliated with any commission to this establishment.
An alternative to the best of bars in Tenerife for students
Notice a fairly new beer attraction in Tenerife. It's all about the superb German beer Tacoa bock beer brands of the beer hall and beer brewing museum of El Sauzal There, you may drown your thirst while sampling best German cuisine where beer always is one of its ingredients.
If you are a student anywhere in the world and like drinking beer mark Cervezeria 7 Islas as insider tip in your Favorites or in your Social Networking below...
Back to all sorts of bars in Tenerife with Irish dance bar, historic bars, wifi hot spot bar, sports bars, expat bars, Harry's Bar in Arona, dog friendly bar Alberto, gay bar la Barca, tapas bars and many more...
Back up to top?
Please mind that the comment box below is meant to help others. In case you have a question or want to tell me something, kindly use this contact form.

Back to HomePage of the Tenerife holiday home insider
This site is protected by Copyscape