What's the role of Puerto de la Cruz with Tenerife exhibitions?
Puerto de la Cruz with its novelty Tenerife exhibitions remains an art cradle of international scope.
Good Tenerife news on art display
El Puerto Cruz has had several galleries and art centers up to now. However, none did enough for the International community of all ages.
Except art institutions in the Tenerife capital Santa Cruz such as:

T E A the Tenerife Espacio de Artes
or

the Governmental exibition center of La Recova
Those three have most innovative art impact.

Tenerife exhibitions
from 2011 to 2016 by Manufactum in Puerto de la Cruz keep on promising more novelties for the art world.
Indeed, the Manufactum gallery of the oldest Tenerife resort spreads so many good vibes which are needed today. Its exhibitions show so much new, innovate and sensational arts and crafts that it is an absolute highlight during our recent difficult times of Recession since the USA Lehman brothers investment banking collapse in New York.
Big choice of all sorts of tattoo designs

Tattoo designs
Browse the Manufactum's versatile gixart.com tattoo business with many visible archives of
tattoo designs
to find the most exotic ones. They go from Japanese art to the most simple symbolic or tribal images. Their demand grows every day.
Its owner and top Italian designer Guliano Montisci hasn't only studied the history of tattoos. He is one of best Italian painters of the new Millenium. You will also agree when you admire his Japanese Sumi-e creations and all his other art.
Contemporary art Giuliano Montisci
contemporary art
Guliano Montisci paintings with cubism art, surrealism and more, as does César F. Real Real who is depicted in front of such striking work.
Enjoy Juliano's colorful art.
Marvel as well at the black and white as well as colorful fantasy murals by this Sardinian painter who is one of best Italian artists of our time...
Efficient gallery management and marketing lady
Tattoo studio
is one of most inspiring in Europe.
Manufactum gallery
Therefore, the Manufactum Gallery which displays and sells arts and crafts made by hand is here to stay. Friends, fans and members also contribute to this.
Change of Tenerife exhibitions by Manufactum
gallery furniture,
designer ware in the form of office, garden and home appliances, such as lamps, ornaments and exclusive gadgets for villas and apartments.
Manufactum Gallery Tenerife address
Paseo Luis Lavaggi 1a, the town of which
C.P. 38400
see here.
Santa Cruz de Tenerife - Spain
Tel: 922376020
Open Tuesdays - Saturdays from 15-20.30
Hurry, spoil yourself with a late Christmas gift, such as a fantastic lamp from Manufactum for your holiday home in Tenerife. Give it the artistic touch, unless you want that something exclusive for a special friend or business acquaintance. Of course, Manufactum Tenerife exhibitions has jewelry which may fit the latest fashion of Spain.
Exclusive gallery book stand
Italian design,
such as an artistic and practical book stand or display stand, sensual executive desk and more of totally innovative style of
gallery furniture
of his art show rooms...
Again, the last Christmas sale of 2015 by the popular Tenerife exhibitions by Manufactum lasted for several weeks.
2015 and 2014 Manufactum news
The elegant
La Mosca
metal sculpture is just one of several new works by Giuliano Montisci. Several paintings have been added on the gallery walls, some of which are also from new artists in Tenerife. Of course, there are also new tattoo designs by the master. Artistic creativity and evolution at Manufactum never stops.
Tenerife exhibitions' sad Tenerife news
Galeria Calzada de Cabras
There was a delightful permanent art shop exhibition with incredibly cheap art. Perhaps made in China, as commented by an artist friend of mine... It was on offer next to the
Martianez Mall.
Much of it looked like original oil paintings from far.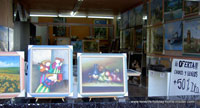 Caleton de Cabras Gallery
This place called
Caleton de Cabras Gallery
Gallery Calzada de Cabras (goats) Martianez or Gallery Calletón is also mentioned at
Puerto de la Cruz culture.
Exquisite jewellery or jewelry was exhibited and sold there, too. A relevant photo represents the humor of its owners. Unfortunately, the Martianez Calzada exhibitions in the gallery shop and the hilarious mural were gone by the end of 2011.
Palmeras Arte San Juan de la Rambla
The same must be said about the Tenerife exhibitions at the still existing restaurant Palmeras Arte. Unfortunately history now. There is nobody at the moment who has the know-how, or time and energy to revive the art Vernissages and exhibits since the owner and famous Catalan cook of Palmeras Arte Restaurant passed away, suddenly.
End of Magda Ribera exhibitions Puerto Cruz
The Magda Rivera Gallery of Puerto de la Cruz has been closed. Her exhibitions at the 4star Hotel Concordia Playa have also stopped after a hotel renovation. She is only exhibiting in Mainland Spain now, to the best of my knowledge.
Tenerife exhibitions Garachico
Garachico
of www.artegarachico.com has closed its doors as reported in the context of
Garachico art and crafts shopping information.
In the past, this shop gallery also exhibited some of the fine art and collage aquarels by the individualistic artist Anand Rubai who lives by Puerto de la Cruz.
Tenerife museums
Of course, there are some excellent and easy to find, rewarding
top Santa Cruz museums on Tenerife
with special as well as permanent exhibitions. Most are located within a radius of about half an hour's walk or drive, such as the Museum of Science and Cosmos La Laguna in relation to the capital. A few exhibitions are in other towns of the island.
Caja Canarias cultural role
Now, this financial institution is strong in auctions called
subastas,
such as for an expensive jewelry shop in January 2012. Its cultural seat in Tenerife is still at Plaza del Patriotismo, 1 of 38002 Santa Cruz de Tenerife - Sala de exposiciones(exhibition hall). Arteinformado.com listed
Espacio cultural Santa Cruz de Tenerife Caja Canarias
art events in Spanish.
Castillo San Felipe shows Tenerife Puerto Cruz
There are occasional exhibits at the castle San Felipe El Castillo Puerto de la Cruz but, most are not totally free any more, although a Vernissage with included food and drink may be an incentive.
Discover contemporary art at "Space of art" called Espacio de arte TEA Tenerife art shows and workshops
Exhibitions at the Fleming4 Gallery
Kunstgallery Fleming4
Changing exhibitions by contemporary artists
Location: Puerto de la Cruz, Punta Brava, Calle Dr.Fleming,4
tel: 922 371696
Check opening hours of events at www.salaexposicionesfleming4.blogspot.com
Atelier Karinia in La Orotava
Location: Las Candias de Orotava, C/Toscas Alta, 2, Transversal,10
Tel: 922 332 691 by appointment
La Colombe Gallery Puerto Cruz
Changing shows of works of contemporary painters
Contact: Canary Center, 2, La Paz,
Tel/Fax: 922 375082 and web: www.lacolombe.de
Julio Puente art exhibits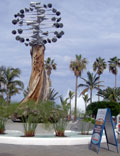 Cesar Manrique street art
The superb portray and caricature painter Julio Puente doesn't hold permanent Tenerife art shows. However, watch his skills on most days when he portrays live models, i.e. tourists or locals in front of Lago Lido Martianez, as previously mentioned by
Tenerife art shopping
by the Tenerife holiday home insider. By the way, the Lido Martianez Tenerife exhibits permanently most stunning art, like the
Cesar Manrique sculpture
which is depicted beside.
From Tenerife exhibitions back to Spain art.
Julio Nieto the contemporary artist
Stay posted about exhibitions by Facebook of sculptures
by Julio Nieto shows
the man from La Orotava whose street art is found in all major Tenerife cities.
Please mind that the comment box below is meant to help others. In case you have a question or want to tell me something, kindly use this contact form.

Back to HomePage of the Tenerife holiday home insider
This site is protected by Copyscape

Where tattoos come from
Back up to top?