Sport and fun with crazy vehicles or even cars the carros locos of Puerto de la Cruz Spain?

crazy vehicles
without motors must be partly driven or pushed about half a km of steep road.
This is the latest Tenerife carnival novelty. Again, masquerade and human effort go hand in hand.
Want to translate into your own language?
It's a hilarious way of moving about besides the so called gay parade the man's marathon 'Ponte tacón' (put on high heels).
You may know 'carros' the trolleys or carts in supermarkets of Spain.
However, the carts of carnival became quite big or even crazy cars for their cumbersome tasks.
This new carnival event is as funny for the onlookers as for the guys who take part in it.
By the way, find a note about the latest event of 2017. It has been moved to Plaza del Charco for both exhibition and the race. Encounter its new dates and times together with the nonsensical challenge of 2015 on the bottom of this page...
Absolutely best of funny vehicles 'carros locos' of carnival 2015.
In my mind, the most bizarre
craziest vehicle
was a a simple cart or call it a tricycle.
It had a straight front wheel and two skewed ones on the side. They only touched the cobblestone road on the inside which was very comical.
Notwithstanding, it's a technical achievement to go forward, while wheels turn in such positions. The two guys that handled it were dressed all in white. That's for top engineer status.
That outfit and the most non technical construction that made fun of the appearance of both men and cart should have earned first prize in the event.
The face of the man who pushed this rolling gimmick was hidden. The guy who sat on some seat without anything around him low above the ground seemed to almost kill himself laughing.
comical vintage car
with the flat bonnet. It's also being pushed up the hill. Make out a child car seat with it. You wonder if the guy who created this transport forgot that he had to fit in it, eventually. The vehicle isn't child proof, though. Hence, another big joke.
Formula 1 vehicles as crazy cars?
crazy cars.
Most were not mad enough to be fit for carnival for my liking.
.
hilarious formula 1 car
can't perform magic. This concoction seems to be heavier than it looks. This was one of the crazy cars while they resembled formula 1 racing vehicles.
Anything goes for crazy vehicles
strange military transport
with the crazy parts got on. It was supposed to take to the air. The sheep in the cockpit of this hell machine without engine was a classic case of ground bound. Clearly, it couldn't do without the help of a strong marine. The latter didn't need to worry; the funny orange thing in the road wasn't a land mine.
Pharahonian chariot
made of cardboard with its carnival crew the Roman emperor Marc Anthony and his Nubian helper. Both are in distress to conquer the hill. Perhaps, desert sand a lion to pull the royal transport would have been more authentic. Yellow garlands on that cart represent Egyptian gold.
A ship may be one of crazy vehicles too
novelty ship
with its female captain.
The vessel's hulk is decorated in carnival style with pastel colored sea animals and marine gadgets.
The officers which were seen on shore were women too, unless they were gay. But most men in Tenerife love to wear women clothes on carnival. There, the well manned boat struggled up the cobblestone hill despite good manpower. They should have left the vessel bottomless to walk it. After all, no rain or flooding was forecast. Otherwise, the guys should have let the lady captain sit, while they did the work. How about that for marine emancipation?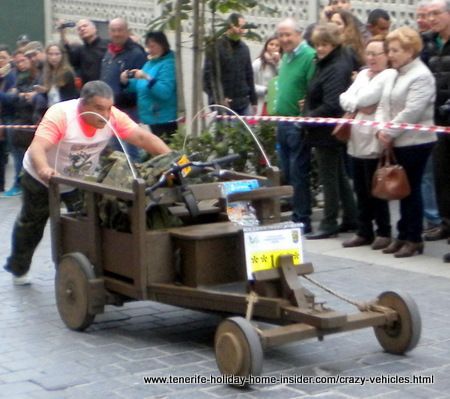 Cabildo carro loco
Actually the Tenerife government sponsored more than one absurd
Cabildo carro loco
cart. No plastic on those, only wood. The new motto is to be ecological.
The same vehicle is used in the forest. Hence, all the tree branches in the cart.. The shut down petrol refinery in Santa Cruz could be used for the manufacturing of timber cars. How about that? Just joking...
Recycling of crazy vehicles made of timber
What when its sponsored cars get wood worms? Then they may be recycled.
How?
They may become firewood. Yippy, here is a Tenerife reborn new energy provider to go with the times.
Leverage for making crazy vehicle transport child play
Rod Stewart vehicle
tour cart. A plaque read Rod Sezywart in front. There was a Rod Stewart concert poster on the side.
This cart was a tricycle driven Rickshaw or Trishow alternative.
Leverage would have been adequate. In fact a 6 year old can lift a Fiat with such means. A cart pole could have folded up to be more roadworthy.
The devoted fans of the rock star could have graciously walked him. Just kidding...
Vintage tricycle of 2017 carnival
Shown above are without doubt crazy bicycles and cyclists.  The weird  vehicle designs of colors in pink, red, blue and yellow mark them as typical carnival creations. 

Vintage bicycles and Classic tricycle of Puerto Cruz Carnival.
A classic tricycle from way back is seen up front. A vintage bicycle of  century XX follows close behind. The one in the photo beside could be a Penny Farthing, except for the spikes that belong to a later era.  Now in XXI, these vintage bicycles, one of which with a huge front and a tiny back wheel,  indeed strike us as crazy vehicles.

The nonsensical mad vehicle exhibition and its challenge includes News of 2017
Location: Puerto de la Cruz, Tenerife, Spain
on and from Plaza de Reyes Católicos by Lago Martianez which has been changed to Plaza del Charco and Calle Cologan in 2017
Time and date: February 16, 2015 exhibition at 11 a.m. and challenge at 17 p.m. changed to Feb 27, 2017 at 11.a.m. and respective race at 19.00 at night.
Admission: Free but minors need written authorizations of parents.
Vehicle types permitted: Any reasonable sizes, shapes and materials but no engines and batteries.
Must haves: Steering, wheels, brakes and human pilots
Crazy vehicles components
Tenerife carnival news
to bring us the
latest technological progress by invented novelty crazy car spare parts, such as the straight forward steering wheel with recycled battery watch in its center.
In fact, the way those vehicles were constructed and the parts which were often made for them fall under the most outrageous categories. Some are very simplistic or rather symbolic like dashboard precision instruments that are mere paper cuttings. As said, there is that old pink wrist watch which was so conveniently glued onto the steering wheel. Impossible to miss when you had one carnival beer too many. Other parts look archaic or very makeshift. You see big bolts or rubber foam in most unusual places of the carts alias carros locos.
From crazy vehicles back to Tenerife carnival news.
Read up more about carts.
Back up to top?
Please mind that the comment box below is meant to help others. In case you have a question or want to tell me something, kindly use this contact form.

Back to HomePage of the Tenerife holiday home insider