A good plan was needed to find residential property
in Tenerife. We only had two weeks of holiday.
Richard said:  "Let's all get some residential property in Tenerife,   in this paradise island!

Flowers like
multi colored bougainvillea
are almost everywhere"...
Ha! He had this funny way of talking. We knew that commercial real estate didn't apply.
"Come on", he concluded, 'we shall have great winter holidays on the island'. After all, the island's winter climate is unbeatable. .
'You've seen how ugly and gray the river is during a dreadfully long winter, when you look out of my Duesseldorf windows.
Sometimes, no sun for 3 months!'...
'Depressing!',
added Sonia his wife.
My husband, J.Peter, and I had no problem with ice, frost bites, and sad moods. However, we were looking forward to eternal spring.
Where we lived in Africa, sauna type humidity and heat almost killed us from December to February.
Click 'About me' on your left in the navigation bar to find out what happened later.
A holiday home Tenerife as island recluse
In those days of 1997, our friends and us had so much to talk about, besides the residential property in Tenerife project.
They wanted to live in Tenerife on retirement , while we didn't intend to retire totally.
How find the Tenerife properties, we wanted, fast?
Real estate agents were very busy in this era, before the Euro was introduced. Demand for Tenerife property was very high.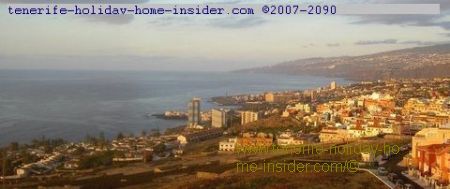 La Orotava valley
with its Puerto de la Cruz view from a friend's balcony kept us excited, while we extended our searches to the outskirts later.

What you see in the picture beside is only a small coastal part of the area of Puerto de la Cruz stretching along La Orotava Bay with all sorts of romantic beaches.
Hard to take real estate decisions
On our first evening out we discovered much property for sale, already. We saw many Tenerife apartments, mainly.
How come? We could see them displayed in all windows of real estate agencies in the town's hub.
In case that you were interested in tracing residential property in Tenerife with your own or, your rented car here is some great help:
To assist you in finding routes and addresses in the biggest of all Canary Islands please, go to viamichelin.co.uk. or get a Gamin navigator for your car. It can be real hard to find your way around in Tenerife. Not even road names are indicated well, at times. You may lose precious time finding them except for some which you will find in maps of Tenerife.
A good plan to buy property
We had worked out a good plan to buy Tenerife property, in order to find it quickly with a deadline.
Did we stick to all the points of the plan to find residential property in Tenerife?
We did, except for the real estate solicitor. 'Not necessary'..., my husband said... We didn't need one, in fact. We had a very good real estate agent who took care of everything for us and we never worried about property fraud in Tenerife and Spain.
By the way, even, in those days, interesting, cheap flights to Tenerife from Europe were available.
Spanish ID to purchase real estate.
We applied straight away for the required NIE document which is
a Spanish ID
You can't buy property in Tenerife without the NIE.
Today, I am still surprised that we got it in time within two weeks.
In fact, Puerto de la Cruz handles the N.I:E. much faster than many other locations in Tenerife and Spain. Still today...
Tenerife North
hub of the
town of our booking,
of
our Tenerife holiday of Spain,
displayed property for sale, virtually, on every street corner.
Many agentes de Inmobiliarias which means real estate agents or, agencies in English offered land, villas called chalets by the locals, apartments and studios. Tenerife real estate agents in Puerto de la Cruz still had their doors open, just before 9 at night, when we strolled through the streets.
But, mind that they are still taking siestas...Usually between 1pm and 5pm...That meant lovely vacation time for us, while we encountered enough of Tenerife's entertainment at night.
dressed like a tourist
, in the Puerto de la cruz hub on
Plaza del Charco
. Sorry, I've still got to find the right photo with my husband. Why have I talked about all this appearance before? Look, it simply was amazing how much the agents helped us! Did they take us for prospective buyers? Mind, on the double...
We got our first appointments to see Tenerife residential property, the morning after.
The first potential holiday home Tenerife belonged to a British banker. Our friends set their eyes on that home. But..., no deal to get the luxury villa after a few days of cautious haggling... Call it a budget problem or shortage of cash. Our friends were not interested in Tenerife mortgages to finance property.
Dreaming of residential property in Tenerife
My husband and I saw many an apartment as well as Tenerife studio apartments. A whole week was quite packed with real estate inspections. I
almost continued looking for Tenerife real estate in my sleep
.
You might wonder about our experiences with viewing Puerto de la Cruz apartments.
What were they like?
We were wondering why there were not many luxury apartments around and, didn't know why North Tenerife penthouses were in short supply, contrary to 'azoteas'.
Then, my husband fell in love with a potato finca which was a small farm and which was not on our agenda.
How did this happen?
Curiosity set the ball rolling.
So off we went to have a look at a Tenerife potato finca .
Oh, and we also admired vineyards from outside.
A vineyard might have made a lovely residential property in Tenerife for our friends but, none were for sale.
We really got around during our interesting Tenerife holiday.
We were not after land nor into off-plan property. Residential property scaled down our search.
Only one more week to go, to find our holiday homes and to buy!
What did we find?
Not what we had planned for... Nope... You know, life can be full of surprises...
Real estate in Tenerife surprises...
A charming old house of La Orotava hidden treasures at 20 minutes from Puerto de la Cruz. It all came very unexpected for our friends. Discover our adventurous Orotava townhouse inspection.
A penthouse with incredible views
J.P. and I had an incredible stroke of luck to find residential property in Tenerife which suited both of us. Discover some photos of the penthouse holiday home Tenerife which we bought
here.
.
So much to our tracing of interesting residential property in Tenerife which we found utterly exciting, last not least.
Need a comfortable place for more than rest after searching for residential property in Tenerife?
Buy direct from owner in Los Gigantes of the giant cliffs

Needless to say is that we acquired our first Spanish phrases during our property hunt. Mind being with bilingual friends also helps best to learn Spanish.
Other related property Know-how
Return from Residential property in Tenerife to real estate in Tenerife which inclues an important glossary with up to 15 helpful property links of topics on buying, selling, renting, investing, problems, statistics and much more.
Mr.and Mrs.Plambeck help with protection of residential property in Tenerife ownership. A qualified person in their team can advise on unusual tax matters as well. Your property will be in best hands while not on the island.
If need be, in extreme cases, they will advise you to consult a lawyer.
Tel. + 34 922385153 Fax + 34 922385190
Edificio Colon (suburb La Paz)(opposite the SUMA Spar supermarket)
38400 Puerto de la Cruz.
Custom Search
From residential property in Tenerife back to HomePage Tenerife holiday home insider
Looking for Tenerife car hire?
Click the following
Click here
for general Tenerife car rental information.
Plus an alternative car hire option.
Up to Top?
Back to HomePage of the Tenerife holiday home insider