The secrets of a holiday home Tenerife penthouse

Indeed, this holiday home Tenerife was found during a vacation after less than a ten minute drive from Puerto de la Cruz. It was in the lower located suburb of Los Realejos the popular La Longuera Toscal.

Longuera Toscal
Toscal La Longuera or  Longuera Toscal is a Spanish suburb named after its main street the  long mile road with countless business.  It has the most amazing open area for all sorts of shopping and services. There, not even a vet who does house visits is amiss. 

The apartment which we found was a penthouse which is called Ático in Spanish.
More about this penthouse holiday home Tenerife with views.
Total square meters: 106m2
Apartment size only : About 45 meters square
Balcony size : appr. 61 square meters
1 bedroom with quality built-in cupboards
1 bathroom with sitting bath and shower
Separate built-in furnished kitchen with appliances
Lounge with views by large doors onto its balcony
Rumpus room/laundry room
No elevator to 3rd floor
Low community charges of €35 monthly which include building insurance
10 minutes to La Orotava Al Campo Shopping center
15 minutes to the Teide mountain road and its Cañadas
10 minutes to
Puerto Cruz
and its amazing beach landscapes of Playa Jardin, surf beach Playa Martianez, San Telmo town beach for snorkeling 
as well as
Loro Park entertainment thrills
10 minutes to Playa El Socorro and nature reserve hiking path of Barranco Ruiz
35-45 minutes from Playa
Las Teresitas beach
and or
Santa Cruz capital of Tenerife
28 km to airport Tenerife North
100 km from the Tenerife South airport
which is the bigger of two
airports of Tenerife
5 minutes to freeway TF5
At least 4 routes to drive to the south of the island
This potential holiday home Tenerife is bathed in a lovely, soft light, as sun doesn't enter directly. Two large windows let us see much of a very big balcony outside.
The holiday home Tenerife penthouse apartment fetched a buying offer of €125000 late in 2009 despite the recession. Those days are gone.

This price has never been negotiated by its owners the Tenerife holiday home insider. Why?  They don't want to sell.
Perhaps, you are surprised, why it is not that cheap... Well, nobody disputes the cost of this home, as the apartment is truly unique. Looking, almost, all around from the veranda, discover La Orotava Bay, rooftops of Los Realejos Bajo, Puerto de la Cruz and part of la Orotava Valley... Discover a photo of La Longuera as well as areal Realejos photos with surroundings...
Never miss la Orotava, which is only 15 minutes by car from this holiday home Tenerife. It's the best Tenerife town to discover Spain Christmas traditions as shown here.

Not to forget are the main bedroom, bathroom and fitted kitchen. All are looking out onto a patio, while an indoor yard gives good light.
Peace and privacy is guarantied in this part, as well.
15 minutes to the Mount Teide Cordilera
Go back to the veranda and direct your gaze from the so called Orotava Rincón to Punta del Sol as well as to the green forests behind the Monasterio Montaneta park...
From there it's very close to the main 'Cordilera' road to get you to the Teide Canadas. The most upper part of this highest peak of Spain may be discovered from a bedroom. You also see Teide from one side of this rooftop apartment balcony.

Enjoy sun-ups over the Orotava valley and bay right by the  penthouse entrance. Sometimes, fantastic La Palma sundowns are glimpsed from the same spot.

You can't help but looking outside over the balcony when you enter the penthouse. The breath taking views usually break all ice with new visitors.

The natural lights and ventilation in this potential holiday home Tenerife are amazing. No claustrophobia there. That's the feeling you want, when inside in your holiday heaven on vacation.
Admire a photo of the apartment's perfect corner computer desk from the only Ikea of Tenerife together with a few other handy Ikea products.
Built in wardrobes are so practical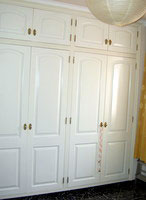 The spacious bedroom is of course a great plus of the property dubbed Holiday home Tenerife. It has a solid wooden 2,20m wide built-in wardrobe. Its compartments are nicely and neatly laid out. Its built-in wardrobe design was done by an excellent carpenter, indeed.
Admiration of this practical wardrobe inspired something similar at a Longuera apartment in Tenerife with pool in Los Realejos.

Balcony plant Whitefly control
Ornamental plants on balconies have often been infested in Tenerife North by the Aleuridicus dispersus Russel since 1965, contrary to the bug Leacanoideus floccissimus in the South. The holiday home Tenerife wasn't spared either. Why?  Plants that were not indigenous were placed on its terrace.

The white plant pest hides mainly underneath leaves,in buds, on stems, in tree tops and in soil.

Whitefly organic eradication tests are done by the government ICIA with little success in all plant sectors, as many farmers use insecticides, while the latter is not recommended for balcony Whitefly control. Cut back infested plants, change the soil and give them a good showering often. Apply a bio product against plant pests.
 

Three bus lines and motorway TF5 close by
Also, this holiday home in Tenerife is conveniently close to four public bus stops. All connect with the oldest Tenerife resort Puerto Cruz, as well as Icod de los Vinos and la Orotava which includes mountain villages. You have two options to get to the South like Playa de las Americas from Icod de los Vinos. 

Kindly understand that showing the entire apartment is off limits for privacy reasons, unless for sale.
Apartments of Tenerife for long term rental, some of which are available as a holiday home in Tenerife for shorter lets.
From holiday home Tenerife back to Residential property in Tenerife.
Difference between penthouses in Tenerife North and  Azoteas or roof gardens.
Ideas for penthouses with permanent holiday home appeal.
Please mind that the comment box below is meant to help others. In case you have a question or want to tell me something, kindly use this contact form.

Back to HomePage of the Tenerife holiday home insider
This site is protected by Copyscape