Ikea Tenerife is ideal for the holiday home in Tenerife.
In fact, Ikea Tenerife merits whole day trips.
It's like an adventure strolling through its colorful lanes.
I know lots of people with holiday homes that go there on a regular basis just for browsing, because there is always something exciting and new to see.
Look at my space saving Ikea Tenerife office corner. Admire the practical, wooden office desk...This Ikea corner desk is a self assemble computer desk, as you can see.
It has stood the test of times for 11 years now after I bought it in 2001 and we are now in 2012.
The little round wooden fold-up table comes very handy beside it. It's light and can be used anywhere and for anything in a home. Contrary to the fancy computer table, this round furniture was very cheap. The square stool next to it cost next to nothing and is one of handy Tenerife Ikea products.
Discover the bendable light fitting on the left. This is the only Ikea article that needed some repairs after 8 years. Where would you get guaranty for light fittings for 8 years?  The computer gadgets that you see here are not by Ikea.
Ikea Tenerife for electrical appliances

Locate this tall, modern floor lamp by Ikea which is normally not next to my PC. The indirect light of this, straight, slender Ikea lamp shines towards the ceiling, which has many advantages.

Tenerife Ikea for bargain hunting and sales

Ikea of Tenerife Island is also a place to bargain hunt for small cheap home accessories, in particular. This could be a little ornament which represents a small pot plant with artificial chives, you could put on your kitchen sill. It may be a cheap poster, which comes with a frame, it may be an innovative light fitting. Go browse, the surprises are yours to discover... Sales are in midsummer.

The correct Ikea Tenerife address is:
IKEA
Calle Aceviño number 9
Parque Comercial La Laguna
La Laguna 35205, Tenerife
Tel: + 34 922 20 89 60
Fax: + 34 922 20 89 80

Ikea's store is open from 10 a.m. to 22 p.m.
and it's closed on Sundays, which could change any time in 2012 due to recession.

By bus you would take Titsa 102 or, better, your own or, rented car.


Getting to Ikea of Tenerife
Ikea Tenerife is on TF5 Freeway at km7,5 exit between Santa Cruz and La Laguna, almost, opposite the big Santa Cruz Hospital on the other side of the Autopista del Norte. You take the exit Las Chumberas when you come by the TF 5 from Tenerife North.

The Commercial Center looks like a village on its own with many super stores.
Ikea Tenerife lets you quickly hop over to the big Decathlon Sports stores or to the Alcampo Supermarket in the other direction. Both stores are only a few steps away. Many boutiques and all sorts of other shops are there, too.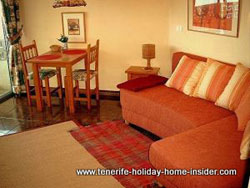 Order your catalogue
here
by clicking "todo el mundo" on their next page.
Ikea was suggested to us for adding on furniture to our partly furnished holiday home in Tenerife in 1997.
Why Ikea?
See this apartment at border Longuera and Romantica I. This apartment by Puerto de la Cruz which reach within 5 minutes by car has Ikea ornaments.
Ikea's flair is said to please all tourists on holidays on mount Teide Island.
What else did I buy at Ikea Tenerife?
I bought several ornaments from Ikea besides the things shown above, such as candle holders, place mats, baskets of different kinds, stylish desk plates and even spot lights which I never used and traded with a friend. To be honest, I would need to go to our studio as well to remember all things purchased from Ikea. There is no point to give prices, because it's too long ago. But, I have been happy with all those things right up to now.
What you might not know about Ikea.
Only one Ikea in Tenerife and that's the one by Santa Cruz
Special sales in summer
Exchange or returns are possible within 2 weeks
Your kids are looked after while shopping.

Professionals help you with your kitchen made to measure.
Ikea restaurant/cafeteria is good and for every budget.
Not only furniture is sold
Electrical and electronic appliances are also sold now, such as fridges, freezers, hobs, oven and mircrowaves.
Ample outside parking, but underground only at the nearby Alcampo which is more dog friendly by the way
Ikea special screw drivers that need to be kept in a safe place for eventual further use
Ikea online orders
Why Ikea Tenerife mounting and delivery services are recommended
It happened that I had parts for a large wardrobe delivered by Ikea. We discovered a badly damaged door when a friend started to install the furniture for me.
Perhaps, there wouldn't have been any problem to have the part replaced without hassles by Ikea, had they mounted it. Anyway, I was lucky that a friend obliged and had it exchanged.
On the other hand, they actually rarely deliver and mount stuff on the same day.
We had kitchen furniture brought to us on a Thursday. The two different men who mounted it only came on a Tuesday, while Ikea had made us believe that they may do the job earlier. The nice part about it is that Ikea calls a day before, eventually. The guys who do the assembling tell you an hour before they come.
Ikea Tenerife deliveries to the North versus transport to the south
Transport to the South is free, while Chayofa by Arona is the magic location. It's not sure for how long this will be so. The guys who mounted our kitchen cupboards were not happy to have to get up in the whee hours of the morning for Tenerife South deliveries. They were not happy with the pay for such hardship. Blame too many unemployed who need work.
Deliveries to the north are rather expensive right now. There may be several reasons for this.
When to employ Ikea expert help?
The Ikea Tenerife one stop shop is the perfect place to furnish an empty home. Experts will come to your place when you don't take measurements yourself. This is often best, as they are also looking out for hidden problems, such as electricity cables, water pipes and more. You need no interior decorator skills whatsoever. Ikea displays furniture and everything which could complement it together in perfect harmony. All you need is picking the theme, you like.
I hope that my personal photos will help you to find wooden Tenerife office furniture to work at home... Not all of us want computer desks of metal or chrome.
Now, you know how and where I work from home thanks to Ikea.
Please, return from Ikea Tenerife to shopping in Tenerife, in general.
Up to Top?
Please mind that the comment box below is meant to help others. In case you have a question or want to tell me something, kindly use this contact form.

Back to HomePage of the Tenerife holiday home insider
This site is protected by Copyscape