Hotels Tenerife ideal for family holidays

Hotels Tenerife may amount to 400 by 2014, as some come and others go. The offer is big for an island of a mere size of 785 square miles only and, competition is tough.
So what are the tips to parents with kids for hotels of Tenerife?
A good Location is the main key.
Why is it a priority, always ?
Hotels and above all family accommodation for holidays must be in top spots with a car park or public transport nearby.
The more variety for things to do the better, as family beach vacations for every day would get boring.
Many prefer staying in a hub but, adults may object to ringing church bells; perhaps an issue with some of the small charming Tenerife Hotels, such as Hotel Monopol of Puerto Cruz or Hotel Quinta Roja of Garachico...

Contrary to the above, the modern beach hotel Hotel Turquesa which find listed under Puerto de la Cruz hotels further down on this page is outside the town hub. The Turquesa also allows for self catering by separate apartments besides regular hotel rooms, while its pool and children jungle gym are for all to be used.
Hotel El Parador the only hotel by Mount Teide may be interesting with our youngest off-springs. The cable cars nearby and snowmen in winter may be great fun, while to travel with toddlers by car on the mountain road is a joy ride.
Hotels next to a yacht harbor promise water thrills for kids, such as by the historic Garachico Designer Hotel San Roque
or

the venerable, romantic Hotel Quinta Roja of Garachico. There, Tenerife kids who play in front of it by moonshine on the main town square are not uncommon. The Spanish life style, you know..

Hotels Tenerife for family beach vacations

By the way, it's convenient when soft sand beaches are not far from your hotel, Playing by smooth seashores allows toddlers to tumble about without getting hurt.



Antique hotels Tenerife North with nooks and crannies

Imagine a toddler playing hide and seek in one of the Puerto Cruz enchanting, antique hotels. There, it's exciting for the child to disappear from the lobby in a surrounding arcade of reception rooms..

It's great to race through them like that, just once.

Why?

They all have their own opening towards the hotel's central hall. My cheeky toddler grand child did that and he had so much fun.

Hotels Tenerife in the North for much to do nearby

  7 main attractions for Tenerife North hotels




The Cesar Manrique lakes of Puerto Cruz, as seen by a toddler at Lago Martianez. 
Loro Park Puerto Cruz with many animal shows for vacations with toddlers.
El Monasterio animal farm excursion park of Realejos with several ponds and great toddler fountain fun, as depicted below.
The Agua Mansa Orotava forest park pick-nick spots are tops under huge pine trees
Many of secluded and romantic beaches of Tenerife, such as the surf beaches Playa Martianez and Playa del Socorro.
The beautiful Puerto Cruz garden beach Playa Jardin with its little rivers by the waterfall and its jungle gym playground for young children
The Puerto de la Cruz funfair during major holiday seasons is an additional, occasional option.

Hot tip: Take a taxi to the beach and leave the pram at home, as it's awkward to push it in sand by the seashore.
Hotels of Tenerife in the capital
Town hotels Santa Cruz near activities, above all for kids during carnival or kiddy events at the E.T.A.Exhibition Center. There also are the children workshops of the Museum of Man and Nature, fun at Plaza de España or at Las Teresitas beach.
South and West Coast Hotels Tenerife with playgrounds, games rooms, kiddy pools and child entertainment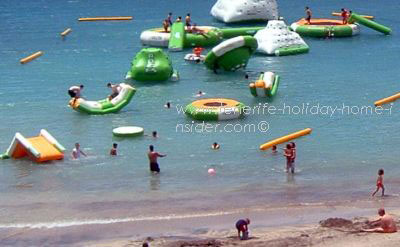 Portrayed above are Tenerife beach water toys in the ocean at Playa Colon which is near the hotels of Los Christianos, Adeje and Playa de las Las Americas.
Hotels Tenerife in El Medano
In el Medano, the only island hotel on stilts which is supposed to be torn down by government for being too close to the sea is the Tenerife beach hotel Hotel El Medano. It has rooms that are big enough to accommodate kids and has a seaside that they love.
Step out onto the beach from Hotel Playa Sur in el Medano which provides surf classes for kids, but not for beginners.
The airport hotel Tenerife which is closest to the South airport Reina Sofia has a reasonably safe roof top "Azotea" for toddlers, while a pool is on a higher level.
Prize giving to hotels on the biggest Canary Island
Hotel awards on Tenerife come and go, such as for the highly popular Gran Melia Palacio de Isora
However, there is nothing like a hotel with a superb cuisine which isn't the only asset of the place, such as at the Abama Golf resort. Unfortunately, not enough hotels cater for toddler meals.
Last advice to be able to reserve the Tenerife family hotel of your choice
Book early, above all for high seasons, such as winter, Easter holidays or Tenerife carnival... Specials are available for low seasons.
Refrain from all hotels in Spain Tenerife which are too cheap. Rarely, such places are healthy for toddlers and little kids.
This is my own experience and those of good friends.
Conclusion In my mind, the winner for family vacations with a toddler in the north of hotels Tenerife is
my Number One choice Tenerife hotel right now and my best Tenerife toddler hotel in the north, by the way.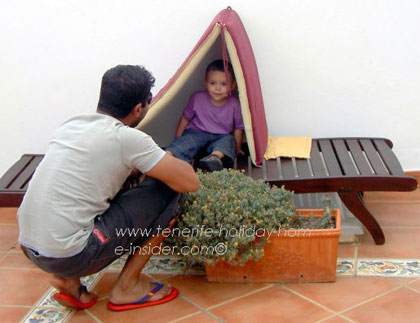 It's a hotel where you may get ready in your room for going out, while your child can play safely "childproof" in your own patio without falling off any walls, fences, you name it. And no coconuts may fall from a tree, either.
Want help?
Ask me why and I promise to help provided you are flexible with vacation dates, as this room is generally reserved and you cannot book it online.
Please, return from hotels Tenerife to HomePage Tenerife holiday home Insider where you'll find other topics of your interest.
Please mind that the comment box below is meant to help others. In case you have a question or want to tell me something, kindly use this contact form.

Back to HomePage of the Tenerife holiday home insider
This site is protected by Copyscape