Retirement advice from French man Claude about the sunny island of Tenerife.
Retirement advice from Frenchman Claude is based on almost two decades of living in Tenerife,
just like this group of happy people who have been retirees by Mount Teide, almost as long.


Claude's first piece of advice is to keep all your contact with family and friends in your home country because you don't know how you will feel about being abroad once you get older.
In order to get the most out of retiring overseas his second piece of advice is to learn the native language of the country. He believes this is a crucial part in making friends with the local people and feeling at home.
Claude
told me,
'you can read the Spanish daily newspaper
El Dia
free of charge in your
favorite café everyday.
It would cost you more to buy the paper than what you would pay for a small Spanish coffee which is not more
than 95 cents now in 2019 while a good local Dorada beer only sets you back just a little more than 1 €', he added.
By the way, some places sold Doradas in 2015 for less than 1 € since Tenerife is in a Recession.
Socializing as top retirement advice is not new
Claude's retirement advice for
Tenerife Spain
is also to go out a lot to cafés and mingle with people.
You don't invite friends or potential business partners to your home in Spain. You meet in restaurants or in cafés.
Besides, it's in international cafés in Tenerife suburbs where you hear who in the neighborhood has won the lottery, about private clubs for playing card games or where you find tennis or golf partners or a recommended electrician.
Furthermore, Claude's advice for pensioners in Tenerife was that one makes contacts more easily the further one is away from the tourist hubs.
Did you know that they even let retirees and others stick a flier onto their café windows or doors in Spanish suburbs? Claude showed me that.
Why Claude's retirement advice is to get old on the island
Claude loves France which also has beautiful beaches but his retirement advice will always be: 'get old in Tenerife!'
Not to be forgotten is another major insider retirement tip for Tenerife which is all about the gentle unbeatable climate of Tenerife dubbed the Eternal Spring. This arguably plays the biggest role for most people retiring there.
volcanic beach
Playa Jardin are also good for the elderly because of the high mineral content in the sand.
Of course the island's climate is great for retirees whose health usually diminishes with age.
Walking on the biggest of all the Canary Islands is cheap and diverse.
Claude also thinks that Tenerife's
local food is ideal for retired people.
He loves the vegetable soups, the fresh Dorada fish, wrinkle potatoes called Papas arrugadas, the small local bananas and a daily 'copa' which means a glass of a regional red wine.
Claude is occasionally taken by friends to lunch at the Realejos Monastry Gardens where he battles a little to move his ailing leg to the patio restaurant.
'Enjoy the world second biggest carnival which will make you feel younger', is also a comment Claude would make.
Retirement advice for going out at night in Tenerife
For entertainment Claude likes concerts at
Abaco
or to join a group of friends for shows at the
famous opera house El Auditorio
in Tenerife's capital.
The challenges that come with learning a new culture help keep the Alzheimer's fog at bay.
Here, Claude, also, agrees with me that music with lyrics is good to learn Spanish.
'Just switch on Spanish radio in your car for it', is his response to this.
Find out what's the most fun and easy way to learn Spanish.
Another one of Claude's retirement gems for living a fulfilled life in Tenerife is: Learn a new skill for a new hobby while you are not too old and meditate. Yes, Claude meditates too.
(just below the main Titsa bus station)
where you can also join groups for exercising or dancing for 'next to nothing'.
Walk down the road to the Canary Island style corner building of Audio studio 399, turn left and then right into Mazoroco.
Universidad Popular Franciso Afonso
Mazoroco, 26 Tel: 0045+922 383461
38400Puerto de la Cruz map
There, tuition varies. Go have a look.
Retirement advice for Tenerife elderly sports
Aerobics
Tennis or Badminton (Padel)
Golf
Yoga
Walking
Swimming
Water gymnastics at the municipal Pools by Castillo San Felipe Puerto Cruz
Spain retirement home
(semi public)
Name: Santa Rita Hogar
location: Puerto de la Cruz
near Loro Park and Playa Jardin beach
Street Las Dehesas
Bus #354 and Bus #353
Price: for water sports €30/month
with daily expert tuition
Go daily to Puerto de la Cruz's Natural Swimming pools called the Lido or the
Lagos of Martianez
Buy a monthly ticket for about €35. This was the retirement advice by a Swedish woman whom I once met on the bus. She loved nothing more than to spend an hour a day in the warm jacuzzi of the Lido Martianez.
Special advice from Claude on saving money for people retiring in Tenerife
Make local friends to learn all the tricks, such as where to get things cheaper. Medicines form a significant part of this.
'Ask for pensioner prescriptions at the Centro de Salud which will normally allow you to buy your medicines for free provided you have a European health card.
Ask for help at the town halls.
'You can even make an appointment with a free lawyer' he added.
Elderly care in Tenerife
Through these channels Claude has help around the house and with his personal chores. It's all covered by Spanish Social Security because his French Pension is paid out in Tenerife. Claude is very happy with this setup. He said 'j'ai une femme de ménage' which means he has a house keeper. He does indeed have much more than that.
Claude requires this additional care because, he fell once too often.
Tenerife retirement advice on Medical emergencies
Did you know that you can also go to a Spanish Health Center called Centro de Salud to be helped free of charge in health emergencies? They don't speak English as far as I know. I have a German friend, who isn't even resident but has been living in Tenerife for a long time. She made use of the European health care facility. All you must take before going on holiday is your European blue health card. Charges will be handled automatically by the authorities as far as I'm aware. But don't go to a private doctor or clinic if you wish to get seen free of charge... There you must pay upfront and can only apply for a refund in your home country. I am not sure if your country will check when last you were in your home country. Just in case, find out about the particular laws in the European country where your social security for health is from.
Tenerife retirement advice for consumer queries
Make an appointment free of charge for 'Tenerife Consumer Complaints'...
Find a list of all Tenerife consumer offices at infoconsumo.es
Most complaints are for faulty telephone invoices or about local artisans or companies whose services were not fulfilled. Some queries involve renting. Please note: For letting or house community queries an 'administrador de fincas' applies. Speaking basic Spanish will do, otherwise, bring an interpreter.
Singles' pensioner lunch Puerto de la Cruz
This takes place at a kind of Tenerife elderly club called 'Centro de Dia Para Mayores'. This Puerto de la Cruz Community Center is open during the day. Mingle to make friends and have a good meal which is great value for money. Enjoy taking part in their outings and events too. Basic Spanish knowledge will do.
You can't miss this big place with its gardens beside the former parking ground of the old bus station.
All these institutions are advantages for living in the oldest resort in Tenerife which is Puerto de la Cruz.
Now Claude is not feeling as good as he used to do any more.
He had problems with arteries from his feet up. Two operations have not yet healed so well. That's just part of getting older. As long as he can, he will stay on the island is what he said.
Claude's retirement advice for advanced old age is to go back to your home country, unless you have family abroad with you.
But Claude doesn't want to go back to France I wrote the above entry more than a year ago. Although Claude gave this retirement advice he is not following it for himself. He is staying on in Tenerife despite his gravely diminished health. The other option would be to join a reputable retirement home in Tenerife.
A relatively new one is the Davida in La Paz Puerto de la Cruz. Signs pointing to it are near Jardin Botánico the Botanical Gardens of Puerto de la Cruz.This special park charges only Euro 2 for retired people or residens on the island. It is a pensioner's paradise for walking and resting in pristine gardens.
Davida Casa de Tercer edad Retirement home
The father in law of a British Lady I know lives there. The gentleman is recovering from cancer and seems to be very happy from what his son reports. ( More about this later). This is now also the much loved home of my friend Angus Low one of almost legendary
Expats from Britain in Puerto de la Cruz
Retirement advice for luxury Tenerife old age homes
Tenerife retirement home
Name: DAVIDA Centro Residencial
Calle Brezo, 19
38400 Puerto de la Cruz
Tel: + 34 922 389955
Canary Islands - Spain
I wouldn't recommend the Martina Seniorenresidenz by Playa Martianez. Why? I've heard people who complained that the place isn't ideal for British people, as it seems to cater for Germans above all, while staff speaks little more than Spanish.
Don't despair if elderly and feel alone due to the loss of a loved one...
There are also several British congregations at Tenerife churches, such as at
Parque Taoro
at the church of all saints where call Wendy at 922 320978 for more info.
How to deal with depression during retirement?
To retire to Spain Tenerife is an excellent solution to fight depression with Tenerife sun. Many studies have confirmed this to be true. There is sun on almost 365 days a year, and on some rare days for only a few hours.
La Palma Tenerife sunset
was taken at Lago Martianez on May 8th of 2013 in Puerto de la Cruz. To spot La Palma from there is extremely rare, indeed.
Other pensioner advice for retirement in Tenerife Spain.
Get much more information on living during retirement. This includes coping with cancer in Tenerife, an old age home for the rich and the poor, the admiration for a medical treatment as experienced by a former UK nurse, Spanish health care in Spain, British and other Tenerife expats, how somebody has fun in Tenerife despite having Alzheimer's disease and many more examples in the article 'Living in Tenerife',
a link of which I repeat here,
in case you missed it above.
The Bee Hive Pub1 for sports in Puerto de la Cruz is one of the established Tenerife bars. It provides a popular hangout for British expats screening live Soccer, Cricket, Rugby and other sports.
Ideal retirement accommodation by Puerto de la Cruz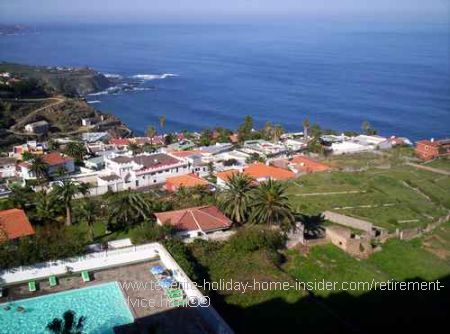 Private self catering Tenerife place to retire, as an affordable, perfect retirement home for a single person. Perfectly suited for someone who wants a stress free lock up and go Ideal Retirement Accommodation in Puerto de la Cruz.
Expats, retirees - Living on Tenerife
Retired expat Berta who ended up at Santa Rita for Alzheimer
A retired expat praises cancer care in Tenerife
Why British expat Julia retired in Tenerife
Tenerife living Garcia Sanabria
Why a happy British retired expat praises regular health care
Why Laura and her husband came to Tenerife
What it's like to retire in Tenerife and the cost of living
Retire overseas with retirement ideas by celebrities
Health in Tenerife by Vitamin D and natural Sun according to ArteDental.
Apartment by Puerto de la Cruz for long rental

Please mind that the comment box below is meant to help others. In case you have a question or want to tell me something, kindly use this contact form.

Back to HomePage of the Tenerife holiday home insider
This site is protected by Copyscape

Financial retirement strategies
Annuities and retirement financial planning
Get additional retirement advice about annuities. Learn all about it including 401k planning, IRA, use calculators, obtain finance and retirement assistance. Financial advisors provide free annuity quotes.




Up to Top?