Interesting Tenerife living via carnival by the UK retiree Julia

Tenerife living meant everything for the elderly British Julia.  She couldn't think of anything else after she had seen her first carnival in the Tenerife capital.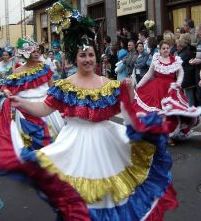 She spent every mad season in rural Tacoronte after she had bought a holiday home there. She became an expat and settled in this villa for good after she retired from her work in the United Kingdom.
Now,  she could stroll through her wild cottage garden every day.  Nature spilled over in this paradise with bushes, herbs and flowers, while the neighbor's horses looked on.  She grew vegetables on a small scale.  She made a delicious marmalade with the oranges that grew outside her kitchen window. I met her there after she had advertised that she was looking for a gardener.
Tenerife living by Julia as Carnival costume designer
She worked mainly for local schools but also for friends. However, I don't think that she made much money for a living with it. In fact, the passion to create the outfits outweighed everything.  The Tenerife carnival attracted her enormously and her life never stopped evolving around it. She also made many friends at the biggest Tenerife English library in Taoro Park. She often entertained them with parties at her large indoor garden room. Indeed, she managed to make the most of life in Tenerife.
Carnival costumes home made
She also turned one of her bedrooms into a carnival costume storage room.  It was full of colorful and spectacular costumes which she had done up herself. It would have made a museum proud. She organized carnival plays and similar shows in Spanish schools where her carnival outfits  were very welcome. Obviously, she made many Spanish friends during her stay in Tenerife.  A son of hers  who lived in England was every time more amazed to see how she loved carnival children when he came for the occasional holiday.
Tenerife carnival the non plus ultra
Julia would never miss a carnival in the city Santa Cruz. She might rather spend a night in one of the many Tenerife capital hotels when she was too tired to travel home, although Tacoronte is not further away than 15 to 20 minutes by car from the city,  depending on traffic.

And then, something happened. Julia the retiree carnival costume designer disappeared. Last time when I spoke to her she said she was going to join a son in Australia. She had found a buyer for her big home with the overgrown garden in Tacoronte
. Fortunately for her, that was before the Tenerife real estate crash.

More Tenerife expat stories
From Tenerife living back to retirement advice with more links about people who became expats on the biggest Canary Island

Please mind that the comment box below is meant to help others. In case you have a question or want to tell me something, kindly use this contact form.

Back to HomePage of the Tenerife holiday home insider
This site is protected by Copyscape