Tenerife tours for sports, entertainment and adventure
Many Tenerife tours are handled by international operators.
Thomas Cook and Tui and other international operators do island airplane visits or city travel for entertainment in particular. Not to forget Thomson bike tours. Then, there are tour companies, many of which also work with little shops around towns. Others like Viator or lately also Tour guides sell trips on the Internet. However, the Tenerife holiday home insider would not recommend everything they offer, such as swimming with turtles. 

News about a free Puerto de la Cruz town tour
It's offered on all week days at 11a.m. without a previous booking. It takes about 90 minutes. Just be there with your comfortable walking shoes and a sun hat...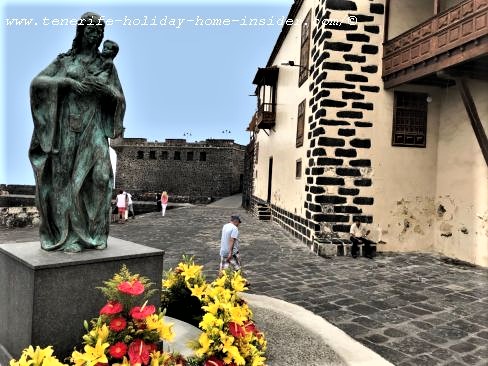 Tenerife tours free town tour through Puerto de la Cruz streets from the depicted meeting point at the Carmen statue by the little harbor. Click the photo for more about Puerto de la Cruz...
Tenerife tours within cities by town information offices
It's great to do them in style, such as with a sightseeing bus in the capital Santa Cruz de Tenerife. Mind there is a mini train too.

Now, get yourself a double-decker bus ticket for less than €10 and get on and off at 14 stops without paying extra... Super comfort for handicapped and visually restricted people too... Buy at tourism offices Tenerife or at Hotels in Tenerife...
You may prefer an official guide on foot.  Find him at a tourist information office. It may organize trips through town. You may be shown old Gofio mills,  but also historic mansions like Casa de los Balcones and Casa Lercaro. Famous churches such as the Cathedral of La Laguna may be included in a route. The most renown baroque example of the Canary Islands Iglesia de la Concepción of la Orotava may be part of the agenda. Many more options are in Puerto Cruz

There, the Martianez pools with its former underground Casino belong to most popular tour destinations of the Canarian archipelago.

However, the sunset strip of Playa de las Americas with its night clubs by Arona  is usually visited by the people themselves who often book accommodation nearby.
Tenerife tours to the Teno mountains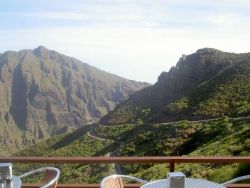 Consider to hire a bicycle at Los Cristianos for Teno explorations or better still,  join its off-road trips. 

Alternatively select the rugged coast of the Teno. Photos of it may be found here. This includes the light house by Buena Vista...
Be warned that part of this is very scary for driving. Rather buy yourself organized day trips for this unspoiled part of the island...
The fast ferry  Fred Olsen ES  as well as Navieras Armas connect with other Canary Islands. Cars with pets inside are allowed.

Navieras travels as far as Madeira and Cadiz. More touring information for getting to Tenerife from there by clicking here...
Tenerife tours for adventure
from all sorts of locations of the largest Canary Island to Loro Park and or Siam Park
to explore the Tenerife Mercedes and Anaga forests;

to visit bodegas of vineyards




to watch tennis and golf tournaments;

to surf, cycle, bike off-road  or see motor car races;

to spend a mad week at the

Puerto Carnaval;


to trade fairs or culture and

art exhibitions;

to get to golfing tournaments;



Only do your own excursions to Teide, when you have plenty time and are very fit and experienced in the wild. Also don't chance a Titsa bus trip, as you may not catch the only afternoon bus back...
Tenerife tours to see snow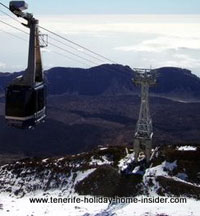 Please notice the snow with the Teide cable car portrayed beside. Don't plan a tour to Teide, when there is more snow than that. Or rather, always check if no roads up the mountains are closed. Generally, it is wiser to book a trip to Teide and its Cañadas.
Why ?
Tour operators are expected to be clued up about road and weather conditions.
Trace some clubs and links for walking Tenerife as well as ideas to help you decide on where to go, when and how.
Prices for Tenerife tours on the island
Tenerife travel resources for getting around are priced differently. Your best bet for up to date information is at big hotels as well as in tourism offices around the island.
 

Tours by luxury liners
Entertainment Tenerife leisure boats or ocean cruisers stop over in Tenerife to give people the chance of touring some part of the island.
The ocean liners anchor by the capital of Tenerife where you find more fun and entertainment and even prime opera shows in winter.
Please, note:
During March 2008 I encountered at least 20 taxis from Santa Cruz of Tenerife which were all parked in Calle Venezuela Puerto de la Cruz, very close to Lido Martianez and beach Martianez. This whole road was packed with cabs. All their drivers were standing around waiting and chatting.
I was told that they had brought people from cruisers which had stopped over in Santa Cruz. "That's what happens, when tourist coaches are not booked before getting on board ship", a driver told me.
Mind to always hire a taxi with a group of people for longer distances. Why? It works out so much more economical.

One of the taxi drivers spoke English very well.
Tourists from ocean liners may call him, if they have enough time to see more of the island than just Puerto de la Cruz.
His name is Miguel Baez.
Please, phone: 0034 649 389 948
He is stationed at Santa Cruz.
Then, there are also the so called Tenerife tours of the 'swallows'. Those winter tourists arrive regularly and on time after early bookings to their holiday home in Tenerife. That's their base for their additional winter trips. Some hop over to La Gomera, La Palma, Gran Canaria, Fuerte Ventura and Lanzarote. Binter, Islas Airlines and the Ocean Ferry Fred Olsen help for those tours to the other Canary Islands.
Encounter a list of public buses for getting to attractions by public bus from Puerto de la Cruz. However, this bus transport is little practical late at night, on holidays and sometimes on week-ends and when you only have a vacation of seven to 10 days.
When your holidays are not long, always select proper tourist tours, rather!
A shopping tour with sight seeing is something I recommend for the capital, especially for central shopping as attractions are close by.
Trips to buy Tenerife art are also worth it.
So is a tour for shopping in Garachico in the context of Tenerife tours for sight seeing, art, gifts and handicrafts. By the way, the Auditorium Santo Domingo of Garachico may even display famous local sculptures for sale.
Tenerife travel resources for getting around are priced differently. Your best bet for up to date information on  is at big hotels as well as in tourism offices around the island.

In Los Gigantes but, also at Puerto Colón trips are organized for golfing tournaments and to watch whales .

Discover all sorts of ways to do Tenerife trips. Have fun and get to know the island while meeting locals, such as in this remote corner of a town.


Check hotels Tenerife here with best multiple choice!
Opera house tour Santa Cruz
Call for an English guided tour to see the interior of the Auditorio de Tenerife...
Contrary to Tenerife, tours and excursions in the country mentioned below take normally much longer
Agenda Aditorium Adan Martin
From Tenerife tours back to Homepage Tenerife holiday home insider

Please mind that the comment box below is meant to help others. In case you have a question or want to tell me something, kindly use this contact form.

Back to HomePage of the Tenerife holiday home insider
This site is protected by Copyscape