Learn about getting around to Tenerife attractions, for sightseeing or other...
Getting around from the Puerto de la Cruz main bus station to do your own short trips, island or city tours is easy.
From this central point many towns may be reached and excursions may be done using public Titsa Tenerife transport with time tables and detailed options for other departure points.
Generally, Tenerife buses the Guaguas are an excellent option to take tourists around on the island from Puerto de la Cruz. By the way, there are Tenerife news May 2018 about a new way of paying with Tenmas for the bus and Tranvia, while the Bono bus card is history now.

A long temporary road deviation in Los Realejos La Longuera.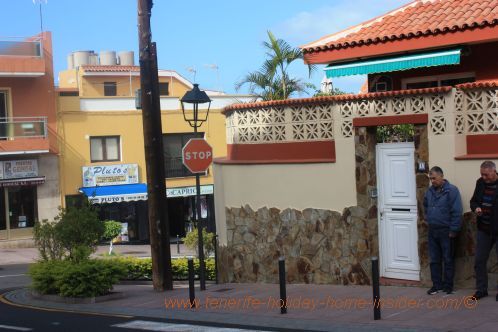 Getting around via the streets Calle Bancales, as depicted and la Gorvorana Los Realejos by Banco de Bilbao La Longuera to travel in directions of Los Realejos, Icod de los Vinos or La Orotava. People are waiting by the new temporary bus stop.
Important news: Calle Castillo of La Longuera Los Realejos has been given back to traffic after roadworks in 2018. Nevertheless, the depicted Calle Bancales on the corner of Banco de Bilbao  remains a popular shortcut via the TF320 the old La Vera road to the TF5 from Toscal Longuera.

When not to opt for buses?
Short holidays
You or your companion is disabled
You have a dog, as no animals except guide dogs for the blind are allowed on buses unless below 10kg and fitting into carriers 65cmx35xmx35cm

Mind there is always car rental as best alternative.

How find the bus station at Puerto de la Cruz?
Turn left into Calle Puerto Viejo from Plaza del Charco. Take the 2nd street to your left again. This calle called Peñon leads right up the the central bus station...
It's the light green building opposite the lovely Canary house 'AutoStudio'.
Oh so sorry, this building has been closed down because its foundations have become a hazard for people. Catch the buses now behind the green building at Paseo Hermanos Hernandes Perdigón. The bus information and ticket office is on the corner of Tenerife Hotel Dania Park Magec. More about Tenerife transport by a link below.
Hotels near the buses to get to hiking routes.
Once, I was contacted by Japanese girls from London. They had booked the highly popular apartments Florida to be as close to the Titsa buses as possible. Getting around with Titsa buses was their idea to get to hiking destinations. They were very happy when I suggested a hiking club which used to assemble at the buses. It's safest to get around to unknown locations with experienced guides who lead such groups.
Certainly, there are many towns and villages that you may reach on your own by safe routes. Buses to the Tenerife Capital Santa Cruz are #101, 102 and bus 103.
Please note, bus #103 express bus stops in very few places and goes along the freeway TF5 mostly.
Not to worry about drinking and driving.
Take the convenient coastal bus #101 or #102 from Puerto de la Cruz or from Santa Cruz for getting around to spend a few care free hours at the most amazing Tenerife beer hall Tacoa at El Sauzal. There, enjoy healthy drinks of Bock whose beer brewery is on the premises while you can watch German beer making and eat the most delicious foods made with beer. Take a cab taxi back to your holiday home in Tenerife home if you miss the last bus...
Bus # 102
goes half hourly to the North airport Los Rodeos
Please, mind to always double check as week-ends and holidays might work out with different schedules.
Even more caution with Titsa required.
Also make sure that the Titsa bus number you traveled with last still exists. I find calling information most effective. The alternative is a Titsa route inquiry on their homepage in English. Learn more about the Tenerife public bus company airport buses from Puerto de la Cruz as from 2011 onward.
Please, note, that there is the old, scenic, coastal road which takes you through villages and small towns, while the new free way TF5 is for travelers who are in a hurry.
Another insider tip for getting around.
What I find mind bugging is that it's not always clear, where a bus is going.
You stand at the bus stop North Airport. A bus that has written Puerto de la Cruz in front could in reality go to Santa Cruz first.
No idea, why this happens... Always ask the driver:"Puerto de la Cruz?" or tell him any other town you want to go to. When he answers: "No !" then you better wait for the next bus.
Bus # 325
Acantilado of Los Gigantes
whale watching
trips or,
for other sight seeing.
However, I would rather recommend a paid tour which includes the whales, as you will be very tired after having been out on the ocean.
Bus # 339 night bus Puerto de la Cruz to Las Arenas, La Montañeta, Los Realejos Alto, Toscal and Dehesas back to Puerto
Getting around to one of many beach attractions in Tenerife south.
Bus # 343 Los Cristianos with nearby
Arona by Costa Adeje. Mind that the #343 also serves both airports, as of December2011 onward.
---
Bus # 345
Aguamansa Forest La Caldera
(beautiful pick-nick spot amidst pines on the way to Mount Teide.)
Getting off at beautiful La Orotava you could go see Casa de los Balcones and many other attractions.
Taking a bus or a taxi is also highly recommended for the yearly Orotava Corpus Christi event, stunning photos of which see, here.
Bus # 348
for DIY Cañadas del Teide trips
The 342 also stops at what is now in 2011 Tenerife's only Cañadas museum El Portillo Tourist Center.
Bus # 350
Las Arenas - La Orotava
(at top of Las Arenas is La Villa Alcampo which is the biggest Orotava shopping center by the TF5 Freeway.
Bus # 352
trip for getting around
by a scenic mountain route to la Orotava and back.
Bus # 353
mountain trip
including Los Realejos Alto/Bajo
and La Orotava.
Bus # 354
Realejos Bajo/Alto-Icod de los Vinos (the town of the famous Drago tree of Icod).
Bus # 363 along the coast mostly contrary to Bus # 354 the mountain bus that stops at Icod de Los Vinos
Bus #363 also to Garachio, Los Silos and Buenavista del Norte for trips to the Teno Massif mountain range for special coastal hikes and swimming in very clear water by its coast...
Catch bus # 383
Las Arenas - La Vera to visit the nearby restaurant village Meson Monasterio with its amazing Tenerife farm park
Take bus # 390
Realejos Alto to get around to see historical sites and interesting country spots...
Bus # 391 from Puerto Cruz via
Los Realejos - as additional bus route which might be interesting during Romeria parades where beautiful happy Tenerife girls and other local people dressed in custom gear may be seen.
Bus #354 is also for the scenic mountain road of Los Realejos, part of which was once Camino Real or Tenerife's Kings' highway.
Look at mapped Realejos photos where most of the county is depicted with landmarks to help you with walking, driving or for locating a holiday home in Tenerife in the north.
Discover how the long mile road
La Longuera is getting used as well as abused for getting around in North Tenerife... Titsa lines 381, 353, 354 and 391 run along it with their public buses.
Please, check the Titsa timetable for info on Tenerife to get you wherever you want.
Consider Tenerife walking trips with the help of Titsa buses. Getting around is not always as easy as it looks due to unexpected weather conditions.
Besides, joining one of the many German hiking groups may be fun as English is widely spoken.
Excursions depend on weather changes.
Departing times may also be altered according to changed conditions.
Get in touch with us, in case you have questions.
Discover parking in Tenerife for your car which is not that bad at all in Puerto de la Cruz, although you may have to walk for a while to get where you want to.
By the way, getting around on the island is always better arranged for while booking travels from overseas when guided bus tours or, whole city tours are preferred on the island.
From Getting around back to Tenerife Transport
Map to help to get around from Puerto de la Cruz and surroundings
Please mind that the comment box below is meant to help others. In case you have a question or want to tell me something, kindly use this contact form.

Back to HomePage of the Tenerife holiday home insider
This site is protected by Copyscape