Tenerife information tips and legal tricks with Titsa Bonocard.
Tenerife Information with special tips should help to understand Titsa bus transport better and how to get it often much cheaper.
How much could you save?
To be honest. Much has changed in the last years but above all in summer 2013 or even more so in May 2018.
You can still use the Bonocard until you had it for one year by the latest. Then,  you cannot buy one any more.
Now a new era for Tenerife buses has started. Now you can only use your mobile phone or Tenmas for Tenerife transport by bus.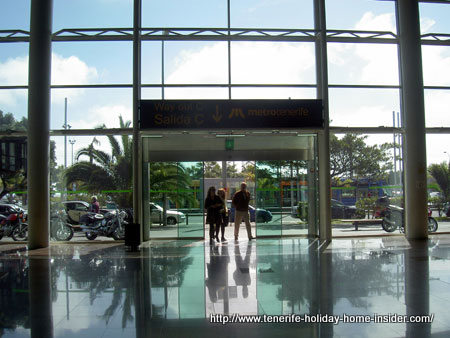 There is even a very modern main Tenerife bus station in its capital now. An information office is on its upper level platform. Friendly staff helps you with best of tips there.

What did Public bus transport cost in Tenerife?
Minimum 'Bonobus card': Euro 15. Tenmás now is even less.

Alternative card: Euro 30
More options for frequent travels to purchase with the Titsa app online

The cheapest town fare: Euro 1,25, except in the capital. This needs to be confirmed, as it may have changed.

You don't save 50% any more buying offline.

There was no set amount of fares on the card and the time limit to use it was one year, except with monthly cards.

How was the Bonobus card working practically?
Going and returning to the South airport from Puerto Cruz may almost have used up one card of Euro 15.
You had to employ the card with the machine until the driver told you that your credit was short. Than you had to pay the rest in cash to him.
The most modern way is with a smartphone app that you show to the bus driver.

Public transport and the Recession
Many discount schemes are around for residents. Above all for local families with children.
A Bonocard elapsed at the end of a year. Therefore, you had to come back on holiday before that or you had to buy a new one. That wasn't possible at the airport, though.
Buses in Santa Cruz
I noticed that bus fares in Santa Cruz the capital are cheaper than in the rest of the island. Also there, pensioner cards may still be applied for.
Bus and trams
Also, there you can use both bus and tram with both Bonocard or Tenmas. Take the tram to the north airport, as it has free Wifi.
Santa Cruz bus station
The main bus station is in Santa Cruz, while the administration offices as well as the bus workshops are near the North airport of Los Rodeos in San Cristóbal de la Laguna.
By the way, mind two bus departure platforms in the Santa Cruz main station.
Want to find your way around the capital better, use a Google map of Santa Cruz
Otherwise, ask for one at the information counter of the main bus Depot in Santa Cruz. Their Tenerife information was very good in the past. Most probably, it hasn't changed.
All kinds of cosmopolitan Tenerife people pass through the main bus station in Tenerife's main city. The photo is a little blurred on purpose as I don't know if people would like to be recognized by their faces. I cannot run that risk, as I live here mostly.
The most common Tenerife information service on Titsa will tell you the following
You cannot buy the card from the bus driver
You will get it at bus station counters, later in nearby kiosks, in some
stationary shops as well as in  estancos (specialised stationary shops)
The Bonobus card was transferable or is until you have used it up 

Furthermore, museums give discount when you show a used Bonobus card. I am not sure if this will be the case with a Tenmás.

Best advise ?
Bus services are OK for the island, except in the early morning hours, late at night and on holidays.
Also, you can never rely on exact time tables, unless you look at bus terminals or electronic boards show expected arrivals.

Example
We have the weekday bus Nr. 381 which does the route Puerto Cruz to la Longuera or vice versa. That's absolutely great, you know. I always know when it will pass near my door. But it did never leave at all on the other end, a few times in the past.

To the contrary, I have to stand and wait for the 354 or 353, as they come from further away. The drivers can't know exactly when they will pass by my bus stop in Longuera. A traffic congestion may delay the bus. 
Circumvalisación
I've just learned at the beginning of 2016 that this scheme is still working. I thought it had been discarded. Circumvalisación means that you can take two or 3 different buses to different directions within one hour and you only pay one fair provided it's not surpassing a certain border of a region. Example of Tenerife information for transport savings You may be able to go from La Longuera of Realejos to Puerto de la Cruz. Take a new bus from Puerto de la Cruz to La Orotava. Return from La Orotava with a direct mountain bus to Los Realejos. Provided you catch it in time within one hour. That's how I know. The trick with this is that the bus numbers must all be different.
Conclusion for Tenerife information on public transport

Generally, nowadays, I encourage my children to rent a car when they come for holidays and want to travel all over the island.
Why? Petrol is still cheap. Also, the moment you join up with a few friends your trips work out more economical than by bus and you are independent.
The Titsa app for vital Tenerife information
However, much has happened. There are news for frequent bus travelers to save much on expenses by bus.
Download the Titsa app for your Android smartphone
to get all sorts of cheaper Tenerife bus and tram fares.
From Tenerife information on Titsa Bonobus tips back to Tenerife transport
Or return to Tenerife page here...
Please mind that the comment box below is meant to help others. In case you have a question or want to tell me something, kindly use this contact form.

Back to HomePage of the Tenerife holiday home insider
This site is protected by Copyscape