Get extended unemployment benefits to Tenerife Spain.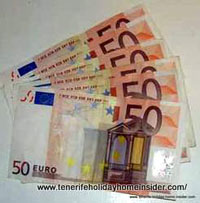 Extended unemployment benefits don't refer to an expanded period but to areas, in this case.
In fact, all EEA (European economy area) countries work together by sharing a benefit service for those who are entitled to work.
Do you get jobless benefits somewhere in the EEA and feel like working abroad ?
Make use of it!
To have some know-how to work in Spain
Tenerife helps. That could mean qualifications for hotels, tourism, car rental or for teaching. College papers for teaching English are no must, by the way.
What contributes to unemployment benefits and EEA jobs overseas?
Speedy Computer IT office management
Similar joint labor laws
Freedom of movement between all EEA countries of the European Union.
Learn a little more about such liberty for working by Eures...
Prerequisits to receive unemployment help for the EEA
You must be registered as unemployed and accepted for unemployment benefits with your local social security department of the country and region where you worked last.
Your previous work contract as an employed person is needed for proof in the a.m.office.
Having lost your job must not have been caused by yourself. 12 months of work must have preceded.
Lets assume that you did so in the UK. Otherwise, note that unemployment help to cross borders from other EEA European countries, such as Sweden, Germany, Austria, France, Italy or Poland, to name just a few, is almost identical. Such countries must have been members of the EEA for more than seven years, though.
Prepare for continued unemployment benefits
Go see your government unemployment agency, which may be in the UK.
Mind that you can't leave, if adequate new work you had filed for is being found for you prior to applying for overseas work search. You need documented proof of your application for unemployment benefits from the UK or another EEA country to take abroad.
It doesn't matter if the document is only available in your native language of that unemployment office, but the document must be original or a certified copy.
How can we help in Tenerife North?
Get in touch with us if your Spanish isn't good enough to deal with Tenerife authorities. We shall go with you to help you to set up everything for you for a fair fee. This fee depends on the town where you have booked accommodation.
At this moment in time, we only offer our services in Tenerife North. This concerns the region of Puerto de la Cruz, Los Realejos and La Orotava.
By the way, Spain unemployment stands at 22,9% in January 2012. It's more than 35% in 2013. Why so much? Many people who are out of work stop to go back to stand in the cues to find work, eventually after having done so for several years. Perhaps, Spain's unemployment rate is the biggest in Europe. I don't believe all figures which are published. Therefore, don't expect too much of a miracle to reach dream jobs in Spain. It's seen as normal that jobs go to Spanish natives first.
Bonus besides UK unemployment pay in Tenerife
The best plus which can't be taken away is your chance for Tenerife holidays, while you get unemployment money. It leaves plenty of time for all the tourist fun but also the opportunity to do business research for 3 months or to find work in Spain. Who knows? You might even strike it lucky and may find some job and, if only for telesales in your own language. This would help you stay some more time to learn Spanish to take home, eventually.
We shall also assist you with the Spain Tenerife NIE ID application, if you wish. This must be prior to filing for unemployment benefits in Tenerife.
Also mind that a holiday home in Tenerife is more practical for a 3 month job search Spain vacation than hotel accommodation.
More information Spain about unemployment pay for job seeking EU members on Tenerife vacation.
Contact us if I can help you with the unemployment office in Tenerife.
More about dole in Europe
.
From unemployment benefits back to Homepage
Please mind that the comment box below is meant to help others. In case you have a question or want to tell me something, kindly use this contact form.

Back to HomePage of the Tenerife holiday home insider
This site is protected by Copyscape