Why tu Desvan which means your attic?

It's all your Desvan which translates into your attic and then,  your Tenerife market.
 How come?
     
     You leave it to the trustworthy owner of this shop of La Longuera Toscal.
To be sold on consignment sales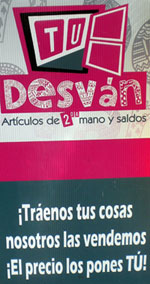 That means a new home for your things where they will be cared for until sold.
In fact, you will be paid, when somebody has bought them.
Also, you tell your price idea.
It's not accepted?
You are free to take your goods elsewhere.
So that's how its business slogan in Spanish, as depicted beside, would translate.
Address of the second hand shop Desvan
La Longuera, 28
Toscal Longuera
38410 Los Realejos
Telephone for Spanish speakers: 922 362 605
or Mobil 629 406 716
Call Gabi 922 363685 or for help in English, German or French.
Business hours: Monday to Friday
from 10a.m.-2p.m.
and from 5p.m.-7p.m.
Saturdays: 10a.m.-1.p.m.

By the way, the Parisian coat that hangs by the door is one of second hand treasures of this Longuera business.
The alternative entrance is almost on the bottom of a passage by Calle Tinerfe. That road access may be helpful for the transport of heavy furniture.
Latest used consignments
Most furniture is constantly replaced by new additions.
The beautiful glass display turn-table above was added in April 2016. It's ideal for special shops or for collectors.

Of course, we can't always know what was sold last. This is like a market that needs checking all the time.
Fair enough for the prices everything sells for...
The furniture shown below has been sold except the musical instrument.

There even is an electronic Farfisa organ in this second hand shop of Los Realejos.
Dance and Vintage dresses

I once bought a couple of vintage dresses there to use for a wedding that had many functions. I simply couldn't resist the elegant cut and good material.
   
 Look at this blue ballroom dress.  It's too nice to have when you can make use of it.
No, not very often?
   
    Well, that's one more reason to get it cheap.  Mind that it only costs you a tiny fraction of what you would pay for a new one in a regular shop.
Second hand Indian treasure
This magnificent, hand made Indian skirt will be nice for Diwali or any festive occasion. A simple matching top or a little blazer will turn it into an elegant outfit.

You could even turn a non descriptive sideboard into an eye catcher with it.  Mind it has hand made embroidery. Also its Indian fabric is very likely made by hand too. 
   

Desvan second hand clothes
Find most of them in the back of the shop...
   
    Mind that clothes with stains, missing buttons or broken zips are not good for sale. Also, you will only find shoes, sandals or boots or any other leather ware in top condition at this place.
Christmas ornaments
The Christmas tree ornaments may find a new home for next year.
More at your Longuera attic shop
Adult and children books
Comic books
Magazines
Office material and an old portable typewriter
Paintings and prints fill wall spaces between used furniture
Crockery and china, such as a Japanese and a Chinese vase
Pewter
Kitchen appliances
Carpets and rugs
Ceiling and side table lamps
Second hand toys



The occasional antiques, such as furniture,
silver or brass ornaments
Jewelry in vitrines, dressers with odd ornaments
from Kitsch to collector items
Sports equipment, like tennis rackets, golf clubs,
roller skates or ice skates
You name it, it may be there and come and go

Browse this Realejos Attic shop by the following video...
Desvan not a jumble sale market?
It isn't like the flee markets of London and Paris. Everything is spotless. Things are in good condition, as outlined before. Quality abounds. No strange, musty smells anywhere. Everything is arranged orderly. There are no lucky dip boxes where you have to dig to find something.
From Desvan back to La Longuera
More shopping in the region of Puerto de la Cruz
Famous fleamarkets around the world here
Please mind that the comment box below is meant to help others. In case you have a question or want to tell me something, kindly use this contact form.

Back to HomePage of the Tenerife holiday home insider
This site is protected by Copyscape

Back up to top?