Top Tenerife attractions
The term Tenerife attractions Carnival as number 1 for many means sightseeing, entertainment and activities. That's for foreigners as well as for residents on the biggest Canary Island.
Biggest Tenerife attraction of its music scene
That's the band Bloko del Valle. It now performs at every event of the island and often abroad. It was closing the Carnival of Tenerife over the course of many hours. They had 200 musicians, although they only had 100 drums. Brazil will supply the rest for 2017. Its drummers took part in the Mueca 2016 with 100 players. Following is a glimpse of its carnival show.
Running up in popularity are the following five sensational parks
Tenerife National Park with Spain's highest peak
Entertainment Tenerife Loro Park with its best Zoo of the world which is the island's main spectacle for all ages that beats circus shows any time
Siam Park, as most loved water amusement park of Europe by Tripadvisor 2014



Lago Martianez with its Casino under sea level, huge lakes, gigantic fountain, tropical surrounding at the edge of the ocean and popular 'White night star light events'.
Obviously, there are no bigger Tenerife attractions than the fun and immense health benefit of walking for millions of Germans who've spent entire winters on the island for decades while resting their tired legs in a holiday home in Tenerife.
.
Events and permanent culture of Tenerife
Tenerife attractions by folk music and Romerias
Always ask at a town's tourism office about up coming Romerias (folk festivals) or folk music events or check in TV Canarias for Bodega de Julian...
For highly attractive Tenerife trips
Pueblo Chico (at Camino Cruz de los Martillos, 62 Tel 922 334060) the Tenerife miniature village with all monuments of the Island has closed its doors for good
News December 2015 about Pueblo Chico closure
Unfortunately, this attraction of 13 years has been closed. Why? The behavior of tourists and locals has changed. More about it was revealed by the Spanish Media
here
Tenerife attractions of nature
Tenerife beaches unspoiled like Playa Socorro of Realejos

South Tenerife beaches with Playa Paraiso beach parties.
Monte de Agua, parts of Anaga Massif as well as Parque Forestal la Caldera of La Orotava with Laurisilva rain forests.
Off the beaten track is drawing more and more people
Teno Alto
is ideal to get away from all stress, as the photo depicts. The porch of a unique country bar which is also a shop is perfect for sampling best home made cheese and wine. Just around the corner is pristine goat and sheep country where you can walk for miles and see as far as the Island La Gomera.
Puerto de la Cruz the most attractive resort of the past
Punta Brava a most intriguing overlooked fishing hamlet of Puerto de la Cruz
which is typical for its region where much varnish is gone but where the charm lives on.
Tenerife architectural and art attractions
Monuments and sculptures on streets and town squares all over the island follow suite.
The most charming fountain stands on
Plaza Iglesia de N.S.de Peña Francia in Puerto de la Cruz.
Many works by Julio Neto are found in the streets of Tenerife towns.
Garachico harbor and port made Spain news May 2012
A Garachico funicular is soon to come.
Tenerife attractions of parks and gardens
Devils Gorge the Spanish Barranco del Infierno for Tenerife adventure hiking
Monte de Agua a remnant of Laurisilva rain forest of Tenerife
Tenerife Morros City park the newly transplanted green lung of Arona where mature palms found a new home
Sitio Litre the oldest man made and historic park in Tenerife
Park and Victoria gardens with Mausoleum in La Orotava
Entertainment attractions
Tenerife attractions of most popular things to do
Tenerife speed boating in Los Gigantes
Tenerife pole jumping or Shepherds jumping which derives from Gomeran Guanches and which is only available with Spanish speaking coaches in Buenavista del Norte.(Tel 0034 + 653 489 920)
Tenerife attractions of technology
Inter island connections by Binter and Islas Airways
A new tram system with free Internet service which is still to be expanded.
A cable railway called Telerifico by Mount Teide
Red 'doubledecker' buses with audio enticement in different languages by the luxury Santa Cruz city tours
German technology miracle trains as Tenerife transport in the pipeline, although an investment which is hardly affordable
Island hopping with a much relaxing Fred Olsen ferry from Los Christianos or Santa Cruz.
Small bananas
also part of the island's Cavendish hybrids.
What turns bananas into attractions?
Banana gift parcels to take overseas
Stunning banana trails for walking, such as the one La Paz to Bollullo
Many a mesmerizing banana plantation by the sea
Tenerife Bananeras
Platanera El Guanche
a subsidized banana show farm/park
at Carretera Botánico up the road from
Jardin Botánico at La Paz of Puerto Cruz,
Tel: 0034 + 922 331 853
Platanera Jardines del Atlantico a park with regional flora added
with Teide film show and farmer museum
Where? By Arona and TF1 at exit 26, then Buzanada and Guaza to Camino de Bananeras, 16
Be your own guide for the free to see Banana farm of Rambla del Mar
of the serene and Los Realejos coastline.
Los Realejos the cradle of a new Tenerife after the conquest of the Guanches
Tenerife Attractions of La Orotava
Casa de los Balcones
Museum of flower carpets
Liceo Taoro elegant whose entrance door is depicted beside
The mother town of Puerto de la Cruz which I discovered when visiting a
townhouse in la Orotava in the old quarters
is a photo shot drawer of Tenerife in its own right.
Meson Monasterio by Montaneta of the monks
The most attractive gardens with restaurants, farm animals and Tenerife champagne breakfast.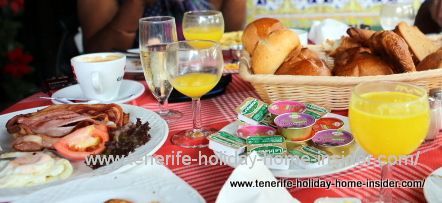 The most popular attractive cafes of Tenerife
More Tenerife towns that lure most visitors
Pictures of Garachico at night
Santa Cruz de Tenerife attractions with new Plaza de Espana
The Santa Cruz de Tenerife city tour bus which is overrated but highly useful for strangers in town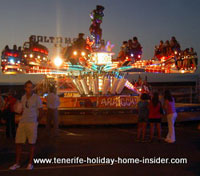 Funfair
equipment and street stalls of all sorts have been part of the big thrills of the Puerto de la Cruz amusement park for many years.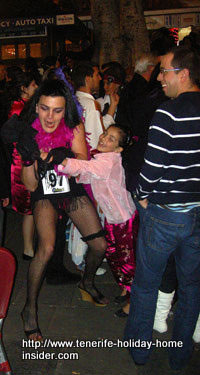 Spanish people as Tenerife attractions
Of course, the biggest attractions are Spanish people during the Tenerife Carnival holidays and other fiestas.
They may be in fabulous feathered Carnival costumes as well as without. They give occasion to excellent photo portrays to capture.
That's when people of Spain and all its carnival provinces lose their inhibitions. Then they are extremely extrovert and show their happiest faces.
From Tenerife attractions back to Homepage of Tenerife holiday home insider

Siam Park the best water park of the world information about which find here
Please mind that the comment box below is meant to help others. In case you have a question or want to tell me something, kindly use this contact form.

Back to HomePage of the Tenerife holiday home insider
This site is protected by Copyscape

Top of Page?