Decisive
Spain history lives on with a Los Realejos church.
The most important step for Spain history after the proclamation of the conquest of Tenerife in 1496 under the Adelantado de Lugo had to be the building of a humble temple of Christian worship.
This had to take place before the proclamation of Peace the Pact de Paz (Peace pact) with the remaining nine Guanche kings and their baptism.
Why was all this an indisputable priority?
It was as important a ritual and an act as the planting of the Christian Cross on the shores of Añaza when Alfonso Fernando de Lugo came to Tenerife for the first time.
All conquests of that era were done in the name of the Cross in order to bring Christianity to the world.
It may be seen as the philosophy or the motto of those days and is a reality that can't be denied.
Feudalism in Tenerife and the end of the Middle Ages?
None of this happened by 1500 with Spain history, as is generally assumed elsewhere. The power of the church as well as feudalism only just started in Tenerife Los Realejos in 1498.
Why a church or chapel was needed
It was vital to give thanks for the victory over the Guanches to God i.e. Jesus Christ who died on the cross. This ceremony could not be outside a church but had to be inside its sacred walls, as has always been custom with the Catholic religion. Important sacred acts of Catholicism are not celebrated in the open, but may only be
complemented by street processions.
The second most important act for Spain history
This meant to achieve peace by law and order and therefore by pacifying the Guanche people through baptism. The fusion of their traditions and control by the church, was a logic next and third step.
Catholic church rules as part of Spain history
Also, the defeated natives had to learn about the Christian faith before they could be baptized. Unfortunately, there are no written records to when this church or chapel was built. Church documents were destroyed by fire again, at a later stage in the century XVII. However, word of mouth reports the first steps to build the church by July 25 of 1496 a date which seems to be rather logical.
Only La Orotava has some proof for Realejos
You find it
first of all
in the Sinodes a document of church Iglesia de Nuestra Señora de la Concepción whose first land was granted on January 10, 1502.
Orotava church daughter of Matriz of Realejos
In 1514, Orotava's main church community was declared daughter of the church Matriz of Santiago Apostol of Los Realejos. Hence another clue that the important Los Realejos church existed first and long before.
Secondly, there are more details about the granting of land as far as for Vilaflor and Adeje church communities in the south. Find it at Wikipedia, here.
Realejos Mother church view by old photo
Land distribution not only for sugar cane cultivation
Thirdly,  the Realejos land grants to the church and private people make all the more sense for an earlier time. Even Garachico was already given to the Italian Don Christóbal de Ponte in 1496.
 
Initially, the first chapel or church of Realejos may even have received its terrain and other land by word of mouth,  as nobody was to questions and to doubt the integrity of the conqueror De Lugo of Tenerife.
A later Spain history event
Matriz Santiago Apostol
from its front. It also gives more credit to Tenerife's most unusual church tower, while the classic three naves are clearly visible. This church was declared a monument of artistic and historical value by Spain Royal Degree 508/1983 on February, 02, 1983.
What's so special about Los Realejos and the location of this church?
The little Spanish royal military camps called Realejos which won fame during the conquest left their name to the town which was built in their place
It pays tribute to the decisive military victory over the Guanches in the XV century
The proclamation of 'La Paz de Realejos' or the take over of the Guanche kingdoms for Castile on July 25, 1496 was concluded there. It was one of most important events on colonial territory for mainland Spain history. Why? The defeat of the so called last and biggest Guanche Island enabled the fusing of two of most important provinces of Iberia which eventually became today's motherland Spain
Church Iglesia Santiago Apostol of los Realejos was the spot where all nine Guanche kings were baptized with new Spanish Christian names, as more than a symbolic gesture
Nearby in Realejo Bajo, the Castilian conqueror De Lugo built one of his first homes
What does Spain or Castile have to do with it?
The Adelantado Fernández de Lugo who was born in Lugo of Castile brought fame to Castilian Spain history. He achieved this thanks to annexing Tenerife for King Ferdinand II from Aragon and Queen Isabel I from Castile.
Both monarchs were also known as the .(Catholic kings).

Actually technically speaking, Tenerife had been taken for Castile.

Why? Queen Isabella I and King Fernando II of Aragon were married with Antenuptial contracts. Hence the acquisition of Tenerife happened after this contact which became communal property for both Monarchs

It helped enormously to create a united Spain.

Later in 1579, one of De Lugo's nieces entered history books by marrying Antonio Luis de Leyva one of Spain's royals the prince of Asculi who moved to Tenerife, hence the name of their home 'Hacienda de los Principes' which is in Los Realejos Bajo.
Historic Realejos links which relate to mainland Spain or Castile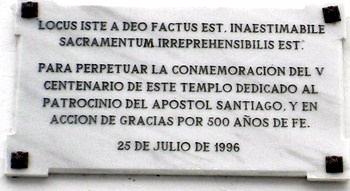 Depicted is the commemorative plaque which is displayed outside above an ancient portal of Iglesia de Santiago Apostol. It celebrates the 500th birthday of this first Tenerife church on July 25 of 1996. Indeed, the construction of this house of God is part of most important political acts of the Adelantado de Lugo that marked the end of the military campaign for Spain.

I could only find one good article by a Spanish government website which confirmed the important fact that Los Realejos built the first humble house of God for the Christian Catholic faith in Tenerife but my browser warned me not to connect by linking to them.

The local painter, art teacher and sculptor Cristo Quintero whose two baroque angels are still displayed there agrees with me. You can contact him again at Casa de la Cultura La Orotava or via its town hall from September onward.




Los Realejos the municipality and town where La Paz the Peace with the Guanche kings was proclaimed for Spain has many more historical links which are relevant for the city and its region but not directly related or of utmost importance for mainland Spain contrary to the happenings that are mentioned above. 


From Spain history back to history of Tenerife in general










Please mind that the comment box below is meant to help others. In case you have a question or want to tell me something, kindly use this contact form.


Back to HomePage of the Tenerife holiday home insider

This site is protected by Copyscape


Back up to top?