Secrets of Tenerife sun which deserve an anthem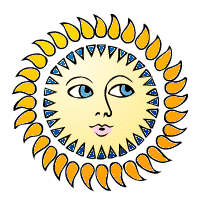 Anthem dedicated to Sun in Tenerife
A good man will keep you warm,
but so does the Tenerife sun.
She, however, is less demanding.
She's your better lover and never on the run.
Mean tongues say, more hot Tenerife gays than "heteros" abound.
The Tinerfe sun, my dear, is not choosy with anything around.
She's like a capricious lady, unpredictable at times, but she always loves the biggest of all Canary Isles.
Then, why's there such rumor Tenerife sun likes Las Americas best?
She doesn't...
Look, there are also days when she, unexpectedly, turns her face to Northwest.

She, then, leaves the South in the gray.
That's when you really feel stupid after having gone onto a beach trip from the North to the South on a sunny Puerto Cruz day.
Time needed from Puerto Cruz to catch up with sun
 You reach Playa de las Teresitas the main beach of Santa Cruz de Tenerife within about 40 minutes.

How fast get from Puerto Cruz to Playa de las Americas?
It takes an 80 to 90 minutes drive.
However, there may be sun before you reach the musical fountain of Arona
Occasionally, it may be rather hot in the South for sleeping well at night. Most hotels have artificial cool air, though.
The strength of Santa Cruz capital sun
Discover Tenerife Santa Cruz hotels, which are nicely cooled... Nights and days can be extremely warm in August in the capital of the biggest of all Canary Isles.
Tenerife Sun and solstice
You know that the Tenerife sun casts different shadows during 365 or 364 days per year.
Nobody celebrates this on Tenerife.
The day of Solstice on June 23, was renamed San Juan fiesta (Saint John holiday)
for Puerto de la Cruz.
But, Puerto still celebrates the sun while setting alight
a big bonfire.
Icod de los Vinos also parties on that day.
It makes do with a big pole people set alight on San Marcos beach.
A friend said to me earlier on the day of solstice, when we were driving in her car: "Fantastic, now the sun will annoy me less with its brightness behind my steering wheel..."
The sun and Guimar Pyramids
Know that Guimar Pyramids of the former Guanche the natives of Tenerife were all built facing east to the rising of our most powerful natural energy in the sky.
The Guimar Pyramids give you a peculiar enough clue that the Neolithic people must have worshiped the Tenerife sun.
Not really games by Tenerife sun
There rarely is a day where Tenerife sun doesn't smile at some part of the island, at some town or on some beaches.
The Tenerife sun is "known to play disappearing tricks" which, of course, has reasons. This happens frequently in the region of the northern of the airports of the biggest Canary Island  by El Sauzal. There, she suddenly may be hiding behind the smallest of mountains. That doesn't mean that she is in a low position because of the hour of the day.
Only weather clouds are to blame.
Tenerife sundowns
The West coast of Tenerife is famous for its sundowns, most beautiful during solstice.
Conditions helped by sun on Teide and Cañadas
Teide sun and snow
Sometimes, the sun already starts lifting Mount Teide's white cap in March. This snow cover usually stops at the height of 1500m. By May by the latest she more than often has achieved a naked looking Teide top, where endemic rarities may still pop up.

Find out more about the surprising Teide National Park with its special climate of sun, clouds and wind as well as amazing beauty... The national park of the the Island of Mount Teide has had that privilege since 1954 for good reasons.
Caleidoscope of colors in rocks
Without the help of her revealing light, we might not spot so many different colored minerals and oxidation in these mountains which are lit up so brightly from above.

Autumn in Tenerife and its sun
The time of the year when the sun is most generous in both North and South is, definitely, autumn in Tenerife.
Rains may start end of October/November. From September to end of October is, therefore, the best period for sunny Tenerife holidays, by far.
Sun at Easter time in Tenerife
Learn why April on the biggest of all Canary Islands is an alternative for vacations. This applies to North and South Tenerife. The time around Easter was my first sunny holiday in Tenerife.. Swimming in a heated pool in the open at our 4 star hotel was very welcome. We stayed opposite the 7 artificial lakes of Puerto de la Cruz where many tourists were not shy to swim in its natural pools while they, obviously, greatly enjoyed the Tenerife sun at 23 to 24 degrees Celsius around Easter.
Find out about Tenerife winter sun, clouds and wind...
The Tenerife weather is warmer in general and shows more sun in the South. A difference of 2 degrees Celsius compared to its northern region may almost be taken for granted. Winds can be unpleasant on the Southwest coast, however.
Millions of hibernating long term tourists who prefer winter in the north of the biggest of all Canary Islands' have been proof since the Seventies that Tenerife winter sun is pretty reliable and still strong. I noticed an average of 23 degrees Celsius around Puerto de la Cruz from 2001 until 2007.
Tenerife Winter 2008/2009 went crazy, however. North Tenerife temperatures by its oldest resort went as low as 14 degrees, at times. Therefore, the exception confirms the rule with sunshine, also.
At Los Rodeos Airport, however, the winter sun hardly fights twelve degrees Celsius.
Why they call it Punta del Sol regarding Tenerife sun
I can see Punta del Sol from my balcony in Los Realejos. Punta del Sol is phenomenal, as it's, almost always, bathed in sun. This is why Punta del Sol translates into Point of Sun. Punta del Sol is also the remotest coastal point from which to enjoy La Orotava Puerto Cruz Rincón.(La Orotava and Puerto Cruz Bay).
Poem Tenerife sun for kids and the young at heart
When the sun's face is half covered with clouds of sky
is when she almost wants to cry.
When she is hiding behind a total black screen
is when a cloud wall covers up for her because,
she doesn't want to be seen.
Her most radiant smile is for old and young
a promise for biggest rooftop and outdoor fun.
The secret of the Tenerife sun for any age group.

Indeed, living permanently in Tenerife is ideal because of its fortunate climate. You also may very well guess why there, the sun helps to bring up children cheaper, better and healthier. In fact, Vitamin D is produced with the help of the sun on our skin. This "sun vitamin" is important for growth and for bones. Take the children to the beach before 12 noon or best after 4 p.m.. At other times sun block must be applied. However, it doesn't allow any Vitamin D to enter the human skin. Also, kids have so many cheap sports and outdoor celebrations Not to forget with Tenerife is its famous sunny Carnival.
Be careful with children with very white skin and discuss sun exposure with your physician. Possible skin cancer is not to be ignored. However, the following New York Times publication by Gretchen Reynolds in the next paragraph reveals much more.

Sun against osteoporosis
Discover that Vitamin D is best caught by
strong sunlight
... Tenerife sun will help
even
in winter. Vitamin D which enters our body with the help of sun rays is important first of all for helping to absorb Calcium for your bones.
The Tenerife sun is also a good friend for the elderly and everybody with fragile bones. Besides, any outdoor activities of people of age are a great plus for insufficient bone density. Here again, the sun is a helper to spend more time outside. Grab your cozy place for the sun...
Rent a Tenerife holiday apartment in the north and enjoy winter months with more than enough sunshine, unless you prefer spring autumn or summer holidays...
From Tenerife sun back to climate in Tenerife
to find out more, such as about temperatures, moods and life styles which all depend on those warm beams which she gives us. I would like to thank my friend from
Writers Helper
very much who gave me a valuable tip for my first anthem.
Read it one more time if you liked my little rhyme ?
It would have worked out better if I was a native English speaker.
Please mind that the comment box below is meant to help others. In case you have a question or want to tell me something, kindly use this contact form.

Back to HomePage of the Tenerife holiday home insider
This site is protected by Copyscape

Back up to top?