A banana plantation Los Realejos and how best grow bananas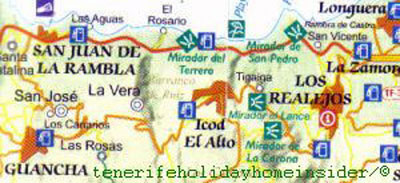 The banana plantation below the look-out of San Pedro is one of the most beautiful landscapes on all Canary Islands. Besides those at El Guincho of Garachico, of course.  If you ever watched a San Pedro sunset you will confirm this. Plus you can sit on a gourmet restaurant terrace to enjoy it all. Not even a king can have such a  paradise almost 365 days in a year. This is romantic Realejos of Tenerife at its best.

A banana farmstead for a Tenerife day trip or a sundowner drink
More options
Just sit on the stone wall by the look-out and marvel at the most breath taking views of this tropical farmstead
Be engulfed by the romance of the place, as is custom by all young insiders of the region



Savor a gourmet meal on the Restaurante San Pedro terrace with a cool beer or any other long drink
Walk right down on the farm's main road that is lined with wall to wall bananas as far as the beach of El Guindaste for swimming or flyfishing or to San Juan de la La Rambla further on.
.
Biggest asset of the San Pedro banana farm
The non plus ultra of this banana place or 'Finca de platanos', as called in Spanish, is not that it's entrance free. You can drive right through this banana oasis with your bicycle, motorbike, car or wheelchair, contrary to most other Tenerife banana plantations.
No sign of trespassing.
As said, San Juan de la Rambla is at the far end of the bay below the San Pedro Mirador (look-out) of Los Realejos. By the way, all this belongs to the most famous Rambla de Castro walking trail on the North Tenerife coast.
How get there?
Spot San Vincente and San Pedro Mirador (look-out) by the coastal road TF 334 on the map which is shown above. You can't miss the way to Restaurante San Pedro which leads to the plantation.
By the way, be careful to drive down this narrow road, as it's not easy for two cars to overtake or pass each other.
Some citrus trees grow at its borders. Ripe oranges might tempt you to pick them.
When and how to harvest bananas?
It is easy with citrus, while bananas require some more complicated and skilled harvesting.
A bunch of ripe bananas is very heavy and shouldn't be dropped onto the ground. When it happens, the fruit will get brown and bruised inside.
More tips to handle bananas in the fields
Make sure that the wine-red flower on the bottom of the stalk has well dried out or has fallen off. This is the case in the photo beside. That's a good time then to cut the stem of bananas, as is. Don't split.
Wrap the cut part with something, as it will drip juice by bleeding white liquid for a while, which might stain you. Otherwise leave it on a wall of the banana farm to dry out.
How many banana harvests in a year?
There is no limit to harvesting bananas, as they all grow at different stages right through the year. They don't depend on seasons. Growth may be helped by irrigation water. Of course, rain is best. As soon as an offshoot of a banana clump has a flower, fruit starts to grow straight after. Quickly many rows of tiny hands of bananas cluster around a stem. Once, fully grown, the entire bunch or stem with fruit may weigh as much as 50 kg. Only finger bananas or the rare, tiny local variety weighs less.
Plastic protected bananas
are even seen by the Indian ocean in Southern Africa. The blue cover makes them ripen faster and protects against birds or may be bats.
You could also wrap the bunch of bananas in newspaper and leave it in a shed out of the sun. Bananas need much water and a soil where their soft roots may enter the ground to collect more moisture.
Get a Farm water tariff
Apply for an agricultural water tariff for banana cultivation. Such farmsteadt water supply is much cheaper than domestic water.
It certainly also helps that the Rambla del Mar
banana plantation is on lower located land. Any ground in a dip receives automatically more rain water which runs down any slopes. Then there is an irrigation system with thin flexible black plastic pipes for the subtropical plants as well. All three reasons result in a very green banana paradise, as depicted on the photo above.
Banana cultivation care
Banana farming maintenance is very hard work, as banana plants should be separated quite often. They will then branch out again by growing new shoots from the bottom up. It is not good enough to cut the banana fruit. The whole trunk must be chopped down. Or call it the mother plant. Now the strength can all go into the smaller shoots which had appeared around it.
Thinning out bananas
Treat a banana plantation like your carrot field. Carrots grown from seed need to be thinned out, as each plant grows better with more space around it, instead of being crowded by other plants.
Viable export of bananas
Banana plantations for the export of bananas became only interesting after the building of more steam boats in the XIX century. That's when Canary Island bananas hardly ever left Hamburg, as they were virtually sold within minutes from the ships in which they had arrived. I watched this once, 45 years ago. Tenerife exports many bananas to mainland Spain per year. I had statistics but those may not be correct now. I noticed many banana farms which are now neglecting their crops. Nevertheless, a very large part of them are consumed on the Canary Islands.
Heart worms from banana farms
By the way, there are insects or microscopic small living things in every Tenerife banana plantation which can cause heart worms in dogs if they have not been inoculated against them. The disease will eventually kill your pets if heart worm trouble is not being prevented. I was told by a local vet that it is best to inoculate against this menace before you bring a dog to any Canary Island. However, there was an elderly lady in Rambla del Mar who doubted this very much. Her Alsation had never caught the bugs during many decades of living within so called heart worm country.
Small bananas are not automatically finger bananas
I have not seen real finger bananas in Tenerife. Finger bananas grow on tall elegant plants. Also, the fruit is not only short but much thinner and so is its silky skin. I remember that my real finger bananas had much more loose ground for their roots to go deeper. This isn't possible on a volcanic island.
Cavendish bananas
I haven't seen those at the banana plantation Rambla del Mar. However, I have bought so called quality 'Cavendish platanos' at Carmens shop in La Longuera Realejos. Recognize the Cavendish by its brown spotted skin. It also has a strong and sweet aroma. Tenerife is waiting for a brand recognition from Brussels. This would help compete in exports with cheaper bananas from North Africa and Ecuador.
Accommodation by the banana plantation?
Indeed, there is the small country inn of Tenerife San Pedro whose owner Helmut lets a luxury apartment. There is also a holiday home for longer stays about 10 minutes from the plantation
more information about which find here.
By the way, the romantic surf beach Playa del Socorro is just down the road of the freeway.
Return from the banana plantation by San Pedro to Los Realejos Tenerife to find out more about this town which had reached 37559 inhabitants at the end of 2010. That makes it a slightly more populated region than Puerto de la Cruz with about 31000 residents as off 2011, while Realejos has the most space of Tenerife and therefore less people per square km. Of course there is many a banana plantation in Los Realejos. Many of them grow on terraces or by the coast.
Back up to top?
Please mind that the comment box below is meant to help others. In case you have a question or want to tell me something, kindly use this contact form.

Back to HomePage of the Tenerife holiday home insider
This site is protected by Copyscape