Spain Tenerife beaches in the South are different from the ones on the north west cost and from the dry eastern shores.
Tenerife beaches Spain by the South Tenerife Atlantic were striking me as white, when I saw some of them in 1997.
The Tenerife South beach by Adeje near El Duque Hotel, which is depicted beside, doesn't look so gray in reality. This was caused by the time of day and poor light.
The Tenerife south beaches from Los Gigantes onward have one advantage:
Most are bigger and have better access than in the north. They also get more days with full sun. However,  you are more exposed when it's windy. Also generally, there is less privacy. Sometimes,  you can hire a beach cabin, though.   

Walk on a beautiful palm lined beach promenades on the fun packed, glamorous coast of Costa Adeje and find the unusual cafe of Hotel Mirador with more photos which include innovative Tenerife architecture with a warm Colonial touch. All this is almost the norm on those southern shores. They are on the same latitude as Florida, you know. However, such subtropical walk ways become very scarce, once you turn the tip of the island, before you move east.

Southern Tenerife beaches
Playa Los Gigantes which is a medium sized beach compared to others on the island is popular on the West Coast by Los Gigantes the town of giant cliffs. It has its subtropical touch. Bistros, bars and cafés are nearby.
Mind that ocean currents can be strong there, above all in spring. It is proud to have the blue flag.
Why Playa de la Arena by Los Gigantes with its free Wifi hotspot  is remarkable. 
Los Gigantes town beach
It's smaller and it's in a cozy bay. It has the blue flag, but no beach amenities. School kids and folks of the surrounding suburb like to cool off there. I've even seen a dog by its shore.
Playa de las Americas beach disco dancing
Many have heard of Playa de las Americas of the southern Tenerife beaches. You would think that this is one beach only but, it's not. Several sea shores are part of it.
Monkey beach resort
If you don't mind crowds you might feel happy with masses of young people at an outside disco at the Monkey beach resort club by Playa de las Americas. There, life is easy. Young men don't need to change from beach trunks to smart clothes, while sexy beach girls are dancing to Salsa music in bikinies, hot pants or mini dresses.
Playa de las Americas Arona photos can be seen here. I was sitting at an Arona beach front café and watched guys surfing by moon shine in autumn 2007. Of course, high surf waves are not for the timid swimmer.
By the way, wait until you come to the more southerly Tenerife beaches... There near the airport TFS of Reina Sofia, surf is at its best.
Watersports Tenerife by Playa de las Americas
Water sports for tourists and locals alike with so much more fun things to do near the Tenerife ocean.
Get an impression of Beach Fanabe by this picture...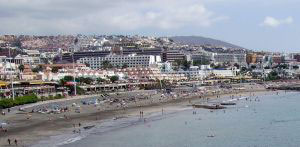 Beach Fanabe of Tenerife South
Beach Playa Fañabe as written in Spanish is another touristic sea shore on the coast Costa Adeje.
Note, this 650m long beach almost forms a half circle, while you only see part of it... Big hotels and other holiday resorts line the background.
A highly popular nightclub is there.
Beach Playa del Bobo
This is one of smaller Las Americas grey sand beaches of about 130 x 50 m size. It has a blue flag.
Playa Torviscas
Another minor Playa Las Americas sea shore of grey sand. Its size is about 150 x 50 m. Its popular, has a blue flag and wheel chair access.
Playa La Pinta
The South Tenerife La Pinta beach is next to beach Playa Colon. Playa Pinta is in a cozy half moon shaped bay, has beach wardens and a blue flag.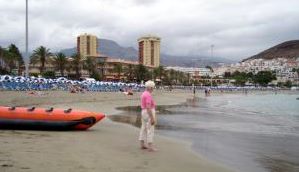 Playa las Vistas
Los Cristianos Tenerife beaches are similar to those of Las Americas but, the surroundings are sometimes less trendy, above all by the 10 km long Los Christianos town beach.
Continue walking for 15 to 20 minutes and get to Playa de las Vistas. There, a 1,5 km artificial beach was created on a large bay. Playa Las Vistas is the largest of all three Las Americas beaches but, may also be the most crowded in July and August.
Therefore, a holiday home in Tenerife may be found cheaper in Los Christianos than by other neighboring shores.
This was the experience of a friend of mine. She struggled to find something reasonably priced for a family of six in high season during summer 2007 and located it closer to Los Christianos town, just before Playa Las Vistas.
If you were walking from Las Vistas along the shore in direction of Costa Adeje you would get to Playa de Camicón, then to more beaches of Arona including Playa de Troya with 650m and Playa Las Cuevitas as well as later on to Playa del Bobo with 130m.
Beaches of Playa de las Americas I and II
By the way, I could never figure out, where the blue flag Tenerife beaches of Playa de las Americas I and II start or end. Nobody seems to know and no road signs indicate accordingly. Perhaps, some knew that secret, when Playa de las Americas was firmly placed onto tourist maps, after it got the boost of golden sand from Africa way back in 1960.
Adeje beaches
Beach Playa del Duque is by the high class 5 star Gran Hotel Bahia del Duque Resort with its many colonial style towers. Admire, how beautiful some parts
of beach del Duque are... One could almost mistake this photo for one showing a sea shore in the Seychelles.
This hotel is organizing beach lunches, by the way. I saw the waiters dressed in black, white and red, on such an occasion.
Explore the Adeje El Duque beach shore of Tenerife beaches and you'll even find an old fort by this seaside...
Spend some unforgettable Tenerife holidays at el Duque... Use its small, pretty blue and white beach cabins
to change your clothes...
I've heard much about a small beach near Arona. It has a break water which fends off strong currents and high waves. This is ideal for a person like me with screws in the spine.
Its name is Beach Playa San Eugenio.
I've been there once but, the weather was neither fortunate for beach fun nor for photos.
The picture shows part of the subtropical beach front and promenade with an overcast San Eugenio beach in the back ground.
A friend of mine who adores this beach was swimming there in early June, while the water temperature was 21 degrees Celsius, which is rather pleasant.
Also nearby are the subtropical park Parque San Eugenio and a casino by the beach promenade. Go straight up through the park and climb the hill to the San Eugenio shopping center, where this same friend raves about very friendly and good customer service which he gets in a small Indian shop where he buys cheap cigarettes.
Playa Puerto Colon with its clean, golden sand beach has a breakwater running parallel to its shore. It protects bathers in a similar fashion, as happens at Playa San Eugenio.
Puerto stands for Harbor or Port. The harbor of Puerto Colon is indeed quite known for Tenerife day trips by boats Alternativelyl use shorter ones to watch whales and dolphins. Boats of all kinds transport people up the west coast on such tours. Diving schools operate from this place, too.
Discover a catamaran which took the adventurous tourist to Playa Blanca the snow white Tenerife beach for insiders in the south.
Fans of Playa Puerto Colon are lucky that its Port isn't in its immediate vicinity.
The ocean barrier break-wall, obviously, prevents good surfing as strong waves are vital for it.
Parking space is not very big by Puerto Colon beach but, is close by.
Southern Tenerife beaches summed up
Just figure many Tenerife beaches by the south west with almost one endless beach front... Imagine them divided by small rocky outcrops...
One large hotel after the other lines roadsides with tall palms. Often, a narrow promenade is between the beach sands and the street.
The picture is rounded off by many restaurants. Pick the one, where most guests sit outside, and you will not be disappointed...
Behind the coastal road you either find more holiday home apartment blocks or a what's left of a once purely Spanish village where local people live in large residential houses nearer the shore. Often small shops are on ground floors. That's what the surroundings of beaches in the south look like.
The exception is by the beaches of Adeje where you encounter the Gran Bahia Hotel del Duque which is so different from the rest. This is also the more expensive tourist resort in the south. Here, you also glimpse most of Tenerife's millionaires, many of which are British.
Less touristy Tenerife beaches Adeje
There are two of them which are located near the famous Adeje golf courses.
Black Adeje Tenerife beaches
Beach Playa de la Caleta with 75m length,




black sand and pebbles




but suited for wheelchair access




and parking

Beach Playa Enramada (330m long)




with gray sand and pebbles, revamped in 2008

Diego Hernandez Beach Playa Blanca




of 200m length, the only nudist beach




for all Adeje and Las Americas
More things to do by southern Tenerife beaches
Do vacation shopping while your children and hubby can enjoy the large seashore Tenerife mini golf courses near Playa de las Americas, which are shown beside... Plan breaks from South Tenerife beaches by enjoying the trills of Europe's biggest attraction, Siam Park... It opened its huge fun filled Thai village middle of September 2008. Test your surfing twists there on artificial waves or, travel on your backside with a gigantic water slide into embracing Siam waters below... Load yourself with drinking water and attempt the challenge of
Barranco del Infierno with good shoes... Diversify at Octopus Aquapark or meet international friends in luxury golf resorts by the beaches of Tenerife South... Go go carting with your family at Agodo.
Also, mount Teide is only a mere 2 hours up the road, depending, from where exactly you depart.
The beaches of Los Gigantes of Santiago del Teide are between 35 and 20 minutes further north.
South Tenerife beaches east coast for best surf
From Las Americas go back to the freeway and drive inland towards eastern shores... Turn off by airport Reina Sofia at exit 22... Reach the beaches of El Medano after about 4 km... Once you pass the prominent red mountain Montaña Roja, you are there.
Notice a camping ground with basic amenities on the same elevation... That is the place to enjoy good surf in a country of indigenous low growing vegetation. There are also the southern surf beaches El Cabezo and beach La Jaquita, close by.
World famous el Medano Surf beach
Needless to say is that this 2km long international surf beach El Medano by Granadilla has a blue flag and all important beach amenities, such as showers, toilets, change rooms, bistro, umbrellas, pool loungers and parking nearby.
Southern beaches el Medano
Get to know the whole region of el Medano with its awesome Tenerife water sports by great and unusual photos with links and stunning geology by clicking here.
Of course, this is where wind surfing is tops in Tenerife.

The Tenerife airport beach Playa La Tejita
Beach Playa de la Tejita by El Medano in southern Tenerife has a small section for nudists. A friend of mine used to call Beach Playa Tejita the airport beach. Why? It is very close to the Tenerife south airport Reina Sofia.
Note, the further south and south east Tenerife beaches are stretching, the more wind doesn't only cause high waves, but may also blow sand into your eyes. Therefore, this part of Tenerife is not ideal for sun bathing. It is however a rather unspoiled and quiet spot with sea gulls on big empty sand and local fishermen going out to sea to catch fish.
From South Tenerife beaches to amazing romantic beaches Tenerife North
Please mind that the comment box below is meant to help others. In case you have a question or want to tell me something, kindly use this contact form.

Back to HomePage of the Tenerife holiday home insider
This site is protected by Copyscape