My favorite holiday shopping in Tenerife North and South at any time.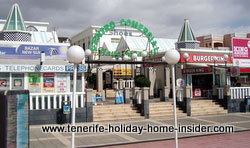 Holiday shopping in Tenerife is a great pleasure, no matter where you are on the island.
Why?
Imagine browsing shops, stalls and markets with eternal spring and sunshine or doing it when the stars are up, while Sunday shops are even around in the island's capital...
What about shopping in Adeje by the beach?
Well, no problem, as shopping centers, such as Centro Comercial Fanabe abound.
International Spanish fashion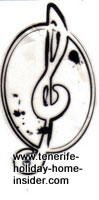 Look out for Spanish designer ware Zara, Mango as well as Cardin at Safari Center. Discover pictures of the town Arona where you get the latest designer ware and bargains as well.
Browse all Zara shops while on Tenerife holiday
Check out the stocks of the Spanish fashion Zara at the Arona Safari Center, while you should always do a trip to my favorite Zara outlet which is in Santa Cruz, in case you are a Zara fan. Why? Not all its outlets stock the same.
North Tenerife vacation shopping
A good place to shop when you are on a holiday in North Tenerife for Zara and other Spanish fashion, such as Massimo Dutti, Bershka and Stradivarius is at the big freeway Orotava mall by Puerto de la Cruz. This center is awesome for holiday shopping, by the way. Of course, there find other fashion brands, such as C&A, Corte Inglés specials and more. By the way, Stradivarius has always been selling well since end of 2009, even at the Martianez shopping center. By the way, it is also great fun to pop into any of the individual little boutiques of Puerto de la Cruz or La Orotava which has more elegant stuff, in general.
Do you have a holiday home in Tenerife by Puerto de la Cruz?
All those who have a self catering apartment or villa by Puerto de la Cruz must pay a visit to Puerto's harbor in the morning. Take your cooler box along and buy very fresh fish there from the fishermen. They bring it there for cleaning before they sell it...
Tenerife day trips for holiday spending
Such trips are a must for the serious shopper.
Hot shoe tip for Tenerife North
Take a bus to La Orotava from Puerto de la Cruz...There is a shoe shop at the bus terminal of La Orotava. You will not regret to have gone this extra mile. I forgot the name of the shop, but you can't miss it. The bus virtually stops by its front door. Their shoes are half price of what you pay in most other places.
Another must do shopping trip is to the capital
It takes hardly one and a half hours to the Tenerife capital down town shops as well as to Corte Ingles Santa Cruz. The elegant Corte Inglés mall lets you claim back tax, as their interpreters will explain to you. Just ask for them...
Best places to get Tenerife vacation souvenirs
My favorite is the Tourist shop Puerto de la Cruz which also sells a modern Guanche souvenir in different sizes.
The other is a crafts shop in Masca which has more conventional souvenirs and gifts of Tenerife but, even walking sticks.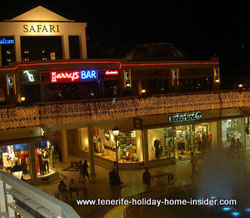 Not to forget at Safari Center or at other Las Americas malls are designer sun glasses and value for money Tenerife electronics like digital camera equipment, electronic computer games, a route finder for cars or for hiking, you name it.
Tax refunds are luxury holiday shopping incentives
So what keeps you back to spoil yourself with something nice while on vacation, such as something from Cardin at Arona?
You don't only get holiday shopping tax back at the airport
for the most expensive gold watch, diamonds, chorals and local pearls, for designer clothes, designer shoes and handbags, such as at Hotel el Mirador CC boutiques or at Arona.
Always ask for the respective invoice to allow TFS or TFN airport Tenerife tax refunds when you do holiday shopping...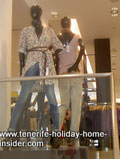 Shopping for Spanish fashion on a vacation in Tenerife Spain is a must, of course.
Vacations make us care free. This is even better for shopping than the right mellow music in shops. Beach holidays are ideal to find beach ware, funky cheap sun glasses as well as body care and sun cosmetics.
A husband, fiancé or admirer is always more inclined to buy you expensive gifts, while you take him holiday shopping. And it never matters to have plenty already.
Why?
Happy people are consumers. They are good for the economy. Content people are more spoiled on vacation than grumpy people.
We bought a holiday home in Tenerife in 1997, while we were feeling like over the moon. Therefor, our property hunt was fun.
Shops of Hotel El Mirador Adeje
Don't miss this beautiful shopping mall CC Centro Comercial El Mirador del Duque Adeje with its amazing Spanish architecture, while having a virtual photo tour of this generous and innovative beach holiday resort at the same time...
Costa Adeje markets and rastros (flee markets)
La Caleta which hosts prime Canary Islands golf Costa Adeje is also one of many little coastal villages for buying Spanish food and drink for your holiday home in Tenerife. The charming hamlet La Caleta has its own weekly craft and local food market. All Adeje markets and rastros are from 9 a.m. - 2 p.m on different days, while Los Abrigos gives you moonshine markets from 17 p.m.-21.p.m on a Tuesday.
Avoid shopping for perishables to take home on the plane. It is not allowed, unless the products are properly packed and sealed by the shops, such as fresh banana packages which are usually supplied to any Tenerife hotels.
Tenerife markets which are not in the South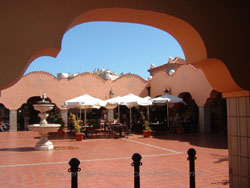 Morning shopping African big market in the capital called
Mercado de Nuestra Senora de Africa
Possible small street markets in the capital
for Sunday shopping since 2013
Big weekend markets of Tacoronte

Morning markets Puerto de la Cruz with Flea markets on Saturdays
Avenida Blas Pérez González, Tel: 922 386 158
Daily morning market Los Realejos Alto, a map of which see here.
Every day shop sales at C/Quintana and San Telmo shops downtown and in Puerto Cruz hub
with flower street market stalls
Weekend morning markets of Santiago del Teide
in el Valle
Holiday package deals shopping
By the way, there is also such a thing like shopping for holiday tours or holiday travel package deals. The latter may also be interesting when you are looking for very specialized holidays like safaris, Mount Everest climbing or Alaska tours, you name it...
No refund for Tenerife property tax
Mind that holiday shopping for new Tenerife property doesn't allow for tax redemption...
From holiday shopping back to shopping in Tenerife.
Please mind that the comment box below is meant to help others. In case you have a question or want to tell me something, kindly use this contact form.

Back to HomePage of the Tenerife holiday home insider
This site is protected by Copyscape

?