Why take vacations by the small Playa de la Arena resort?
Playa de la Arena is a subtropical, black sand beach with palms and flowering shrubs. It's  about 120 m x 50 m big. It snuggles  into a small semi circle bay that's hugged by volcanic rock outcrops from two sides.
   
    This is why it's not only loved by locals as a family beach for safe swimming.
   

A gentle path that's wheelchair friendly leads down from the beach front promenade the Marina.  From there, a superb view takes your breath away when you look down to the seashore.
Why?
You can even make out the Island La Gomera on the ocean horizon.

Where is Playa de la Arena?
It's in a modern resort by the same name on the Southwest coast of Tenerife. You may find it on maps under Puerto de Santiago of Los Gigantes with the giant cliff. It's about 3 km from the yacht harbor, there.
It's closest to the South Airport Reina Sofia,   while it takes about 1 hour and 20 minutes to get to the North airport Los Rodeos with a rented car. It may be faster by Tenerife airport transfer.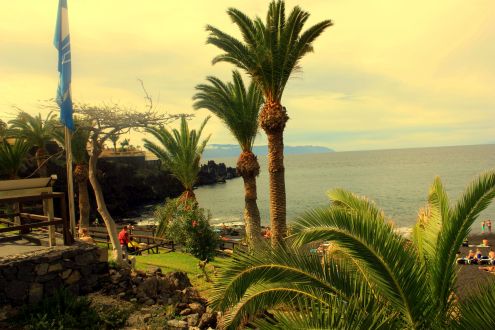 This seaside has had the European Blue flag for superb environment for many years. This quality badge also includes unpolluted ocean water.
The seaside doesn't only have all sanity amenities a top one should have.
Those are beach life guards, first aid, change rooms and showers.
It also provides beach loungers and umbrellas. Fresh drinking water and refreshments are to be bought just over the road.
There is also the Restaurante Pancho at Avenida Maritima Puerto de Santiago, 26, Tel 922 8613 23.
Most  tourists sleep over in one of the excellent hotels, such as the Barcelo or the very modern Be Life experience Hotel with free Wifi, Spar, Gym and meals provided. 
Supermarket for self catering Tenerife holiday homes.
 The next big one is Mercadona. It is not at La Arena beach any more but now by the TF47 freeway at Puerto de Santiago proper. There,  or rather in Los Gigantes, you may also encounter a little more nightlife.

Infrastructure at la Arena beach resort.
Excellent street lighting that takes care of the environment with light pointing down as not to interfere with Teide star watches.
Road indicators confuse, so a GPS or Google directions may help much, also to find parking
Good Selection of hotels and privately let Holiday homes
A beach front bank
A beach promenade mini Casino
Marina Bar and restaurants
Seaside Shops for magazines and beach fun articles and clothes
A HiperDino Express Supermarket nearby
Outstanding average good Tenerife weather, as shown here.
A general eight hours of sun per day
Minimum winter ocean temperature of 19 degrees and 24 in September
Car rental recommended, as the Titsa bus to the nightlife of Playa de las Americas takes about an hour due to many stops
The fantastic Titsa bus 325 options.
to Los Gigantes
to Santiago del Teide with connections to Masca and to Mount Teide
to El Tanque for forest and mountain walks
to Puerto de la Cruz for Loro Park, Lago Martianez and to reach La Orotava

Attractions near Playa de la Arena







         Whales by Los Gigantes
         Town of giant cliffs
         Masca mountain experience
         Southern beaches
         Puerto Cruz
         A Teide do it yourself tour  

         Mind there might be romantic tours offered by hotels that even include night trips to the Cañadas of Spain's highest peak. 

      








From Playa de la Arena back to Tenerife Southern beaches.


Kindly scroll a little further to comment for Facebook instead?


Here they are the top Tenerife beaches with Blue flag status of 2016.










Please mind that the comment box below is meant to help others. In case you have a question or want to tell me something, kindly use this contact form.


Back to HomePage of the Tenerife holiday home insider

This site is protected by Copyscape