A vintage shop that's not cheap, but priceless.


The vintage shop with all its decor and adjoining bar makes up part of Ebano Cafe.
Why would you go there?
It serves the delicious cream cheese cake with forest berries, aromatic coffee, tea and more.




Also, it's a good place to relax with a beer in a rather unusual surrounding, while the perfume of flowering Oleander from the church square fills the air.
So what's this place like?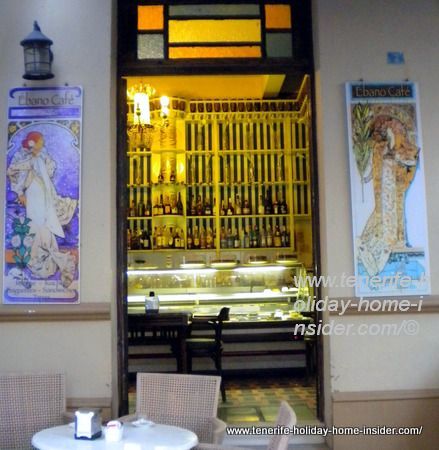 The
Belle Epoque art
with three works by a long gone Czeck artist adorn its main facade together with Tiffany glass above a door. These Art Nouveau paintings are like a promise of something more nostalgic to come.
The attraction which draws you in.
Nostalgia is also hinted by alluring illumination and some old fashioned shop fitting which can even be seen from the street. The chandelier's light comes from inside the cafe. There, shop items take up more space than the Art Nouveau chairs and a few marble- top tables. A large classic chiller fridge displays many delicious cakes whose recipes date back many hundred years. Only the ancient king of cakes called 'Baumkuchen' (tree cake) which graced all European courts is missing..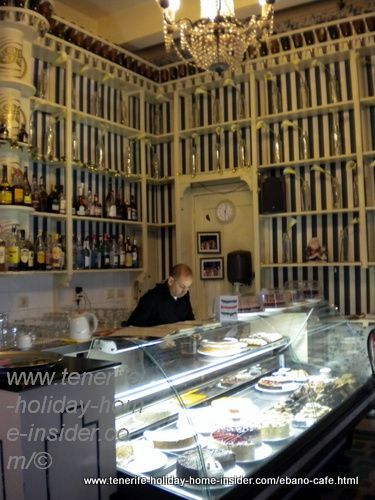 The walls of the vintage shop which was fused with the cozy cafe,  present the most captivating focal point. More than 400 narrow cubbyholes made of timber cover them. This Victorian shelving is painted in brilliant white. Long ago, medicines and drugs of an ancient pharmacy where stored in it. Now,  liquor bottles stand in the very confined spaces.



The most unusual Liberty art Art Nouveau interior decoration

The top shelve has its own charm. There, the slits are even smaller. Wine bottles are in them,  but don't stand upright.They contained Malvasia once which made history for Puerto de la Cruz, the Tenerife Islands. Shakespeare confirmed this many times.

The bottles lye in each hole and their bottoms are showing out,  which is most peculiar. That's a very fitting ceiling skirting board for a room that is brimming with memorabilia of olden days.




Of course, a vintage scale stands on one of the side boards of the antique cafe. I am not sure if I actually heard the rattling noise when the leaver of the old calculating machine was turned. The magnificent, ancient lamp also reminds Art Nouveau. However, there isn't any fat cat anywhere to be seen, contrary to a vintage shop which I once discovered in the Netherlands.

There also are no groceries and other items for sale.  Only liquor, tea, coffee, pastries and Tapas  are on display.  Mind that Spain vintage is famous for genuine old customs in shops where impressive assortments can be bought.

Anyway, that vintage shop with street-cafe takes you down memory lane, although not way back like some Harry Potter scenes.  It reminds an era of the later 19th and early 20th century when the word stress was still unknown. It was the Era of Sarah Bernhardt, Alfons Mucha, Henri de Toulouse Lautrec and the Can Can of the Paris Moulain Rouge.
The years just before the Great Gatsby.



Ebano Vintage Cafe for chilling out
Surprisingly, not much has changed at the
Ebano Cafe
one of most prestigious and charming
cafes in Tenerife
Mind it's also listed as a BarC, by the way. It's a place for people who have time and rarely use their smartphone there.
Indeed in this laid back location, you may still have a chance to talk to somebody, such as the lovely Dutch couple in the photo. Not only the lady's Chiffon blouse and shawl matched the Alphons Mucha Art Nouveau fashion behind her. In fact both guests were delightfully vintage.
More about Ebano Cafe and its nostalgic vintage shop
Vintage outlet with tables to take a seat
as well as cake sale with take away options
Terrace in quiet location
A large backroom with bar
Sharing ownership with Restaurante El Limon next door
Special events such as Noche Blanca (White night) celebrations
Address: Calle Hoya, 2/ Corner C/Esquivel and
Plaza de la Iglesia de Nuestra Señora de la Peña Francia church
Open from 10a.m.- Midnight
36400 Puerto de la Cruz
Tel: 922 388632
Tenerife - Canary Islands - Spain
From vintage shop back to Puerto de la Cruz
Informartion about the Belle Epoque here.
Tenerife restaurants, bars and cafes stop taking part in Tapas routes when they have enough steady and repeat customers. In fact, competitions for a best Tapa are expensive and time consuming for a business owner.

Please mind that the comment box below is meant to help others. In case you have a question or want to tell me something, kindly use this contact form.

Back to HomePage of the Tenerife holiday home insider
This site is protected by Copyscape

Back up to top?