Insider Cafes in Tenerife for coffee fans.

Discover typical Cafes in Tenerife where you enter and you smell good coffee.
Cafés Bio Cafeterias with Vegan food
Cafes in Tenerife at la Orotava.
Puerto de la Cruz Plaza Charco cafes.
There are several but the one with best cakes and Penguino ice creams is the Columbus Plaza Cafe.
Of course, fresh bread, pastries and tarts are usually behind a counter. You can consume on the spot or buy takeaway. Teas are also available.
City Cafe Columbus Plaza at interior patio.
Each of such cafés has something special in general.

However, the essential of such places is their aroma of freshly brewed coffee.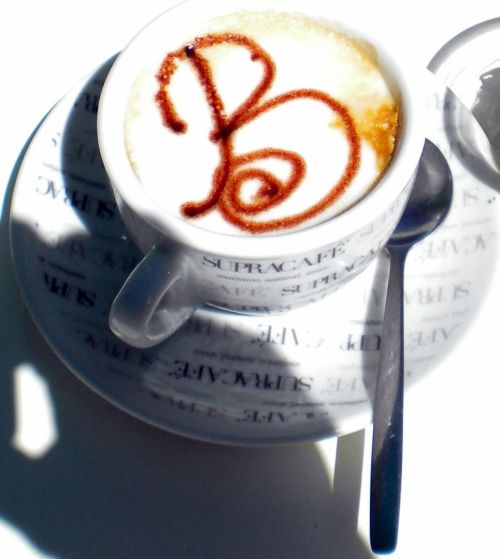 Supracafe Coffee is one example for good Espressos, such as Café Solos or Cortados on the Canary Islands. You smell the heavenly scent of it, as soon as you enter a coffee house that serves it.
More Tenerife coffees
Cafe con Leche the UK Coffee Americano
The tiny Leche Leche with a large percentage of sweetened condensed milk
The erroneously served Barraquito as a large Leche Leche without liquor.
Saperoco a slightly sweet coffee with liquor and more
The real Barraquito a large Saperoco
 Usually, freshly baked bread and pastries also enchant the senses in establishments that celebrate coffee drinking.
Mind that the culture of consuming coffee isn't new in Tenerife. The other day, an Italian friend of mine pointed out to me a vintage espresso machine.

It's a big beauty made of brass that stood the test of time downtown in the island's capital Santa Cruz.

Food in cafes in Tenerife
Bocadillos
Toasted sandwiches
Tarts, cakes and pastries
Tortillas
Churros
Crêpes
Ice Creams
Small cooked lunch or brunch meals may be on offer in some of the cafeteria outlets. 
Addresses of the cafes in Tenerife by links
Cafe de Paris opposite Lago Martianez

Cafe Ebano Puerto Cruz with vintage shop
Boutique Relieve Cafe with three branches
Aderno cafes and where Tenerife sugar free chocolates are made for sale.
Plan Bakery a Tenerife Vegan Cafe
Cafe Vista Paraiso with breath taking views
The story about a former very historical Santa Cruz Tenerife capital cafe now unfortunately modern.
Starbucks Puerto de la Cruz at Casa Miranda
Has been in town since end of February 2018. It is an American style Cafe where Coffee is different and it costs a bit more.

German Melita Palmelita Cafe chain
The Tenerife holiday home insider already discovered two of six in 2008 together with the beaches
Playa el Arenal
as well as
Playa Bajamar
However, she didn't know at the time that the Melita or Palmelita Cafeterias are now part of a Franchise with according high prices. They all sell the Melitta Coffee brand and home made German bakery products of outstanding quality. Google Cafe Melita and even find more info by their web to also buy their jams online. The method used to prepare coffee with Melitta filters isn't Spanish at all but local coffees should be available too.
Cafe Sandra La Paz Puerto de la Cruz
A Cafe I am not affiliated to and which isn't cheap. That means you can drink as much German filter coffee as you want for a set price. Cappuccinos, delicious cakes and free Internet are available as well. Opens in winters only...
Cafe exception at Tenerife South
That's Hard Rock Cafe which is rather a Rock music club. Long drinks and food are available.
Tenerife cafes a life style
Needless to say, it's worth it to make Cafes on the biggest Canary Island part of your life style when you have a holiday home in Tenerife. Mind that a
Cafe Solo
which is like a Coffee Espresso still costs between Euro 0,80 and Euro 1.20. A large Milk Coffee Americano (Cafe con Leche) can be bought for Euro 1,20 - Euro 1,50. A slice of cheese cake Tarta Quesón sets you back by Euro 1,60 at Boutique Relieve prices. As said, franchises and cafes in tourist spots are more expensive.
From Cafes in Tenerife back to Home.
Please mind that the comment box below is meant to help others. In case you have a question or want to tell me something, kindly use this contact form.

Back to HomePage of the Tenerife holiday home insider
This site is protected by Copyscape