Starbucks Casa Miranda unique by Tenerife Spain architecture

Indeed, I am totally taken with Starbucks Casa Miranda's architecture with its stunning woodwork.

It's most dominent when you enter by the door in Calle Las Lonjas.


A large double door opens to a large group table with a modern wall hanging behind it.

The food and drink at Starbucks Puerto de la Cruz
I must confess that I didn't sample any of it so far at this revolutionary, new Cafeteria of Puerto de la Cruz. In fact, its menu seems to be rather tempting. I have seen one of its breakfast cereals. It doesn't only look heathy but also delicious. The so called menu Picnic that's displayed by one of its entrances warrants testing. Besides, Coffee that is Arabica based made Starbucks famous all over the world.

So please pop in at the Puerto's Starbucks and leave a comment about your cullinary adventure on the bottom of this page...

Where is this fabulous Starbucks outlet people have started to talk about in the oldest resort of this biggest Canary Island?

Address
Starbucks Casa Miranda
Corner Calle Santo Domingo 13 and Calla Las Lonjas
on Plaza de Europa, 1 opposite the Town Hall by the sea
Tel: 0034 + 922 456666
36400 Puerto de la Cruz of Tenerife in Spain

The fabulous architecture of the restored Casa Miranda
Its TEA is of such good quality that it was worth restoring.  TEA is endemic Tenerife Pine. Casa Miranda's which was built in 1730 may be as ancient as that of the Casa de los Balcones whose timber came from demolished mansions in the XVIII century. The firm BF Medifictoria who brought back the timber splendor is said to have removed the old varnish of the TEA with beach sand.

The flow seems to run all along the facade of the building in Calle Santo Domingo. There is an opening to a room extention with a balcony that shows to the Town Hall on Plaza Europa.
The word chamber rings a bell for the remodelled Casa Miranda for Chamber music, such as at the Casa Grande of Abaco of Puerto de la Cruz?
Besides, it could also accommodate yearly receptions like that of the German Carnival delegation from Düsseldorf.


Minimalistic Interior decorating at Starbucks Casa Miranda
The furniture on both ground- and first floor of the building is kept to a minimum.
Both very large tables and small round ones look like made of light timber. A few upright lamps have been skilfully placed. Very few side boards are seen.

The bulk of the Starbucks furniture in Puerto de la Cruz matches the color of all Casa Miranda woodcraft of doors, windows, pillars, balconies and staircase.

Only the wooden ceilings have darker tones. The classic timber armchairs don't look rural. Obviously everything at Casa Miranda echoes an upper class.

Opened inside TEA shutters lend their own architectural charm.
Still hoping for the perfect Starbucks exterior photo
What's missing besides green at Starbucks in Puerto Cruz?
The Tenerife holiday home insider still would like to add some vital photos of the mansion's views as well as pictures of the restaurant's food and drink.

Otherwise?

Some tall, plants in the entrance Patio would set some amazing contrast. You see those with Casa de los Balcones of la Orotava portrayed beside.


Starbucks Casa Miranda news 2022
Early in 2022, I noticed that Casa Miranda doesn't only look changed by its backdoor, but also inside, as the photo below shows.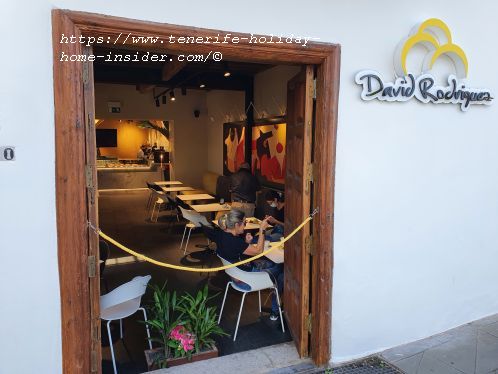 The pastries and sweets it sells look delicious and are available to take-away.

From Starbucks Casa Miranda back to Tenerife restaurants

See what food and drink to expect at the Puerto Cruz Starbucks
here
Please mind that the comment box below is meant to help others. In case you have a question or want to tell me something, kindly use this contact form.

Back to HomePage of the Tenerife holiday home insider
This site is protected by Copyscape