What about this amazing ladies restaurant in Tenerife Puerto Cruz?
The ladies restaurant Restaurante El Limon of the biggest of all Canary Islands is special. Discover more than its mysterious street facade at night. Its elegant building is just off the most walked Tenerife North pedestrian passage Calle Quintana behind the old Church square whose tall bell tower is not to be overlooked. The restaurant certainly has romantic flair from outside which is a big plus with the gender folks.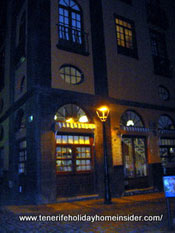 Where Find this ladies restaurant?
Behind Café Ebano
C/.Esquivel Esq.Benjamín J.Miranda
38400 Puerto de la Cruz - Tenerife - Spain.
Tel.: 922 381619.
Of course theoretically, there is no ladies only restaurant and this Vegetarian place is open for men and children with families too.
Why do I dub this vegan fast food place with its classic restaurant decoration a hangout for ladies?
Look at this elegant restaurant with a very tall room and stylish windows. Mind its white bentwood chairs, as are depicted beside...They have dark blue seat cushions. Men generally don't care about such comfort but, women highly appreciate little extras like that.
What about management and staff?
Imagine that all the staff of this Ladies restaurant is energetic, young and female. This includes the waitress. Go there and see the other two of its members working in the open plan kitchen which is partly hidden by columns.
Remarkable female restaurant attendance percentage
Indeed, young Spanish girls occupied almost all of the 30 tables, when a friend and I were eating Vegan there.
Hence, we had vegetables only and no meat, fish, poultry or dairy. Females made up about 96 per cent of the guests at the El Limon Restaurant Puerto de la Cruz on that night. All those Spanish women were not older than 35. Only a couple of men who didn't surpass their fourties by age sat with their spouses and a baby near the restaurant display fridges. All were dressed in modern fashion and were amazingly slim and good looking.
Later on I talked to a gay friend. He confirmed that the Restaurante El Limon Tenerife is indeed a big hit with the ladies but that you see the odd male student in it, too.
Top ladies boutique by ideal women restaurant
Also, there is a beautiful Tenerife boutique which even spot from the vegan restaurant of the cobble stone street. Pop in there for the latest ladies fashion which is possible until at least 9p.m.in Tenerife Spain. Go eat out at the conveniently located restaurant El Limon for fast vegetarian bites, when you are finished shopping for a new dress.
Are ladies fans of meat substitutes and more?
Pardon me for musing so much about this topic.
Would all last mentioned facts be an inclination that this restaurant is preferred by young women because they like vegatarian food more than men? Also, it really looked like the diet that was preferred in this restaurant helped to stay slim.
Or does it mean that all those trendy female Tinerfeños which we saw had much environmental awareness which made them anti meat, poultry and seafood? Obviously, they all preferred meat substitutes for a healthy diet. It is natural that the woman has more empathy for young animals by mother instincts. So she may refuse them easier as food. Therefore, it makes sense that the 'Restaurante el Limon' is a favorite 'Ladies restaurant'.
Relaxing noise free restaurant
By the way, this Restaurant called El Limón also has fairly good assortment of wine and beer.

Your opinion counts
Please, scroll down and don't miss your chance to tell the world about restaurants for ladies which you may have encountered elsewhere in Tenerife or on the Canary Islands.
From ladies restaurant back to Tenerife restaurants.
Please mind that the comment box below is meant to help others. In case you have a question or want to tell me something, kindly use this contact form.

Back to HomePage of the Tenerife holiday home insider
This site is protected by Copyscape