Anna Rodriguez singing the Blues with band Three at Abaco Mansion Tenerife.
When Anna Rodriguez is singing the Blues, you will not be able to enjoy it to the fullest, while listening to videos which are online, up to now.
Go to one of band Three's jazz concerts with Blues... Discover the great skills of these jazz artists during their next performance at Abaco Mansion Puerto de la Cruz Spain...It will be on the week-end of 'Innovation summer in the sun reunion 2009 in Tenerife'. The date is August 14, 2009. More details will be covered by Spanish news for Tenerife jazz.
Click Band Three depicted beside, caught by myself on camera, while the jazz ensemble was still warming up in the Mansion Abaco. There I enjoyed its jazz presentation on July 31, 2009. .
What I like about Anna Rodriguez, the jazz singer singing the Blues.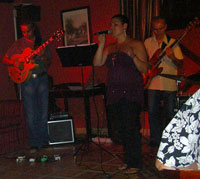 Admire Anna Rodriguez in the photo beside... Indeed, she has an astounding voice repertoire for Blues. The other 2 jazz musicians are Eliseo Lloreda to her left and Felu Morales behind her.
The main blues songs on the Abaco July program:
They were:

First session: Autumn leaves, Round midnight and Caravan
2nd session: Angels Eyes Am7, One note Samba fa,
Love for sale and You don't know what love is.
3rd session: Summertime, Meu coraçao,Bye bye blackbird
Pleasant concert surroundings:
Obviously, being bilingual in Spanish and English, Anna Rodriguez is just as good with Latin jazz when she is singing the Blues. The song Meu coracoraçao is Brasilan Portuguese, you know... So much to Latino jazz from South America... The Samba fa song is also known as Latin jazz. The longer you'll listen to Anna singing the blues, the more Latin jazz characteristics you'll find in her singing as well as in her companions' music. The speed is one of them. The happy faces of the artists represent their love of jazz and the island Tenerife, where holidays and fiestas abound.
Although the Tenerife Abaco is an elite place for holiday concerts of culture, such as for Blues singing, it caters for a relaxed, Spanish modern life style. Many of the guests were dressed casually smart. Notice the young man at Abaco with brand sport shoes in the photo beside... He looks much at ease enoying the jazz music.
Absolute relaxation for attending a jazz concert:
The ground floor at Abaco mansion was comfortably filled with about 30 Blues and jazz fans on this pleasant summer night of July 31, 2009. Lights were dimmed, when the concert started. A waitress and waiter attended the little tables with its guest in the long spacious room. We were sitting about 5 meters away from the musicians. The loudness of the music was absolutely perfect and never hurt your ears. A silent electric smoke extractor in the ceiling made it possible that guests were smoking. The air never felt polluted, although 1,5 hours are a long time, when some around you are addicted to tobacco.
Band Three and its artists:
Admire the typical concentration of J.J.M.Churchy in the picture beside. He seemed to get better and better during the three musical sessions. This drummer is absolutely amazing. My companion called him on par with Phil Collins, whom he recently heard in a Duesseldorf concert.
Eliseo Lloreda is the tall man on the guitar, who is an artist in his own field. Felu Morales on bass guitar contributed greatly as well. All musicians of band Three play jazz according to best international standards and seem to be well adjusted with each other. My companion and I could detect no fault in their music. The musical harmony they produced for Anna, who was singing the blues, was superb.
What we spent for the jazz concert Abaco:
My companion and I spent about € 10 for a beer and a large delicious freshly prepared mixed fruit drink. Entrance for the concert with singing the blues was for free. Therefor, the evening in the luxury surrounding of Abaco, more photos of which see, here, was a real treat.
Please, return from singing the blues to entertainment Tenerife...
So, don't forget to consult the jazz agenda of Spanish news when you return to your holiday home in Tenerife...
See all concert photos of jazz concert Abaco July 2009 at Tenerife holiday home insider Flickr with Anna Rodriguez singing the Blues and band Three...
Concert events Tenerife of different nature than jazz?
Please mind that the comment box below is meant to help others. In case you have a question or want to tell me something, kindly use this contact form.

Back to HomePage of the Tenerife holiday home insider
This site is protected by Copyscape