Spanish News 2009 are also Tenerife news for Jazz Puerto de la Cruz of the finest.
Spanish news have Tenerife Anna Rodriguez in the lime light again singing the Blues with Eliseo Lloreda or with band Three and occasional, additional music performers. Note, Anna is a native English as well as Spanish speaker.
Enjoy excellent Jazz with one of most talented Jazz singers and musicians right on your doorstep on the biggest Canary Island of Spain.
Latest news November 2015 I met Ana the other day. She is thrilled to sing at a regular basis at the 5 star resort Hotel Bahia del Duque in Adeje every Thursday. She is also happy to perform together with an absolute great pianist right now.
Anna and her band performed in Madrid the Spanish capital as well as in various places in Tenerife which includes the Auditoriium Adan Martin in the capital where only the best are staged.
To be updated soon.

Listen to the CD at Facebook pages Anna Rodriguez where also encounter more Spanish news of their other concert venues.
Buy the CD at www.cdbababy.com...
Find newest events first...
Click on Free Abaco Jazz concert ...
This leads to its description on this page.
Band Three and Anna Rodriguez are repeating the jazz performance of 2009 at the same villa.
This time it will take place on Friday July 2010 at 10.30 at night.
Spanish news for new location for jazz events in Santa Cruz de Tenerife
New Location: La Puerta Verde at
Street Francisco La Roche, 41 (Avda.de Anaga)
Santa Cruz de Tenerife (capital), Spain
Date of Tenerife event jazz concerts: Thursday, July 8, 2010
Type of concerts: Canary Islands Latin jazz mix.
Spanish news are that various exciting Latin jazz bands, most of which are influenced by Caribbean Cuban or Brasilian music, will perform at this fairly new jazz club at La Puerta Verde near the Tenerife capital sea front. Note that there is no entrance or membership fee as such... But it is self understanding that the public is expected to consume drinks, at least. Bar or restaurant owners must also survive, you know...
The jazz singer Anna Rodriguez has not confirmed attendance as yet, this time.
Learn more at Facebook about performers of Las noches del Blue Note ...
Festival Jazz Canarias Canary Islands Spain Spanish news about jazz at Plaza del Auditorio Tenerife:
Also not to miss is the Jazz Festival Canarias Santa Cruz from July 9 to July 18, 2010.
It is sponsored by Heineken Beer.
Get more details at www.canariasjazz.com.
The band Three which some of you may have heard with Anna Rodriguez will be one of the almost 20 bands. Some of their concerts will be for free. Others may charge a fee.
Spanish news Tenerife Valentine concert jazz
Jazz singer: Anna Rodriguez
Where:Restaurant Los Tulipanes
Calle Cruz Verde, 4, Puerto de la Cruz, Tenerife
When: Sunday, February 14, 2010 from 9.p.m.- midnight
Price: € 29,75 with Valentine dinner
Los Tulipanes San Valentin menu:
Mariscos creme with crispy crayfish (langostinos)
Galician mussel salad with passion fruit dressing
Bacalao fish in lemon sauce with capers,
vegetables of season, steamed potatoes
Porc fillet with vegetable filling, crayfish,
red pepper jam, basmati rice
White chocolate creme with strawberries and mint
On the house: Bread, water and concert for dinner guests
Spanish news for Tenerife jazz before Christmass
Concert: Blues and Jazz live music
Presenters: jazz singer Anna Rodriguez & Eliseo Lloreda
Location: Los Realejos at Café Lounge PCan
Date: Saturday, December 19, 2009 from 10 p.m. - 1:00a.m.

Jazz Event at Los Silos Tenerife West Coast

Concert: Anna and Blue Bossa Project based on Brasilian music and funk
Band participants: blues singer Anna Rodriguez, guitarist Eliseo Lloreda, Felu Morales on bass, Che Trujillo for percussion, and Fernando Barrios with saxophone
Date: Saturday, December 12, 2009
from 10.30 p.m. - 1.00 a.m.
Location: Disco Pub Cupola at the Public Swimming Pool Piscina Municipal of Los Silos

Spanish news jazz Santa Cruz Tenerife capital

Concert: Jazz - Blues
Presenters: Anna Rodriguez and Eliseo Lloreda
Location: Santa Blues Bar, (bar and restaurant international cuisine)
Street:Calle Imeldo Seris, 25 (close to Plaza Candelaria, Old Quarters) Town: Santa Cruz de Tenerife - Spain
Date: Friday, Nov. 27, 2009
Time 11.30 p.m. to 2.30 a.m.

Free Abaco Jazz concert

in luxury Villa

Presenters: Anna Rodriguez and Eliseo Lloreda

Location: Puerto de la Cruz, Tenerife, Spain
Passage Paseo Durazno s/n El Durazno
Museum Casa Mansión Abaco

Date and Time: October 23 from 10 p.m. to 11.45 p.m.

What better Spanish news could there be than live jazz concerts Tenerife in luxury surroundings, such as the former prestige farm Abaco?

Entrance is free, as before, to the best of my knowledge.

Jazz concert at Abaco Mansion
Performers: Anna Rodriguez and Eliseo Lloreda
Date: Saturday, August 21,2009
Time: 10:15 p.m. until August 22 at 12:15 a.m.
Location: Mansion Museum Abaco Puerto de la Cruz, Tenerife
Art event Icod de los Vinos Tenerife Spain news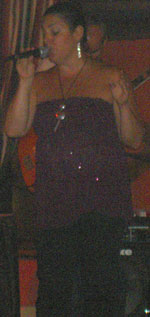 Event name: Mucho más que Dios
Directors: Juan Carlos León 'Mosco' and César Yanes
Representing: Theater, classical music, poetry, jazz
with some of Tenerife Spain's best artists
Participating for jazz: jazz singer Anna Rodriguez and Eliseo Lloreda
Date: Saturday, August 01, 2009
Time: 9.00 p.m. until 11.00 p.m.
Location: Casa de los Caceres at Icod de los Vinos
Grab this rare chance of a free Abaco Mansion Tenerife jazz concert...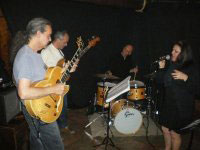 Hosts: Anna Rodriguez and Three,
Anna with Eliseo Lloreda, Felu Morales y J.M. Churchi
Date: Friday, July 31, 2009
Time of concert: 22:30 until 12.30 after midnight
Location: At the groovie Abaco Mansion Puerto de la Cruz, photos of which see here with more information on the amazing place...
See review with photos of past Abaco jazz concert July 31,2009 with band Three and Anna Rodriguez singing the blues...
By the way, the latest Spanish news are that this Abaco concert will be repeated on the coming August 14 at the occasion of the Festival Innovation Summer in the Sun Tenerife Reunion.
Jazz Tenerife entertainment at Pub Gayota
Music/Arts - Jam Session
Date: Thursday July 23,2009
Time: 22.00 p.m.until 12.00 midnight
Location: Avda.Venezuela, Puerto de la Cruz
By the way, Pub Gayota is where Halloween music was played during events of disguise celebrations.
Jazz concert TV Anna Rodriguez and Eliseo Lloreda
TV Channel: El Dia Television Canarias
Date: Monday, June 29, 2009
Time: 6.30 p.m.- 7.00 p.m.
Jazz cultural event Los Realejos June 2009
Hosts Anna Rodriguez and band Three
Date: June, 19, 2009 Friday
Time: 9 p.m. at night - about midnight
Location: Casa de la Cultura (House of Culture)
at RealejosFusion
Town: Los Realejos, Tenerife, Spain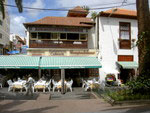 Jazz event at new Tenerife jazz club
Hosts: Anna Rodriguez and Eliseo Lloreda
Date: Saturday, May, 23, 10 p.m. to midnight
Location: New Jazz Club Puerto de la Cruz at
Gussbon in Calle Puerto Viejo 37
next to Crepería La Boheme

Turn left into Calle Vieja by the Tenerife Restaurant
on Plaza del Charco shown in Photo...Ask or look out for no.37 or a pancake shop which is called creperia in Spanish....

Spanish News Jazz Tenerife - Going out in Spain

Music concert event: Tuesday, May 19, 2009
Time: 2 a.m. to 5 a.m..
Location: Gussbon Jazz Club, Calle Puerto Viejo, 37
Puerto de la Cruz, Tenerife, Spain

Jazz Concert Tenerife Los Realejos

Hosts: Anna Rodriguez Jazz singer and Eliseo LLoreda guitarist
When: May, 16, 2009 Saturday
8 p.m. to 11.p.m.
Where: Los Realejos at Café Lounge, Los Realejos
Type of event: Music concert Jazz, Bossanovas, Blues and other music

Spanish news on 'Encore' jazz concert Spain repetition

The Spanish concert Jazz music event Anna Rodriguez and Eliseo Lloreda in Tenerife was an incredible success with amazing applause. The concert was repeated in Puerto Cruz with band Three.

You missed the remarkable jazz band team work of group Three with Eliseo Lloreda on guitar, J.M.Churchi on percussion and Felipe Felu Morales and their improvising skills...

Friday, May 15, 2009
Time: 9:25pm - 11:25pm
Where: La Gruta Alternativa
Street: Calle La Hoya 24
City/Town: Puerto de la Cruz, Spain


Please, note, Calle Hoya is Avenida Generalisimo. The latter is now called Avda. Familia Bethencourt y Molina. For many this name change is Spanish news.

Sunday, May, 10, 2009 11 a.m. -2 p.m.
Anna Rodriguez and Eliseo Lloreda at Restaurante La Retama Restaurant
Street:Carretera General del Norte, 102
City: El Sauzal, Tenerife, Spain


Jazz concert: Anna Rodriguez & Eliseo Lloreda en La Gruta 1 de Mayo 2009
Starts: Friday, May 1 at 21:00h
Ends: Saturday, May 2 at 12:00h
Where: La Gruta
Street: Calle La Hoya, 24 in Puerto de la Cruz,Spain
Sunday Mar, 22, 2009 9 p.m. - with band Three
at Realejosfusión in house Casa de la Cultura in Los Realejos (Upper Los Realejos), Tenerife...
Saturday Mar, 28, 2009 8 p.m. - with band Three
Centro Bambi-Astoria
C/Enrique Talg, 15 y C/La Hoya 60 Tel: 922 384689
Puerto de la Cruz
Entrance fee: €5
Saturday March, 21, 2009 8 p.m. - with Band Three
At Center Centro Bambi-Astoria in Puerto de la Cruz, Tenerife, Entrance: €5 ...

Events were confirmed to me by Anna via Facebook with the exception of the Los Realejos concert.

My favorite Jazz music with Anna Rodriguez is when she is singing the Blues with the song called Agua de beber at Tensaba in soft Brazilian Portuguese. By the way, Soft Jazz is something she is also very good at.

The voice of Anna Rodriguez slides you into the era of Jazz Age where Jazz singers like Billy Holiday and Ella Fitzgerald were some of the famous. Experience Anna Rodriguez like a dream but, live in concert...

Anna Rodriguez was featured as Spanish News for Jazz fans by Television Canarias and many other cultural Tenerife and Spanish programs and is one of most known Spanish artists in Tenerife.

Festivals in Tenerife where Tenerife Blues singer Anna will be part of, for sure, have not been confirmed, as yet.

Los Realejos, Santiago del Teide, Arona Las Americas, Puerto de la Cruz and La Laguna are expected to have festival events for Jazz again. By the least, one or the other may be replaced by live concerts or other Jazz music programs.
XVI Jazz Festivals Canary Islands Heineken 2009 Tenerife
Jazz concerts on a small scale had started in Arona and los Christianos in May, already. However, not all of the events belong to best Spain Jazz. The main Spanish festivals with top jazz bands Blues and string are to really excite fans on Tenerife from June right into July. Dates and locations of Tenerife jazz concerts are no Spanish news, as yet.
Some will be in southern towns and others in the north, such as San Christobal de la Laguna as well. The Santa Cruz Auditorium will also be one of first to be current with new jazz festivals events for mid summer Tenerife.
May the updated Spanish news for Jazz concerts delight Jazz lovers, who have a holiday home in Tenerife and all others.
Related links
Please, return from Spanish news to entertainment Tenerife.
Tenerife events with Halloween music steel the show on the last Saturday in October, as not only home parties for all generations but also techno concerts for the young are on the agenda.
Back to HOME to find cheap flights and hotels unless you have a holiday home in Tenerife, already...
Please mind that the comment box below is meant to help others. In case you have a question or want to tell me something, kindly use this contact form.

Back to HomePage of the Tenerife holiday home insider
This site is protected by Copyscape

Jazz events in Spain