Tenerife tours bring tourists for sports, entertainment and adventure.
Many Tenerife tours are handled by international operators. Thomas Cook, Tui, Thomson and other international operators do island airplane tours or city travel for entertainment in particular.
Then, touring buses bring foreigners from all sorts of locations of the largest Canary Island to Loro Park, for example.
Discover such a vehicle by the Portillo Visitors Center in the Cañadas del Teide, before it takes travelers to Spain's highest peak in prime ecological tourism country.
Once, I was selling special tickets to bus loads of foreigners at Loro Park. At that time, tourists who had come from as far as Finland were rocking up with a big bus. Written on it was Thomson tour.
Tenerife excursions to cities or towns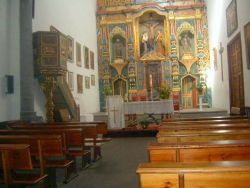 The Martianez pools with its underground Casino in Puerto de la Cruz is also a popular destination for city tours on the biggest of all Canary Islands.
Even Tenerife tours of churches are an option in Puerto Cruz.
The old church San Francisco with its beautiful altar, woodwork, statues and famous paintings is amazing for north Europeans.
Planes would take people to Los Rodeos north airport in that case.
Tour buses bring them to their hotel in Puerto de la Cruz.
The same tour bus might take them to another attraction in the south of the island.
The sunset strip of Playa de las Americas which provides all sorts of beach front entertainment but, above all night clubs, is in equally high tour demand.
There are of course city trips by buses. They take tourists around Santa Cruz, the capital of Tenerife.
All those Tenerife travel resources for getting around on the island are priced differently, while hotels charge more. Your best bet for up to date information on Tenerife tours is at big hotels as well as in tourism offices around the island.
International tours fly people out to the south Airport Reina Sofia as well. From there buses bring bring tourists to Los Gigantes the Tenerife town of giant cliffs
In Los Gigantes but, also at Puerto Colón trips are organized for golfing tournaments and for dolphin and to watch whales which is preferred by the environment conscious tourist.
Discover all sorts of ways to do Tenerife trips. Have fun and get to know the island, while meeting locals, off the beaten track...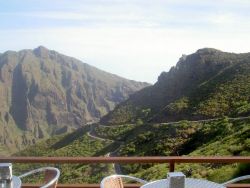 Use insider tips to discover the pristine Teno mountain range by a Masca road tour.
Alternatively select the rugged coast of the Teno information and photos of which may be found here. This includes the light house by Buena Vista...
Be warned that part of this is very scary for driving. Rather buy yourself organized day trips for this unspoiled part of the island...
Tenerife touring on roller skates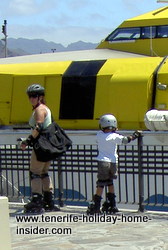 Yes, believe it or not... No kidding...
I have seen this mother and little boy on roller skates beside one of Fred Olsen ES ships.
They seemed to be touring Santa Cruz de Tenerife capital with wheels under their shoes.
Notice them here by the quay in front of one of Fred Olsen's luxury tour ferries.
This attractive yellow and black fast speed ferry connects with other Canary Islands.
It is also possible that the two sporty people are meeting up with friends who arrived on the Olsen tour ship.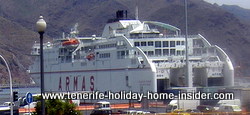 There is also the chance that they are roller skating along anchored ships for a little trip further up the Santa Cruz Tenerife port to get to the big white tour vessel Naviera Armas. Naviera Armas is officially a ferry.
However, be welcome to use it with your car as well as your pets to facilitate your touring on Madeira,
on mainland Spain and much more.
By the way, find relevant links and more touring information for getting to Tenerife by clicking here...
Tenerife tours for adventure
to see Spain's highest peak Mount Teide;
for walks in its its awesome Cañadas, a unique,volcanic crater;
for hiking in Tenerife Mercedes and Anaga forests;
to tennis and golf tournaments;
for surfing, cycling, bike off-road, or motor car races;
to spend a mad week or two of carnival;
for trade fairs or art and culture exhibitions.
Only do your own excursions to Teide, when you have plenty time and are very fit and experienced in the wild. Also don't chance a Titsa bus trip, as you may not catch the only afternoon bus back...
Tenerife tours to see snow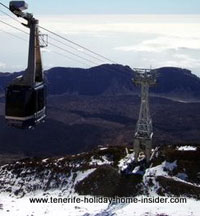 Please notice the snow with the Teide cable car portrayed beside. Don't plan a tour to Teide, when there is more snow than that. Or rather, always check if no roads up the mountains are closed. Generally, it is wiser to book a trips to Teide and its Cañadas.
Why ?
Tour operators are expected to be clued up about road and weather conditions.
Trace some clubs and links for walking Tenerife as well as ideas to help you decide on where to go, when and how.
Rent an perfectly located holiday studio for your private Tenerife tours...
This small but very well equipped Tenerife holiday home with pool and free parking has excellent infrastructure all around it, indeed.
Tours by luxury liners
Entertainment Tenerife leisure boats or ocean cruisers stop over in Tenerife to give people the chance of touring some part of the island.
The ocean liners anchor by the capital of Tenerife where you find more fun and entertainment and even prime oper shows in winter.
Want to know what's up at the Auditorium ?
Please, note:
During March 2008 I encountered at least 20 taxis from Santa Cruz of Tenerife which were all parked in Calle Venezuela Puerto de la Cruz, very close to Lido Martianez and beach Martianez. This whole road was packed with cabs. All their drivers were standing around waiting and chatting.
I was told that they had brought people from cruisers which had stopped over in Santa Cruz. "That's what happens, when tourist coaches are not booked before getting on board ship", a driver told me.
It is quite expensive to come all the way from the capital to Puerto Cruz by taxi...
One of the taxi drivers spoke English very well.
Tourists from ocean liners may call him, if they have enough time to see more of the island than just Puerto de la Cruz.
His name is Miguel Baez.
Please, phone: 0034 649 389 948
He is stationed at Santa Cruz.
Then, there are also the so called Tenerife tours of the 'swallows'. Those winter tourists arrive regularly and on time after early bookings to their holiday home in Tenerife. That's their base for their additional winter trips. Some hop over to La Gomera, La Palma, Gran Canaria, Fuerte Ventura and Lanzarote. Binter, Islas Airlines and the ferry Fred Olson help for those tours to the other Canary Islands.
Encounter a list of public buses for getting to attractions by public bus from Puerto de la Cruz. However, this bus transport is little practical late at night, on holidays and sometimes on week-ends and when you only have a vacation of seven to 10 days.
When your holidays are not long, always select proper tourist tours, rather!
A shopping tour with sight seeing is something I recommend for the capital, especially for central shopping as attractions are close by.
Trips to buy Tenerife art are also worth it.
So is a tour for shopping in Garachico in the context of Tenerife tours for sight seeing, art, gifts and handicrafts. By the way, the Auditorium Santo Domingo of Garachico may even display famous local sculptures for sale.
Santa Cruz capital Tenerife tours City tours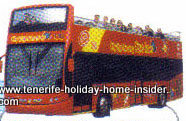 Now, get yourself a doubledecker bus ticket for less than €10 and get on and off at 14 stops without paying extra... Super comfort for handicapped and visually restricted people too... Buy at tourism offices Tenerife or at Hotels in Tenerife...
Check hotels Tenerife here with best multiple choice!
Opera house tour Santa Cruz
Call for an English guided tour to see the interior of the Auditorio de Tenerife...
Contrary to Tenerife, tours and excursions in the country mentioned below take normally much longer.
Bolivia Travel Guide - Bolivia Holidays, Bolivia Tourism
Bolivia Tours, Travel, Holidays and Vacations by Bolivia-traveltours, Bolivia tourism and travel information including facts, maps, history, culture, transport and weather in Bolivia.
From Tenerife tours back to HomePage Tenerife holiday home insider
Back to HomePage of the Tenerife holiday home insider