Tenerife culture not only celebrated at the Monasterio farm and restaurant park.
Tenerife culture at Meson Monasterio Park in Spain as portrayed below by its bread baking monks a mural that's befitting for the place as well as for the the biggest Canary Isle which is a 10th of the size of Crete.
Socializing is one of them. It's done with much leisure and great style at El Monasterio of the historic municipality where the last Guanche kings where baptized. Social contacts are best maintained by the Spanish way inside tastefully furnished restaurants, rustic bodegas or on beautiful courtyards that abound at the so called site of the monks. There, People join up for good Tenerife and international cuisine. Sometimes, typical Tenerife live folklore Tenderete music comes on the house at its biggest place Mesón Monasterio Hacienda San Pedro, to be precise.
Events are ordered for weddings and other large functions where music or other entertainment may also be provided by the guests themselves.
road altar with fountain
of historic art greets visitors at the Monasterio when they enter. But there are other wayside monuments, such as a nativity scene, a small altar or a fountain. Many represent the island's
Catholic faith
which forms an important part of Tenerife culture.
There is also the Montañeta park's biggest restaurant. Admire it by the Meson Monasterio Photo. Note that 'El Mesón Monasterio' also represents its total estate. Make out the captivating frontal view with much traditional architecture which also portrays that name.
Mesón
Hacienda San Pedro
Monasterio where I am stood nearby in 2005 has its own ancient Bodega. Bodegas are cultural icons. Accordingly, the highly interesting little museum nearby holds many instruments and gadgets for distilling liquor. However, the tradition of wine making isn't really alive any more at the Monasterio park.
A curbed stair case that's attached outside to the Monasterio building leads up with many steps onto a first floor restaurant. You can't overlook it when you come into the village park. Note that the latter specializes in fish, the other in meats and poultry. But you may select the seafood upstairs to eat it downstairs.can eat downstairs.
A Tenerife culture of history is more strongly felt in the building behind with medieval halls under low, arched ceilings. Nobody believes me that this edifice was not built by monks when I suggest that it may be a make believe. All say that it looks much too genuine. The uncomfortable monk furniture of those dining rooms was changed to more comfortable seating by 2014. Hence now, its upholstered chairs are more attractive for wedding caterings...
Meson Monasterio mural,
one of two, by the stairs to the ancient looking bodega of the basement has that classic look one would rather expect in Rome, Venice or Florence. Those paintings are epitomes of high class culture.
Casa del Rocio is one of the single story houses with such looks. It's by the tarmac road that leads to the top section of the built up area.
The building, however, fits in perfectly with typical details of island culture. A client whom I gave a Tenerife tour as a guide is posing, here.
Behind Casa de Rocio is a patio which is typical for Tenerife culture of open air socializing when going out in Tenerife.
A strong love of landscaping with selected plants is to be noticed everywhere at the Monasterio gardens.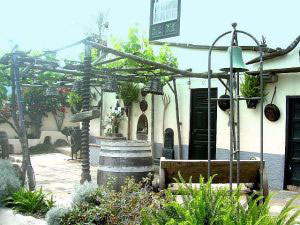 Often, the country style inns have small verandas in front.
Plants include the Canary Island Drago tree which is already a part of island culture.
Vines grow on trellises.
Wrought iron gadgets are everywhere.
Wooden farm utensils are pegged up on walls or, stand around.
Small farm equipment like wheel barrows, shovels and mills may be admired.
Everything is genuine and well cared for, almost, like in an open air museum of Tenerife custom.
Wine distillery museum el Monasterio
wine distillery museum
has most detailed precious equipment, as is depicted above.
Its wine making kit is astounding. All is neatly displayed on shelves or attached to bricked-up walls. It's all about traditional wine making of Tenerife Spain.
It is housed in its own building with many details of colorful wall drawings.
Picturesque sculptures, and ornaments which celebrate the culture of wine are everywhere.
Ever heard about the legendary monk Antonio the Gomeran?
This monk on a Meson Monasterio wall has a message. The legendary friar is said to have started the first bodega in the place. Monks are notoriously known for having good wines. One reason for their
drinking culture
...
Top Tenerife drink, and socializing related topics
Iron art work with incredible metal wine leaves
A remarkably Tenerife holiday home insider discovery
It's the other gigantic estate of the owners of El Meson Monasterio. It has not been made public yet. Locals say that it will comprise a top Tenerife gourmet restaurant.
That huge estate has a gigantic most beautifully crafted wrought iron gate.
A small part of its metal art will be depicted beside, just now.
Never have I seen such crafts where brass or gold colored wine leaves form iron art work of such beauty.
Unique cultural examples only in Orotava
Ecclesiastical art and culture
A
religious statue
of ecclesiastical crafts portrays a bishop with a big Mitra on his head.
A seemingly heavy container full of blue grapes weighs down his back.
This sculpture from the 18th or 19th century is surrounded by green leaved plants with big grapes on them. Here too, the plants are made of wrought iron, by the looks of it.
The interior decor of this cool cellar celebrates harvest days with extremely rich and warm colors at their best.
Period furniture of precious and carved woods abounds.
The antique furniture stands everywhere. It fills walls, nooks and leans by pillars.
Chairs, tables, chaise-longues and cupboards at el Monasterio represent all sorts of culture epoques.
A Baroque mirror of century XIV or XV reflects a precious cabinet as depicted beside, while a side table reminds of Biedermeier days.
Paintings are genuine but are not the very best, as all top paintings are generally in chapels, churches or in top Tenerife Santa Cruz museums.
Also, there are cultural token of village and country life, such as this rather rustic
wall fountain,
where only the tap seems to be of more recent make.
Looking around you, you glimpse white bricked up chimneys on the horizon. Their rounded off tops create contrasts with blue skies which are sometimes broken up by white picture book clouds, rather frequent in this area of Tenerife North.
Not to forget is that the theme park Monasterio with its nature reserve portrays the taste and goodwill of an environment conscious society which requires dedication.
Tenerife culture at Monasterio Montañeta Park has been planned to suit modern Spanish business and island interests. The privately owned estate is managed to perfection. No entrance fee is charged for walking around at leisure to admire everything. This included the nature reserve and la montañeta of the monk.
Tenerife culture in all the island's towns
All have their own Casa de la Culture where shows and exhibitions are on the agenda. In addition to such houses are town community centers that often teach dance of all styles, ballets and indoor sports to various age groups.
Tenerife culture by folklore
This includes festivals with custom dress code, folk music and dance and Tenerife cuisine where Gofio plays a big part. The highest cultural prestige is claimed by the band of the Sabandeños.
The cult of Candelaria
The town of Candelaria has its own cultural scene that celebrates Guanche cult inheritance and the
Virgin of Candelaria
which is the black Madonna. Its pilgrimages are prime traditions that include the entire archipelago of all Canary Islands.
More Tenerife culture in Santa Cruz
La Laguna of Tenerife's cultural role
Tenerife culture by extraordinary parks
Enchanting rustic culture above all in North Tenerife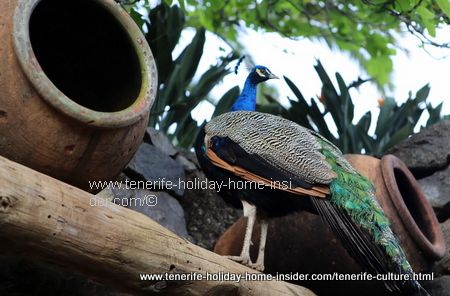 There definitely is a very charming
rustic culture
which embraces nature, as shown by earthen ware in a peacock habitat. Of course, the bird you see is alive. It's not a sculpture.
The Tenerife culture of Cofradias
A cofradia is a fisherman guild. They have been closed nit communities in the island's past. Now they often have their own restaurants where meals with their freshly caught seafood are sold. Cofradias even have museums on Tenerife, as Marine life and fishing are important customs, much more than cults.
More Tenerife culture features
From Tenerife culture back to HomePage of Tenerife holiday home insider.
Back to HomePage of the Tenerife holiday home insider
back to Top of Page?