Los Realejos and its historical dedication to Tenerife culture.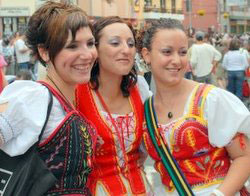 Tenerife culture Los Realejos has priority in its northern district of the Orotava Valley with its more than 20 suburbs.
The municipality of Los Realejos hosts altogether more than 62 fiestas and festivals without counting Christmas holidays.
Some traditions were partly taken over from Guanche cults and were christianized.
That's may be where the custom of free food and drinks for all during thanksgiving Romerias comes from. Icod el Alto hamlet, for example, fried 700 kg of meat during its August celebrations in 2011 to give out free.
Culture of Tenerife is as much celebrated in Los Realejos as in Santa Cruz and Puerto de la Cruz.
Culture always played a major role in Los Realejos partly because of its most famous son called José Viera Y Clavijo. His birthday which dates back to 1732 is celebrated each year in December. A Statue Viera y Clavijo stands on the most historical court yard by the town's most venerable church.
By the way, the late cleric, historian, poet, writer, philosopher and historian also studied in La Laguna as well as in Paris. Learn more about Viera y Clavijo in the context of Tertulias at the Bohemian Club of Tenerife.
Los Realejos Tenerife clubs
Cine film club los Realejos

Club Tazmania Realejos for very young girls




who evtl.take part in rythmic gymnastics championships




belonging to www.realejosdeportivo.com




Club Taina Conviviencia is its socializing side

EMF Realejos has its own club, but is officially the EMF Escuela (school)Municipal for Photography




Club Circulo Viera y Clavijo Realejos




is similar to the

Friendships club

Santa Cruz Tenerife.




This circle has arts, music, culture, literature and


sports events around Christmas as well as May celebrations. Notice a typical Circulo Viera Clavijo banner beside. It is attached to the circle's club house by the old church Matriz Santiago Apostól

Christmas plays

Dance events

Literature and poetry readings

Classical music concerts

folk concerts

International festival Titeres (puppets) Los Realejos of April, 25 to May, 03 about, yearly
Needless to say is that there is a house of Culture called Casa de Cultura de Realejos. And it is big and has much to offer. There, learn to tango, for example.
Then there are also the old historical Royal farm Hacienda de los Principes of Realejos Bajo and the association and House Casa La Parra. Casa La Parra organizes free cultural excursions in the region, provided a tourist group of eight joins up.
Tenerife culture events of touristic interests
Last Sunday of May Romeria los Realejos of
Tenerife celebrations
Holy Cross festival May 02 and May 03 Fiesta de
la Cruz Realejos, which discover while fireworks went
out of hand,
here.
Tenerife Carnival Los Realejos whose dates change
every year depending on the lent calendar.
Also visit el Monasterio Montañeta of Los Realejos with its many details of art and culture which include crafts, decorations, architecture and top Tenerife cuisine.
Puerto de la Cruz culture yesterday and today.
Mind that the Tenerife Hotels of Los Realejos which are Hotel Maritim and the 3 star Hotel Panoramica Gardens, generally have their additional cultural events.
From Tenerife culture back to Los Realejos
Please mind that the comment box below is meant to help others. In case you have a question or want to tell me something, kindly use this contact form.

Back to HomePage of the Tenerife holiday home insider
This site is protected by Copyscape