Discover Hotel Maritim Tenerife and what, most probably, not heard and seen before about it.
The blue sky scrapers of Hotel Maritim Tenerife can be seen from all altitudes of La Orotava Valley. Its seafront sky riser twin is Hotel San Felipe at the opposite end of the oldest Tenerife resort. Discover both hotel locations marked in the photo... Part of Hotel Maritim Tenerife is aparthotel with 60m2 large suites.
The enchanting neighborhood of Hotel Maritim
Hotel Maritim one of Los Realejos Hotels is on the border to Puerto de la Cruz. Very few people know that. That's why you shall find it listed as well under Tenerife Hotels in general. The Maritim Hotel is a prominent landmark by size and location.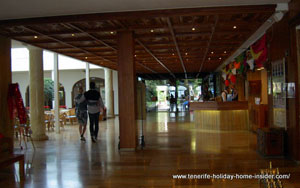 The official private Aparthotel is not totally under hotel management, while the suites are.
The air-conditioned Maritim Hotel with its individual modern, very high ceiling lobby gives you a free Wifi Internet in most of the reception rooms.
Unusual architectural ceiling feature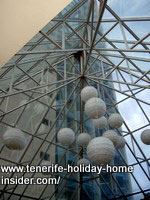 Admire the hotel lobby ceiling of the Hotel Maritim Tenerife...
It has a sculptural theme of modern art for high buildings inside.
Imagine how spectacular it may look when the sun shines, while you see the blue sky and parts of the hotel outside.
What makes Hotel Maritim of the biggest and green Canary Island special are its fantastic 40 000m2 well established, subtropical gardens. Initially, they were meant to be a botanical garden. All plants and trees were marked and categorized in a special book. Unfortunately, this service could not be kept up and most markings have disappeared in the hotel's paradise park. Another outstanding feature are two large outside pools. A large tennis court and mini golf greens are attached.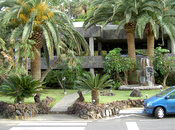 Parkhouse Maritim Hotel of Tenerife
Marvel at the Maritim parking garage... Subtropical splendor also excels there and faces the main entrance of this Puerto de la Cruz Realejos tourist resort.
However, these gardens are on three levels and not all are for people with mobility problems.
This Spain hotel Maritim Tenerife with three swimming pools has numerous sports facilities which include its associated diving club and a good fitness center. I am not sure if an English diving instructor is always available.
You can have beauty treatment, a hairdo and even buy clothes and other holiday articles downstairs in its main building.
It's true that this hotel which also has an English flag outside has frequent German tourist guests. Now, why should you object to that, as a global traveler?
The most important is the hotel's comfort and good cuisine. I know, as I stayed there for some time in June 2001.
The colors of the Hotel Maritim Tenerife's interior decoration are a mix of cool and colorful shades. They are perfect for beach holidays and time in the sun. Its panoramic views face ocean, Loro Park as well as Mount Teide.
Notice Hotel de los Roques in front of Hotel Maritim Tenerife... In reality it is not that close... But both hotels stand on rugged cliffs by 'Punta Gorda'.
One of Tenerife's best local hiking routes leads partly along the sea shore from Hotel Maritim. You can follow it as far as the artist town San Juan de la Rambla. Discover one of the trails easiest parts marked on the picture above... Enlarge the photo to enjoy more of its details...
Remember that section 2 which is pointed out in the picture is the only one suited for gentle walking! The rest involves many ups and downs.
Hotel Maritim and Roques Beach
The blue hotel complex border Realejos and Puerto Cruz has its own, almost private beach. It may share it with Hotel Los Roques which is located above it but further away than Hotel Maritim Tenerife. Learn by photos on how to find the access to this almost wild Tenerife beach called Playa de los Roques Los Realejos...
The Maritim tourist haven has the best New Years Eve fire works in the north of the island. I can safely say this after I've watched them for more than ten years from a holiday home in Tenerife Toscal.
By the way, this hotel never had a fireworks accident.
Some fun at hotel Maritim Tenerife
Special entertainment is very often on the agenda of Hotel Maritim.
Beside, discover that the Maritim Hotel even invites people who are not its hotel guests to one of its special concert pool parties. It takes place by its secluded paradise pool called Humboldt Pool, as you can gather by the photo. This last hotel event was scheduled for July 04, 2009.
Entertainment at the hotel is better
than standard, as it also has a private theater group performing there, sometimes. All amenities which are self understanding for all 4 star Tenerife hotels are to be found at the hotel of the blue towers on the border of El Puerto Cruz.
A pleasant walk of 15 -20 minutes takes you to the garden beach Playa Jardin. You will always pass the oldest resort's number One attraction the Loro Parque entertainment and sightseeing park.
Will Hotel Maritim roadworks ever come to an end?
It is all over now with the building inconvenience and road mess.
If you strolled along there before, note that the dog shelter has been removed to make room for a new road and an entirely new sea front.
The new road which connects Puerto Cruz and Loro Park with this border hotel Maritim was finally completed in June 2010. It also offers an additional way to bypass the Longuera long mile road to get you to La Villa Al Campo, Los Realejos La Vera or Realejos Alto. The brand new street takes you to the South Via Icod de los Vinos as well as to Santa Cruz past La Orotava in the opposite direction, once back on the freeway TF5.
Although the hotel has a shuttle service, it's recommended to have a rented car. Not everybody wants to walk to the hub of Puerto de la Cruz. Part of it is possible along Playa Jardin beach front and then via the long quay.(Muelle) It takes between 1,5 and 2 km on fairly level ground.
See more Tenerife Island hotels to discover all about them...
Please mind that the comment box below is meant to help others. In case you have a question or want to tell me something, kindly use this contact form.

Back to HomePage of the Tenerife holiday home insider
This site is protected by Copyscape

From Hotel Maritim Tenerife back to Los Realejos hotels.