Playa Los Roques, your own private Tenerife beach?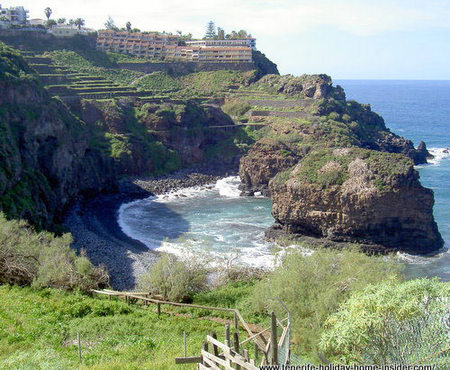 Playa los Roques of Tenerife Spain as seen from Hotel Maritim.

It was almost deserted when this shot was taken in February 2010.
This seashore is not on normal tourist maps.
Most of the time this Realejos beach of the rocks is too  wild and dangerous for swimming.
No warden puts up a red flag or protects you there, as is normal on most of seasides in North or South Tenerife.

We couldn't believe our eyes. A young tourist girl in a bikini was stretched out on this rough stone beach by this almost savage shore. The ground was covered with  round  volcanic pebbles rocks  of white and dark colors. Some were bigger than my feet. I hardly managed to walk there, although I am quite agile.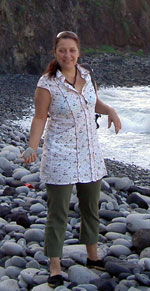 Great danger to the environment of Tenerife west coast.
It took good balancing for my friend Petra Molkenbuhr, the known cubism painter from Hamburg.
Here, she is tackling the dangerous walk over the pebbles on the Playa Roques Pebble beach.
By the way, Petra pointed out fairly big peaces of broken plastic in yellow, red, blue and white, which had been washed ashore.
They would certainly do much damage if they were landing in the stomach of a big sea creature, such as a whale or a dolphin.
Virgin beach besides plastic at Playa Los Roques.

Look at this almost virgin beach with its most delicate flora! It's on elevated rocky ground. That Tenerife beach of Los Realejos by Puerto de la Cruz was the favorite holiday hangout of a British
Reiki master, 2 years ago. This friend of a friend of mine felt in absolute tune with nature by Playa Los Roques. There, he could relax and meditate best.
By the way, the rocky beach Los Roques which isn't bigger than 10m deep by about 50m long has a narrow strip of comfortable sand in summer only.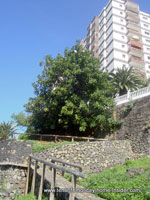 No secret on how to get to beach Los Roques Tenerife.
Discover the stairs of access Playa Roques on the side of the 4 star Hotel Maritim in the photo beside! A winding path with wooden rails and good steps invites to reach deep down to Playa Los Roques. A hiking route leads to it from Los Realejos La Longuera, as well as from Hotel Los Roques in La Romantica 2.
You have an option of a crossroad before setting your mind to the climb down to the beach.
It would lead you through the gorge above the beach along Rambla del Castro and as far as San Juan de la Rambla, eventually.
Contemplate another image of the scenic walkway beside...
It is bordered by lush costal vegetation, where Tamarix trees and Tibaiba abound.
Its steep descent of about 300 meters is not ideal for ailing knees.
Find the most fabulous natural wonders of beach landscapes of Tenerife Spain on rocks fed by Atlantic waters and fertilized by birds...
Punta Pejes Reyes the coastal Realejos Rambla deviation track that is little known.

Actually, there are five more Tenerife beaches Realejos most of which are surf beaches used by insiders.
Discover more wonders of nature by a Tenerife apartment for rent.
From Playa los Roques back to Tenerife beaches in the North with a link to Southern beaches.
Please mind that the comment box below is meant to help others. In case you have a question or want to tell me something, kindly use this contact form.

Back to HomePage of the Tenerife holiday home insider
This site is protected by Copyscape