What were the top Tenerife carnival news 2017?

The latest Tenerife carnival news were for tourists and locals alike.
The most sensational is the announcement of a Puerto de la Cruz repeat carnival in early autumn.
The best again for kids and little boys are the strange carnival wagons or rather carts.
carnival novelties
that mesmerize little boys so much, as can be clearly seen above.
A little four year old boy asked us if we could take him to see those new crazy vehicles the 'Carros locos' of Puerto de la Cruz.
The
crazy vehicle
which is depicted is handled by means of a bicycle by an adult.
Can kids take part in a crazy vehicle race?
Not, not really. They may be maneuvered by young guys but not by children. Without engines, of course, while a written permission by the parents is needed.
Also, quite a few rules and regulations have to be observed.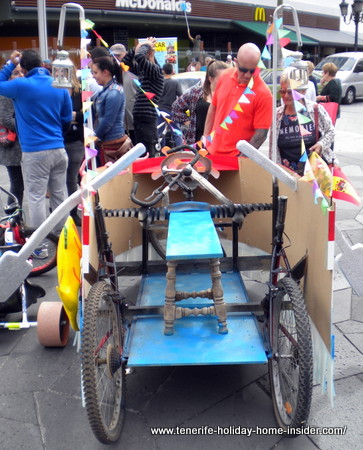 Hilarious
Tenerife craftwork
that was to be driven later in the day as a real challenge but not as a race could be viewed from 11 a.m. onward. In 2017 a real race took place.
Go see the hilarious crazy vehicles which were a challenge to drive.
Nifu Nifa Tenerife carnival news
Sorry, the following is not most recent but lets mention it anyway as typical for our times.
The Murga Fufu Nifu Nufa Murga reports anything controversial in society.
Its track record was rather good after it started to make headlines in newspapers and radio, way back in the Fifties of last century.
I liked the Fufa's less aggressive carnival songs of the past much more. The one from 2011 which the following video features is like that.
And now - A scandal
Just now, it became the center of attention, as happened never before.
Its latest carnival lyrics were interpreted as offensive. They were seen as bad language. The Cabildo of Santa Cruz vetoed them, as they were not for the ears of young children that need to be protected.
Hence the song was changed by the Murga. Now, liberty of speech was the new topic. Naturally, it should have had priority more than ever during carnival but where set the limits?
An amazing carnival machine seen in 2017
Lametti is not part of Tenerife carnival news. However, the portrayed novelty machine may be. It spits its Lametti in a pretty wide circle. Without water, of course. Perhaps, some German invention. These mini paper off-cuts have been a funny way of recycling office paper at Fasching the carnival of Germany for a long time. Imagine, thousands of colorful paper dots on the pavements after this gadget stopped its "mischief"...

Carnival queen news
Otherwise, election Galas of the so called 'Reinas del Santa Cruz de Tenerife Carnaval' took center stage.
The dress and attire on wheels of the 2016 queen had a weight of 80kg. The one by Madame Soleil of the year after was not much lighter.
Tenerife Carnival news 2017 listed.
On the last day of Carnival as usual, Parque Garcia Sanabria was a new excellent surrounding to start the parade of the Coches antiguos the classic cars in the capital of Tenerife which is most likely to be repeated that way.
Only two more participants at the Puerto de la Cruz gay Marathon with high heels i.e. reached the 445 mark in 2017 but, 30000 instead of the former 20000 spectators of 2016.
Move of the Carros Locos crazy vehicles race Puerto de la Cruz to 21.00 night time and to Plaza del Charco.
The vehicle of Coches y Carrozas engalados (Decorated vehicles) by Corte Ingles won first price out of 86 participants.
The main Tenerife Coso Apotheosis street parade can now be seen on television worldwide. This has been personally confirmed to me from Mexico
Puerto de la Cruz carnival has started a drag queen reality show competition in 2017 where the song of a pop star has to be copied.
Why the Duesseldorf Puerto de la Cruz Karneval alliance is as good as it was 14 years ago and even better thanks to rising tourism in the region.
The Mata Culebra event of the Puerto Carnival wins in popularity
The Sardine of El Puerto may now already be visited and moaned around lunch time before her burial
Güimar carnival fans vetoed the new poster for the Burras witches event as part of a Sardine show on 10th of March 2017


It remains to wonder if the novelty event Circo Circus on Ice which had a most charming float in the Puerto Cruz parade will return there in the future.
Puerto de la Cruz announced a repeat Carnival festival for September 16,17 and 18 of 2017.

A Tenerife newspaper article with stunning photos and info in Spanish about the new Carnaval queens of the Tenerife capital here
Kindly use a translator tool for your own language...
Tenerife carnival news about the weather
So far, the cloudy January of 2015 and 2017 had many worried. Mind Carnival 2016 was with summer weather galore. There had not been cool disguise seasons in Tenerife since 2006. However, all went well with about 20 degrees Celsius in day time for all parades including the Grand Coso anywhere on the island.
Otherwise, about 4 days before Lent, carnival approached its festive climax. Then, not even cooler nights did prevent the heating up of a mounting frenzy.
Carnival novelties for the palate
Puerto de la Cruz has its own Spanish expression for it, namely
Carnaval de los Sabores
.
Muelle
on all carnival days even when other vendors only take part at night.
Those were introduced recently. You can tank energy by downing some of the best beers. You may comb these latest kiosks for traditional food like sausages, cheese, Tortillas, Papas arrugadas, Pizzas, Arrepas and any carnival treats for your sweet tooth. I wonder if the traditional German Carnival food the Kräppel pastries are also found there.
> From Tenerife carnival news back to Tenerife attractions carnival.
Please mind that the comment box below is meant to help others. In case you have a question or want to tell me something, kindly use this contact form.

Back to HomePage of the Tenerife holiday home insider
This site is protected by Copyscape

Back up to top?