Ikea Tenerife hyper Ikea furniture store is ideal for holiday home in Tenerife
In fact, Ikea Tenerife merits whole day trips.
It's like an adventure strolling through its colorful lanes.
I know lots of people with holiday homes that go there on a regular basis just for browsing, because there is always something exciting and new to see.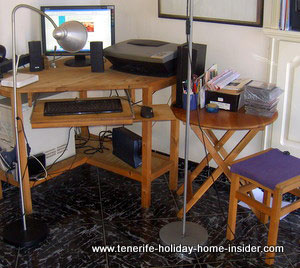 Look at my space saving Ikea Tenerife office corner. Admire the practical, wooden, Ikea corner desk...This Ikea corner desk is a self assemble computer desk, as you can see.
It has stood the test of times for 11 years now after I bought it in 2001 and we are now in 2012.
The little round wooden fold-up table comes very handy beside it. It's light and can be used anywhere and for anything in a home. Contrary to the fancy desk, this round furniture was very cheap. The square stool next to it cost next to nothing and is one of handy Tenerife Ikea products.
Discover the bendable light fitting on the left. This is the only Ikea article that needed some repairs after 8 years. Where would you get guaranty for light fittings for 8 years? Of course, all computer gadgets are not by Ikea.
Ikea is one of Tenerife stores which doesn't sell electronic equipment and appliances.

Locate this tall, modern floor lamp by Ikea which is normally not next to my PC. The indirect light of this, straight, slender Ikea lamp shines towards the ceiling, which has many advantages.
Tenerife Ikea for bargain hunting and sales
Ikea of Tenerife Island is also a place to bargain hunt for small cheap home accessories, in particular. This could be a little ornament which represents a small pot plant with artificial chives, you could put on your kitchen sill. It may be a cheap poster, which comes with a frame, it may be an innovative light fitting. Go browse, the surprises are yours to discover... Sales are in midsummer.
The correct Ikea Tenerife address is:
IKEA
Calle Aceviño number 9
Parque Comercial La Laguna
La Laguna 35205, Tenerife
Tel: + 34 922 20 89 60
Fax: + 34 922 20 89 80

Ikea's store is open from 10 a.m. to 22 p.m.
and it's closed on Sundays, which could change any time in 2012 due to recession.
By bus you would take Titsa 102 or, better, your own or, rented car.
Getting to Ikea of Tenerife
Ikea Tenerife is on TF5 Freeway at km7,5 exit between Santa Cruz and La Laguna, almost, opposite the big Santa Cruz Hospital on the other side of the Autopista del Norte.
The Commercial Center looks like a village on its own with many super stores.
Ikea Tenerife lets you quickly hop over to the big Decathlon Sports stores or to the Alcampo Supermarket in the other direction. Both stores are only a few steps away. Many boutiques and all sorts of other shops are there, too.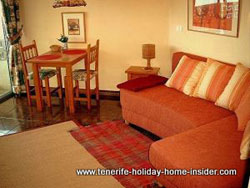 Ikea was suggested to us for adding on furniture to our partly furnished holiday home in Tenerife in 1997.
Why Ikea?
See this apartment at border Longuera and Romantica I. This apartment by Puerto de la Cruz which reach within 5 minutes by car has Ikea ornaments...
Ikea's flair is said to please all tourists on holidays on mount Teide Island.
What else did I buy at Ikea Tenerife?
Besides the things shown above I bought several ornaments from Ikea, such as candle holders, place mats, baskets of different kinds, stylish desk plates and even spot lights which I never used and traded with a friend. To be honest, I would need to go to our studio as well to remember all things purchased from Ikea. There is no point to give prices, because it's too long ago.
But, I have been happy with all those things right up to now.
.
What you might not know about Ikea
There is only one Ikea in Tenerife and that's the one by Santa Cruz.
Ikea has special sales in summer.
This Swedish shop lets you exchange what bought.
It looks after your kids while shopping.
Its professionals will help you with your kitchen made to measure.
Ikea restaurant/cafeteria is good and for every budget.
Ikea doesn't only sell items made of light timber.
This Scandinavian store sells no electrical or electronic appliances.
Ample parking.
Keep all Ikea special screw drivers in a safe place for eventual further use.
Get the Ikea catalogue...
I am so excited, that I found an Ikea catalogue for you which you can even download in English. See many Ikea photos and details...
Actually now, you can order your sofa or couch by Ikea online.
Have a look at this Ikea Catalogue for 2010 to get a good impression of Ikea products and prices...You can even see the restaurant. Click on Ver catalógo en inglés... Also find a map for Ikea at this Ikea information site...
Ikea special service
When you make a buying mistake and don't like something when you see it in your home surroundings. You are welcome to bring it back to exchange for something else. The time limit for this is 2 weeks, if I remember well. I could be longer, though...
Conclusion:
The Ikea Tenerife one stop shop is the perfect place to furnish an empty home. You need no interior decorator skills whatsoever. Ikea displays furniture and everything which could complement it together in perfect harmony. All you need is picking the theme, you like. I hope that my personal photos will help you to find wooden Tenerife office furniture to work at home... Not all of us want computer desks of metal or chrome.
Now, you know how and where I work from home thanks to Ikea. Do you want to discover more secrets about me?
Please, return from Ikea Tenerife to shopping in Tenerife, in general.
Back to Top of Page?
Up to Top?
- Please, return from Ikea Tenerife to home -