Saroj Supermarket shops in Tenerife even have Vegan and Ayurvedic products.



Indeed, the family business Saroj Supermarket has a most helpful local, Oriental and Indian food selection besides other Asian products. Libanese and African foods are part of the range. Saroj doesn't only serve the Indian community in Tenerife but fills a gap for many more demands. Get a rather detailed idea of what else you may expect.
Saroj Supermarket
is at Puerto de la Cruz, as well as at Santa Cruz. Portrayed above is its latest shop of Puerto de la Cruz.
The owner of Saroj gave me the data for address and opening times which are printed on a plastic shopping bag for both shops on August 12,2013, except for the Bazar Shani which seems to belong to the same family.
Saroj shop Puerto de la Cruz Tenerife
Calle Valois, 43 Edificio Mapfre
Actually now, the Saroj shop is opposite the house which is shown in Flickr
Phone: 0034 + 922 - 38 55 92
Open Monday-Saturday: 9.00 to 14.00 and 16.30 to 21.00
Sunday 17.00- 21.00.
closed on Sundays and holidays
Saroj shop Santa Cruz de Tenerife
Calle Angel Guimerá, 3
Tel./Fax: 922 245 853
Open Monday to Friday: 9.00 - 14.00 and 16.30 - 21.00

Open Saturdays 9.00-14.00 and 16.30 to 20.00
My friend Angi and I pop into the Saroj Supermarket whenever we go shopping in the late evening at Mercadona in the Martianez Piramides mall .
The Puerto Cruz Saroj shop neighborhood
Locate this Saroj shop only three minutes from this shopping center. Cross the Rambla Avda. Aquisar which is opposite the mall. Turn left and walk on straight Calle Valois. Encounter Saroj a few houses after Park Xibana. By the way, we always find parking at night by Saroj's front door or over the road.
Why we go to Saroj quite often
Angi doesn't always find at Saroj what she needs. So she buys something else that is available. She should buy two or three of such articles and go back for it before using up the third. But no...Angi seems to like the lucky lucky dip method. The result of it is Angi Potluck. Unfortunately, my diet doesn't permit most of the Saroj products which she can't do without, unless I wanted Indian spices, Masalas, such as Garam Masala, curry pastes and Indian bread only.
Saroj supermarket and Ayurvedic producsts
Of course, I could purchase the famous Indian health products, such as cosmetics or remedies by Ayurveda. Or even special ones from the Himalaya...
Angi is forever asking Prakash for certain items, such as one of her favorite Indian convenience foods. Prakash is a son of the owners of the Tenerife Saroj Cash and Carry S.L.
Angi's favorite Saroj convenience foods
Palak Paneer
Paneer Mutter
Fluffy, thick Naan breads
Tom Yum soups
Jazmin Thai rice
Papadum bread
Roti bread
Other Naan breads
Seaweed noodles
Fresh Tofu
Saroj Canary Islands and Tenerife products
Gofio (just over Euro 1 per kg)
Mojo Picante and other mojos
Vino Norte or other good Tenerife wine
Pimentón Ahumado
Honey and Rum liquor and other alcoholic beverages
Fresh special herbs available during Tenerife summer
Fresh picked Curry leaves, which may be frozen to last more time
Bendai Okra medicinal herbs for a healthier skin
Ayurvedic Karela for diabetics or people who don't eat sugar
Bazar 'Shani'
Open on Sundays and on holidays
C/Valois, 23 opposite Hotel Belair
Tel: 922-37 13 13
38400 Puerto de la Cruz
Sells a large assortment of cigarettes, cigars, matches,
wines, Mojo Picon, beach towels, Kimonos, shirts as well as gifts
Needless to say is that Saroj Supermarket has or will get any Indian condiments for you.
Hot tip for pot luck
Angi once served several home made Thai dishes on her birthday. She used an Indian convenience soup by the Saroj Supermarket for extra seasoning of her Asian vegetable meat stew. The result of that improvised cooking was delicious. Indeed, mixing and matching oriental condiments with the European cuisine can produce culinary magic.
Vegetarian convenience foods at Saroj
This now is an important niche. My friend Angi just mentioned it in an email to me, as I hadn't noticed it. Saroj supermarket has some Vegan foods and many deep frozen Vegetarian dishes, such as Vegetarian Hamburgers, Nuggests, saussages and even Barbecue dishes. Most mimick chicken flavor. But there is also Vegetarian bacon. Angy says that it's so hard to get hold of Vegan food in Tenerife shops.
At least, Saroj has some. Needless to say, fresh Tofu is also there.
Other Saroj Oriental food store surprises
The Oriental food stores by Saroj in Puerto de la Cruz and Santa Cruz also keep Reina pre-call cards for Cellular Telephones in stock. Please note that such a prepay option with Reina for calling with a mobile telephone overseas is also interesting for tourists who have a holiday home in Tenerife.
Asian Yantras and charms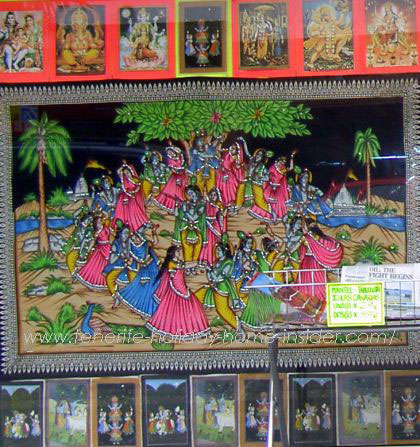 Also encounter Yoga Yantras
Indian charms
of the printed variety at the Saroj supermarkets. Indian charms are very popular in Hindu culture in the Tenerife Indian community. A huge selection was displayed in the shop front window of the Saroj Puerto Cruz branch, a while ago.
By the way, I am sure that its manager can tell you who sells best Indian pendants in Tenerife which also play a big role as Indian charms.
Of course, Saroj also serves other Asian condiments of Oriental food, such as the popular and cheap 'Thin Soy Sauce' by the brand Healthy Boy. Also find this Healthy Boy product at Fruteria M Carmen the best Tenerife Asian food shop which is in La Longuera Toscal and which is an Alibaba or Aladdin's Cave for gourmet cooks.
By the way, neither Fruteria M Carmen nor the Tenerife Saraj shops sell Indian curry plants. They are so vital for proper curry dishes. And I don't mean Cilantro which are freshly picked coriander herbs, although those I have found at Carmen's, once. We hope to have been of help for expats as well as for the owner and renter of a holiday home in Tenerife, who love cooking, as this shop together with Fruteria M Carmen of Longuera Toscal are treasure troves.
From Saroj supermarket back to shopping in Tenerife.
Back up to top?
Back to HomePage of the Tenerife holiday home insider