Apartments Tenerife North have great advantages.
Learn about Apartments Tenerife North... This is a must read before buying or renting, as not to lose Euros.
Their owners, who cannot sell now for the same reason, are trying to let them out to be able to pay for their mortgages. Those without mortgage obligations often offer them as holiday homes. Some have been repossessed by banks. However, beware, when the bank 's price of a property sounds too good to be true. Generally by the way, this page is only giving you some insider tips to help you pick up a real bargain and to know where to look.
Want to rent Tenerife apartment by Puerto de la Cruz?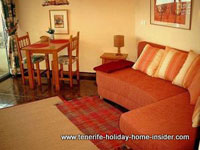 One of
apartments Tenerife North
lets is available, as its tenant lost his work and moved in with his parents. Grab this small self catering North
luxury Tenerife holiday home
...It is a real jam and even has its own electric power generator in the building.
North Tenerife apartment experiences:
When we were looking to buy apartments in Puerto de la Cruz in 1997 we were very disappointed by their standards according to prices and rather picked one ten minutes outside of town. It's true that they seldom had a view. Also, often they had a window which opened out to noisy interior yards or town squares. Learn more about these
Mini apartments of Puerto de la Cruz
with hardly space for a shower cubicle and a kitchen nook.
However,look at a mini accommodation this way
Their conditions wouldn't matter much, if you were not home often for whatever reasons. They would serve you to store your belongings, to sleep there, to have a shower and to prepare the occasional fast food to eat. However, the small flat should be clean and there should not be noisy surroundings.
Beware Tenerife north apartments in tourist hubs...
Plaza Charco
off Calle Quintana, does not depict my friend's flat. It is around the corner right opposite the town square.
Luxury apartments Tenerife North
North Tenerife luxury Apartments are available with some luck, as you may learn in page
Luxury Tenerife apartments
.
So are north Tenerife apartments with a view, which are close to beaches or Lago Martianez. However, they don't come cheap or they are quite small. Some apartments in the north are in former luxury hotels, such as Hotel Chiripa with its paradise garden. It's deplorable when their pools are not even maintained.
apartment house La Paz of colonial architecture with great timber decor facade.
By the way, you need a car, when you have a flat in la Paz, unless you walk up and down a steep hill via Carretera Botanico or Calzada Martianez to get to downtown Puerto de la Cruz. Most buses are only to be caught at the Puerto bus station for your way up. Most of them go to Santa Cruz, to the airport or to La Orotava.
Opinion about Puerto Cruz apartments
When I had buyers, who wanted to purchase my apartment studio Los Realejos, they said, all they had seen in Puerto de la Cruz was or tiny or not cheap. When those apartments Tenerife North were bargains, then there was no parking, a noisy interior patio was adjacent, a loud disco was nearby or everybody could see what you dished up on your balcony. So, they said... They also objected to 2nd hand or very cheap furniture which is usually the norm in Spanish apartments Tenerife North and South.
Apartments Tenerife North beds
This landlord habit of furnishing apartment lets on the cheap is not particular to the Puerto Cruz region only. Don't object to short 1,80m twin beds, bought new for less than &euro 100 in rental apartments or when the properties are for sale... As long the real estate object is cheap... You will sleep well anywhere, when you are tired out by the right activities. Besides, furniture can be replaced. However, think twice before renting apartments Tenerife North, when you have a back problem or when you are elderly...
What about apartments Los Realejos?
Many apartments Tenerife north are provided by Los Realejos apartments. They are definitely a proposition to look into for different reasons. Discover
where to locate the nicest self catering Tenerife apartments in the big Realejos region.
Multi faceted Los Realejos of Tenerife North
However, mind that Los Realejos is very big. It stretches from the coast over gorges and cliffs right up into mountain slopes with afternoon fogs. Also beware that some flats which seem incredibly cheap to rent are in very old blocks of flats which are often dark and cool and where it's a hassle to find parking in the road. The best apartments and studios may still be in Toscal Longuera with all its adjacent suburbs, some of which are real holiday havens and may even be off the beaten track. This part of Realejos is one of best compromises for being away from the touristic huff and puff. Meantime, you are still near beaches, health centers, doctors, malls, good restaurants and events of Puerto de la Cruz, La Orotava and other charming locations.
Apartments Tenerife north in La Victoria and Santa Ursula
Apartments La Quinta resort by Santa Ursula Tenerife North
Tenerife apartments La Quinta are in different apartment complexes or within a hotel. They come furnished, fully equipped or empty.
My friend Doris Chiandusi had to pay €600 for an unfurnished La Quinta apartment on the ground floor. It had a mini kitchen, 2 tiny bedrooms, one bedroom and a veranda. It had nothing much of a communal garden.
She had rented through a La Quinta resort agent.
A communal pool was nearby. Apartments Tenerife North at La Quinta resort are not considered bargains. There is a resort bus which may be used at day time by the hour, though. It takes at least 20 minutes walking to get to a public bus on the freeway TF5 or within Santa Ursula. La Quinta resort is near Santa Ursula. This means again that having a car is virtually a must for north Tenerife apartment users at la Quinta. Some of La Quinta hotel apartments are used for timeshares, by the way.
Apartments El Sauzal or Tacoronte Tenerife North
Tacoronte El Souzal.
The 2 Tenerife towns are twins and many of their settlements are rural. You can hardly do without a car there with few exceptions. You need your own transport, when you want to spend a night in Puerto de la Cruz, as taxis work out expensive because of the large distances. This was affirmed by my friends Monica von Mioduci, Doris Chianduci and Guenther Dahmen. Public transport for apartments around Santa Ursula and nearby towns is perfect for working hours which are often until 9 or 10 p.m., though. But, they do not help much when you stay somewhere on slopes nearby.
Apartments La Orotava Tenerife North
When La Orotava apartments are not central they may not be practical without your own car. On the other hand, the central hub will soon be for pedestrians only, which makes it even harder to find parking. However, La Orotava apartments are generally larger and may be bargains compared to other apartments Tenerife North, such as in Puerto de la Cruz. What speaks for living in La Orotava is the good quality of this elegant town with much culture, community spirit and good shops.
Which are best small northern Tenerife apartments?
Some of apartments Tenerife North were bought by Germans with money from 1996 onwards before and after the € introduction. Some wanted to have a holiday home in Tenerife for mountain walks near the Orotava and Realejos forests. Others preferred to stay near subtropical parks, beaches or near Lido Martianez. Virtually all bought for health reasons and wellness. Most of those flats were purchased in and around Puerto de la Cruz, as there are so many things to do. Besides, its infrastructure offers just about everything you need, while you take Tenerife holidays for more than a month or several times a year. Also, you always quickly reach the south when you use the free way, via mount Teide or partly along the scenic banana bordered coastal road.
Those apartments bought up by wealthy elderly Germans were, often, furnished with great taste, very well equipped and maintained.
Now, some of those people have simply grown frail and elderly and want to return to their home country. Often, they want to be near their loved ones or have other private reasons.
Unfortunately, those apartments Tenerife North are normally advertised in German. Generally those north Tenerife apartment properties are available for all kinds of life styles. Bargain properties Tenerife North Puerto de la Cruz can be found easier than in the south, as the south is more touristic, nowadays. However, Tenerife which is sometimes known as Tinerfe is a real estate paradise with countless apartments north Tenerife as well as in the south.
Best time for best bargain properties North Tenerife
Grab them for the life style you need before winter 2009/2010 arrives. Then, most foreigners with money will come to combine holidays with a holiday home in Tenerife hunt.
This end of year 2009 Tenerife property demand will certainly happen. It is due to the general opinion that the property market in Tenerife North and South has bottomed out.
Also, rent apartments Tenerife North before November arrives... Many good ones will have been taken as holiday homes for the winter or were reserved for carnival.
Apartments Icod de los Vinos
Icod de los Vinos has a beautiful old town center. However, I doubt that you will find apartments to buy or rent like in this stunning
Icod Los Vinos house
by its main square.
North Tenerife apartments in the town of the Drago and hilly vineyards are more economical. I have noticed this in newspaper ads and my friend Angelica confirmed it. Flats and housing there are ideal for families with children or for people who don't mind to be a bit out of the way from island action and events. Besides, Icod de los Vinos has its beautiful beach Playa San Marco which find in my page Tenerife beaches for romance.
Apartments San Juan de la Rambla
Apartments in this artist town about half an hour by car from Puerto de la Cruz may only be available in larger sizes. San Juan de la Rambla is not a tourist resort, you know. Apartment offers may be restricted. Besides, most small Tenerife real estate agents, many of which were franchises, have closed down due to recession, as well. Here, too, you find many flats in houses by the main road.
red corner house
with many apartments of San Juan de la Rambla. The building
is
unusual. Some of the apartments Tenerife North of this town have rather appealing looks from outside. Soon, discover more photos of San Juan de la Rambla of mine...Then, you can see for yourself that you may expect better apartment life style for the north in this artistic town.
The Tenerife property crisis for apartments Tenerife North
The crisis exists. No doubt... However, what surprises me is an unusual building construction which I have spotted in September 2009. Its building was started in 2009. This new large intriguing looking building venture takes place in Los Portreros Los Realejos. One can't see what it is going to be, once finished. I saw it now in September 2009. It is in the same unfinished condition in 2013.
It looks too fancy as a future mall with its terraces. Perhaps it will have mixed functions with apartments on upper floors. No shopping is possible in Los Portreros, unless you walk down to vibrant La Longuera with its wealth of shops. Also, this building will be close to the new suburb they are building by the new road which will connect Puerto de la Cruz with Los Realejos Alto, Villa AlCampo and south Tenerife. Apartments Tenerife North Los Portreros are a typical example for a modern Tenerife suburb which lacks amenities of all sorts in its roads.
More apartment constructions for new suburb Tenerife North which expect to be sold cheap
In 2008 before the recession, the building of several blocks of apartments Tenerife North was started in the new suburb, which has not been named yet. This is to the left of the elite Los Portreros near
Longuera of Los Realejos.
I spotted one of the building sites of the no name suburb, where workers are about to construct a communal swimming pool. All apartments in this new area do not strike me as very fancy, though. Balconies which one can see are often extremely tiny. Surprisingly, the building works which started before the Recession, were not stopped. Those pisos, as called in Spanish for apartments, will certainly be sold very very cheap. The banks are pushing for finishing them off to get the money back which they loaned to builders. Because of the property crisis with mortgages, apartments for sale or rent are everywhere.
Spot 'apartment for sale' sign boards on house fronts all over North Tenerife... Many of them were placed by agents.
Conclusion
You tell me where you can have a holiday home in Tenerife in a place with a mixture of real Spanish
and
English community life such as English clubs, an Anglican church, an amazing English library, an English school and English and even Russian speaking doctors... Apartments in Tenerife North in and around Puerto de la Cruz offer that.
Discover a news web about North Tenerife with a useful agenda of festivals and events, such as featured by a map of toughest hikes the Route 0-4-0 on May 1, 2014.
Some selected Tenerife apartment properties
From apartments Tenerife North back to apartments Tenerife for rent or for sale.
Some even accept dogs.
Back up to Top?
Back to HomePage of the Tenerife holiday home insider