A holiday apartment Tenerife for healthier living and safe retirement.
This holiday apartment Tenerife is for one or two persons. Being a studio makes it ideal for a single lady or man, although lack of space is not an issue.
The apartment is on the 10th floor.
Nothing is directly in front, except some fields and the Atlantic ocean. Otherwise, Puerto de la Cruz and La Orotava bay give you panoramic views which are gigantic.
Looking down and to the left reveals the building's huge communal pool plus the miraculous coast of Los Realejos.
This shore is the most beautiful of Tenerife in the eyes of many.
Why?
It's so in rich and diverse in birdlife, floral vegetation and picturesque cliffs and bays.
The Rambla del Castro which is one of most romantic hiking trails is right there.
Its pathways lead past caves, crevices and almost secret shores. You see some while you walk high up above the sea through nature reserves and over gorges. There, seasons change little and sundowns surprise.
The photo beside depicts the living room with a comfortable, new sofabed and the doors of 2 balconies.
Unfortunately, the time of the day was not ideal to capture the scene on camera with more natural light.
By the way, the sleeper couch which stand by the wall on the right is a very good one.
However, there is no problem with the picture of the apartment interior, which was taken at the same time from the balcony side.
Therefore, be assured, that this holiday apartment Tenerife is a cosy but, also a friendly and light place.

This spacious room has a wardrobe, bookshelves,
cupboards, satellite television, a telephone for free
incoming calls as well as a table with chairs and a nice,
old fashioned easy chair.
Lightening and light
fittings are good and offer illumination for all
occasions.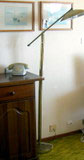 A convenient reading lamp is also
part of the equipment of this holiday
apartment Tenerife for retirement
to Spain.
The beauty of this holiday home in
Tenerife is that
the modern kitchen is behind the
wardrobe wall and that it is semi
separate.
Click the picture of the modern kitchen on your right to discover more details.
There are also several built in cupboards on two walls.
One is for cleaning stuff, iron, ironing board and more.
A small fridge with freezer is under the sink.
A glass top stove and more is beside. Pots, pans, cutlery,
plates, cups, glasses and other cooking utensils fill
cupboards and drawers.

This holiday apartment Tenerife by the sea is fully furnished and equipped.
It also has an inviting homely touch which is so often amiss with that kind of accommodation.
Pictures ornate a wall above a timber sideboard which offers good storage space.

The bathroom of the holiday apartment Tenerife comes with full bathtub and shower.
It has a mirror cabinet with shaving light and an automatic washing machine.
Olympic pool for healthier living
Beside, see one more photo of the large swimming pool which is heated in winter. It invites you to swim those rounds which will improve your health. This pool carries a cover at night which is removed in the morning.
Take note in this context that all sorts of services, such as pool, garden and lift and satellite TV maintenance are not to charged.
Just about everything is taken care off, which makes it easy to control your personal budget, as even electricity, water and trash are included. All this makes the rental price of this
Tenerife holiday home extremely cheap.
However, cleaning, automatic buffet supply or room and shuttle service do not apply. Therefore, it isn't a hotel apartment. This means that it is no holiday home in theory. Yet, its comfort and surrounding make it into one.
By the way, there is a brand new soccer stadium
and also an Olympic stadium close by.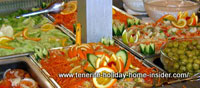 Buffet food where salads excel is on optional offer in the building. It is not for free. However, this comes handy, when you are ill or when you don't want to eat out or cook yourself.
Free front door parking and lift
Use this holiday apartment Tenerife's easy parking near the front door. From there it's only a few paces to get heavy shopping bags to the electric lift.
Semi private-garden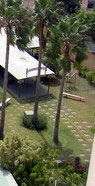 Retreat with your favorite book into a semi private garden which is ideal for relaxing.
Resort Security
Spoil yourself by living in a place which has a 24 hour/7day per week reception with security and information.
There are moments in life when we are happy to be able to just walk up to a friendly person, where we live, to ask for help.
Never feel totally alone in the resort of the holiday apartment Tenerife of the romantic coast. Feel safe during retirement in a place which has security and information 24hours/day all week long. There single people often spend time by the pool veranda where table tennis can be played. Reach taxis besides more than three bus lines nearby whose noise you will never hear.
This holiday apartment Tenerife by La Longuera Toscal is your ideal key to retire to Spain with all the advantages of the fortunate warm weather all year around where temperatures never become soaring or reach below 17 degrees Celsius which is 66,6 degrees Fahrenheit.
Infrastructure of holiday apartment Tenerife with 2 balconies
Discover how to get around and locate business, bars, restaurants, shopping, malls, sports facilities and more of
Toscal Longuera
a cosmopolitan suburb by Puerto de la Cruz of
Realejos
whose hub reach within 200 meters down the road.
The apartment's Spanish owner from mainland Spain who is a friend of mine is a retired person himself. He wants no hassles and he prefers to rent out long term .
In fact, he likes a one year lease which also always works out much cheaper for the renter.

1 year tariff will only be € 385/month with all above mentioned services and costs already included, except of course your own meals and Internet.
From holiday apartment Tenerife back to apartments Tenerife.
Please tell us here when you intend to rent Michaels place. We shall then confirm the price and the conditions. Otherwise, and or call us at Tel: 0034 + 922 363685
Please mind that the comment box below is meant to help others. In case you have a question or want to tell me something, kindly use this contact form.

Back to HomePage of the Tenerife holiday home insider
This site is protected by Copyscape