Tenerife property rental Icod El Alto for you and dog love.
Select Tenerife property rental of about 85m2 with a large open veranda according minimum vacation stay of 1 week up to one year.
This Icod Alto apartment Bentor of Icod de los Trigos of Realejos is 9 - 10 km from the beaches of Puerto Cruz or 4 km from the surf beach Playa El Socorro.
By the way, the rural view of Icod Alto from this large country home balcony is of village, country and Atlantic ocean.
Even detect the roofs of the hamlet's famous school Colegio CEO La Pared.
No high season prices
This Icod El Alto apartment Bentor doesn't have high and low season prices, as country retreats mean holidays all year long, even to a large extent for those who still work. There, the air is always better and birds sing when you wake up.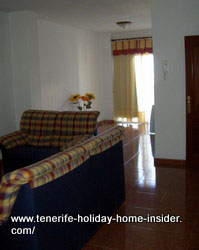 The large lounge of this Tenerife property rental of Icod de los Trigos is depicted beside. There is room for your dog to walk and for extra things which you might want to add for a personal touch. Most space is by table with chairs.
Please, see to it that you protect beds, chairs and sofas with blankets or towels, unless your dog has learned to stay off furniture.
A country home for dog love
Otherwise, It is a snap to offer more dog love and better dog holidays for example with unspoiled country nearby, such as Barranco Ruiz.
There, go for short and longer Tenerife trips on week-ends or holidays as well.
Teide excursions for you and your beloved dog are another treat, while Tenerife beaches some of which in the north will not only be for fishing in Tenerife but, but also for your beloved pet.
Clean up after your dog
Remember to never let your dog mess in this context.
Keep parks and beaches clean of dog manure.
In fact, a very big part of Tenerife has been declared national park, officially. Mind free dog bags made of plastic can be attached to dog leashes, as portrayed beside. Displaying them like that may earn you warm welcomes by all who appreciate clean streets and more.
More about Tenerife apartment Bentor Icod el Alto
This Tenerife property rental is fully equipped with a separate, large American kitchen, as portrayed beside. It has an electric glass top stove, a large fridge/freezer, table and chairs as well as cleaning utensils, such as iron, ironing board, fully automatic washing machine etc.
It has pots, pans, cutlery and dishes as well.
The lounge of the apartment Bentor is of generous size while its lounge suite is big.
The passage on its side leads to the rest of the flat with kitchen, bathrooms and 3 bedrooms.
See more photos of the Tenerife property rental with its bathrooms with tub and a proper shower with cubicle just now. Discover both bedrooms, while a bed is available for the third bedroom, unless used as utility room or study.
Additional photo gallery Tenerife property rental Bentor
Materials of apartment bentor-shower and bathtub bathroom are of good quality.
The tiles around the apartment-bentor-bathtub are reaching the ceiling.
There is an intriguing light by the apartment-passage.
| | |
| --- | --- |
| | |
| The Tenerife rental lounge is fairly big and the settee has a little table. | The apartment bentor street is just off the main road TF243. |
However, please mind the dog rules for inside this country home.
Tenerife property rental dog rules
Dogs must not sit or climb on furniture. The dog owner must use his own blankets or towels for protection of beds, lounge settee and chairs.
Outside, never leave dog dishes standing about, as they may attract cockroaches, rats and other rodents.
The apartment Bentor main bedroom has a very good and big wooden cupboards besides night tables and several light fittings.

Curtains can be closed to shut out moonlight.
The nice timber wardrobe in the bedroom is of beautiful, sturdy timber and has been well put together by a local carpenter.
It has several doors and compartments.
This furniture timber almost looks like Mahagony with a flame design created by nature.
This is the second bedroom with its pink bedcover. The blanket may be changed for one with a different colour. There is a wardrobe on the side.
By the way, a bed for the third room is available.
Prices for Tenerife property rental country home
Prices are €490/month with a yearly lease, while a more cozy apartment of Tenerife for rent is available in the same house. The most economic Tenerife rental is always with yearly contracts. Dogs are free.
Included are domestic costs such as water, electricity (but not excessive heating) and trash. It is possible to arrange for a free Internet connection, if you wish.
More about the region of this Tenerife dog paradise.
The deposit called Fianza (damage recovery) is equal to 1 month rental.
From Tenerife property rental with dogs back to apartments Tenerife
Please mind that the comment box below is meant to help others. In case you have a question or want to tell me something, kindly use this contact form.

Back to HomePage of the Tenerife holiday home insider
This site is protected by Copyscape