Cafeteria Cayaya is a cheap Tenerife restaurant for insiders.
Cafeteria Cayaya is a straight forward restaurant for little bites.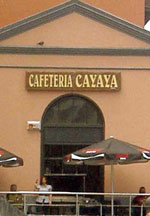 I used to go there often in the past. It's such a convenient and pleasant place in the middle of Puerto de la Cruz.

This Cafeteria is actually more of a Tapas Bar of the Tenerife bar style which I also see as an economical restaurant. 

Why?
It has tables, chairs and attentive waiters who serve you good and fresh food fast.
A Poster is often on a wall. It may advertise a town event or even a second hand computer on sale.
The Tapas place Cayaya is spacious, clean and airy inside. Its central bar dominates. It has no luxury or colonial touch. A few tables with reasonably comfortable chairs stand on a narrow veranda which is more like an elevated porch. More tables are inside. You walk up a few stairs by the side of the entrance.
But, wow, what a place to look out from!
It's the Puerto Cruz harbor view which makes the Cayaya "hangout" so captivating.
You see about 80%
of Puerto Cruz harbor with its old fashioned, peaceful splendor from this cheap Tenerife restaurant.
You spot wooden fishing boats, a dry dock, an ancient fountain and shops depending on the direction in which you look
The boats, actually, have high big bellies and are painted.
In the distance you notice sun bathers and walkers on the long quays. (muelles) Casa Aduana Puerto's oldest building stands proudly on your right.
Men who are fishing may be watched from Cafeteria Cayaya, occasionally.
At this restaurant you may see the Tenerife fishing boats coming back from the ocean by mid morning.
They are all bound to notice if Cafeteria Cayaya's front door is open or not as the photo reveals.
The fishermen, sometimes, meet up at Cafeteria Cayaca because, it's a true Spanish insider eating place for little Tapa bites.
You would think that time is standing still, here, looking out from Cayaya Tapas Bar. But, there are tourists and locals who all must pass by at La Cayaya. They come from the big free parking place by the Muelle (quay) or go there. They are heading into all sorts of directions around the port which came into existence with the conquest of the island.
I went to Cafeteria Cayaya, again in September 2008. I picked a fish Tapa at the bar and ordered a cool beer, although, not really a beer drinker. However, it goes down well with all Tapas you know.
The man behind the bar told me that I couldn't have what I had chosen. He said he was sorry that it's not good any more.
He took it back to the kitchen to have it thrown away.
I may, please, choose, something else.
I went for chicken liver tapas of Cafeteria Cayaya. They came with fried potato pieces as well as onion and red pepper sauce. The waiter brought me the Tabasco I had ordered on the side. Spanish food may lack spices, you know...
The photo gives you a good idea of the size of a general Tapa dish in relation to the Tabasco bottle.
I am telling you those chicken livers were so good, so yummy I had to order a 2nd. helping. I also had to scoop up the delicious sauce with white bread. It couldn't be let to waste.
Such a cheap Cafeteria Cayaya dish
One Tapa dish like that sets you back 2 Euros. This is more than value for money. That's a regular Tapa price in that area, by the way. I forgot the beer price for the Dorada but, it was relatively low.
Eat at home or at a hotel rather?
Who wants to wait and starve until back in their hotel or holiday home in Tenerife with such good little dishes to pick from?
Sometimes, the Cayaya Cafe is closed. Don't worry... Go there whenever it's open while you are nearby.
That way it feels like a real occasion to visit.
More lunch and dinner guests during Recession 2011
I wouldn't believe so much improved restaurant business of Restaurant Cayaya, if I hadn't seen it beginning of November 2011. Then, a welcome bulldog watched a little dog romance from outside on its balcony.
Restaurante Cafeteria Cayaya has extended in summer 2011 and includes a rooftop restaurant now which is quite popular with Spanish and
local people as well. You can see its gay red and white Coca Cola umbrellas from far, after you left your car at the Muelle quay for example. The restaurant Cayaya also serves bigger quantities of the same tapas on normal dinner plates now on its azotea rooftop. I paid around €7 for a bigger portion of my beloved chicken liver meal, while a friend had a novelty fish dish for the same price which was also good. Another neighboring restaurant is Restaurante la Cofradia which is also now one of very cool Tenerife tourist attractions which draws even much bigger crowds.
The soft and exotic name Cayaya is indeed South American. It almost sounds like Cadgadgar or rather with a 'dg' like in the English word hedge.
Want to know where the pretty word Cayaya comes from and its two different meanings?
Please, return from Cafeteria Cayaya to cheap Tenerife Restaurants with more insider places.
Back to HomePage of the Tenerife holiday home insider