What's so great about Tapas food?


The depicted Tapas food is the kind I normally like best, as it is served in a Bodega which is part of a beautiful monastery set-up.
What Tapas are depicted?
The mushroom dish with its sauce may be called a 'cazuela tapa' which also may be a tiny helping of meat stew, fish or vegetable dish. All come with sauce. The Olives are part of 'Pinchos' or Pintxos. All small edible things with a toothpick in the middle also fall under this category of 'nibble tapas' food. This is most common with bite size chunks of varied cheese.
Talking of Pintxos mind the Vintage Bar Farina 1920
This former cafe bar restaurant of La Orotava  has definitely innovated with its Tapas and Spanish style Pintxos.
     

Tapas food a way of life ?
Indeed, that's the case all over Spain for socializing and business. It includes Spanish speaking South America. It's done in bars, tascas, cafés, bodegas, bistros or in restaurants. Such parties often take more than an hour.

Most important six reasons to savor tapas
Always eating something when liquor is consumed


Being hungry in between meal times when bar or restaurant kitchens are closed

Preferring smaller portions, but more variety to eat

Tasting unique finger food, as by business promotions

A feast for the eye by designer tapas

Cheap and/or value for money
Designer food tapas that are more than culinary arts
Small Tapa appetizers or cocktail tapas. Usually, they may also be found under starters in good Spanish or Tenerife restaurants.
Tapas event of 2017 as example

El Sauzal celebrates Dia Mundial de la Tapa (World Tapa Day)
More information at elsauzal.es/actividad/dia-mundial-de-la-tapa-en-el-sauzal/  a web I, unfortunately, can't connect to.

Free tapas in Tenerife
This custom has come to an end, unfortunately.
Classic food for Tapas
Certainly, food for tapas is ideal for a special occasion, such as a wine tasting venue. Needless to say, Tenerife cheese is always in big demand for such short bites to eat. On the other hand, Bar Tapas food is ready made on stand-by.          

Some standard bar Tapas
Ensaladilla de papas (Potato salad)

Tuna fish salad

Crab salad

Pinchos of deep fried Calamares (Octopus) rings

Beef stew

Dish with baked potatoes or French fries

Spanish bean stew

Little fish,  such as Sardines, Chicharros or Gueldes


in a vinaigrette with olive oil           


Fish pastries

Hard boiled eggs

Red, or green sliced or entire Cocktail Tomatoes

Lattice leaves and onion rings

Black and/or green Olives

Tiny 'Boccadillos' (small loaves of bread) with  cheese

and/or ham or salami  'Cerrano ham' of varied quality, where 'Pata Negra' excels

'Garbanzas' beans

'Papas Arrugadas'(wrinkled potatoes) with Mojos of red and green sauces

Mojo rojo and Mojo verde

Alioli (garlic based mayonnaise) Pan blanco bread and or garlic bread




Sausages as by custom on mainland Spain 




Mushrooms in a sauce

       
See many Tapas with photos described in detail at the legendary Taperia Punto de Encuentro Unfortunately though, you can't sample the Taperia's Tapas anymore, as the owners moved back to mainland Spain.
By the way, you may ask kindly for any of the items listed when a place doesn't offer Tapas. Some bars or small restaurants go out of their way to serve you what you want, as seen below by the seaside of Las Aguas of San Juan de la Rambla.
Normal prices of Spain's most popular food?
Not more than for starters meaning about  €3 to €12.50 depending on the class of the restaurant.
Cheap and fun way to sample gourmet Tapas
Note that Culinary arts become more and more a trend with Tapas just like Tapa hopping. That's done at Tenerife Tapas bars, Tascas and restaurants. It  has turned into a yearly event for most towns or regions of the island.  It is called 'Ruta de Las Tapas'.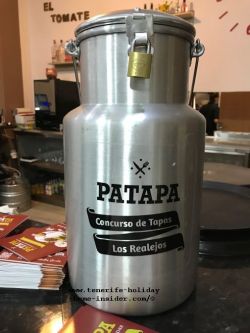 Patapa voting urn represented by a milk can for the XV contest of 2018 of Los Realejos in Tenerife - Click the photo to learn about the contest...
Here an example of the latest Tapa route the so called  PATAPA XV of Los Realejos 2018 where I started to sample the first Tapa at El Tomate Gastrobar that informs all its guests about new rules of the contest.
Disclaimer
Mind that Tapas that won prizes during Tapa Routes are  normally one-offs. Just about every bar in Tenerife took home a trophy at a Tapa Route competition. However, it will seldom offer the winning Tapa to you in the future, as it was only for a promotion.
From Tapas food back to cheap Tenerife restaurants

Please mind that the comment box below is meant to help others. In case you have a question or want to tell me something, kindly use this contact form.

Back to HomePage of the Tenerife holiday home insider
This site is protected by Copyscape

Back up to top?