Cafeteria Cayaya is a cheap Tenerife restaurant for insiders.
Cafeteria Cayaya is a straight forward restaurant for little bites called Tapas but also serves more than that.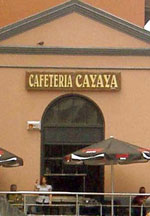 I used to go often to this convenient place by the central town square of Puerto de la Cruz. Tapas are consumed most in this bar style Tenerife eating place. Why? It's not a so called gourmet restaurant. Mostly, it's for people who are thirsty and don't drink without eating.

Plus points of the Cayaya
Good, fresh food and cool beers

Very competitive prices

Attentive waiters

Clean, spacious and airy premises

A central bar

Reasonably comfortable seating

A terrace with magic views

A social place with a communal board for customers to stick on a private advertisement note
And not to forget is the big and free parking space by the Muelle.

It's the Muelle of Puerto Cruz harbor view which makes the Cayaya "hangout" so captivating. You spot wooden fishing boats with big, gaily painted bellies, a dry dock, an ancient fountain and shops depending on the direction in which you look, while about 20% harbor area is hidden. Sun bathers and even swimmers inside the little port can be made out . Watch a fascinating  busy world by this ancient nook of town with long quays called muelles.  Casa Aduana Puerto's oldest building stands proudly on your right. Behind it by the water is the old fort.

 Fishing in this spot of the island is very popular.  Cafeteria Cayaya has the ideal lookout for it.

Tenerife fishing boats are returning from the ocean by midmorning and their seafood is sold on the quay.

They are all bound to notice if Cafeteria Cayaya's front door is open or not as the photo reveals.
The fishermen, sometimes, meet up at Cafeteria Cayaca because, it's a true Spanish insider eating place for little Tapa bites.
How can a restaurant refuse to give you food?
I went to Cafeteria Cayaya, again in September 2008. I picked a fish Tapa at the bar. I ordered a cool beer that goes down well with all Tapas.
The barman told me that I couldn't have what I had chosen. He said he was sorry that it wasn't  good any more. He took it back to the kitchen to throw away. I was asked to choose something else. Just figure that this waiter saved me from getting very ill.

I selected Cafeteria Cayaya chicken liver Tapas in onion and red pepper sauce. Fried potatoes were on the side. The waiter brought me the Tabasco I asked him for. Spanish food may lack spices, you know...
The photo gives you a good idea of the size of a general Tapa dish in relation to the Tabasco bottle.
I am telling you those chicken livers were so good, so yummy I had to order a second helping. I also had to scoop up the delicious sauce with white bread. It couldn't be let to waste.
Such low Cafeteria Cayaya prices

One Tapa dish like that sets you back 2 Euros. Perhaps, it's a bit more now in 2018.  That regular Tapa price in that area is more than value for money.  I forgot the beer price for the Dorada but, it was less than one Euro.
Eat at home or at a hotel rather?
Which tourist wants to wait and starve until getting back to the hotel or holiday home in Tenerife with such good little dishes to pick from?
Sometimes, the Cayaya Cafe is closed. Don't worry... Go there whenever it's open while you are nearby.
That way it feels like a real occasion to visit.
More lunch and dinner guests during Recession 2011
I wouldn't  have believed that Restaurant Cayaya's business went so well, had I not seen it myself early in November 2011.  That's when a bulldog was sitting on the terrace of this dog friendly place.

Restaurante Cafeteria Cayaya has extended in summer 2011 and includes an Azotea rooftop restaurant now. This is quite popular with Spanish and local people as well. You can see its gay red and white Coca Cola umbrellas from far, after you left your car at the Muelle quay for example. The restaurant Cayaya also serves bigger quantities of the same Tapas on normal dinner plates now on its Azotea. I paid around €7 for a bigger portion of my beloved chicken liver meal, while a friend had a novelty fish dish for the same price which was also good. Another neighboring restaurant is Restaurante la Cofradia which is also now one of very cool Tenerife tourist attractions which draws even much bigger crowds.
The soft and exotic name Cayaya is indeed South American. It almost sounds like Cadgadgar or rather with a 'dg' like in the English word hedge.
Want to know where the pretty word Cayaya comes from and its two different meanings?
Please, return from Cafeteria Cayaya to cheap Tenerife Restaurants with more insider places.
Please mind that the comment box below is meant to help others. In case you have a question or want to tell me something, kindly use this contact form.

Back to HomePage of the Tenerife holiday home insider
This site is protected by Copyscape