Playa Blanca is an insider tip for a trip or could be part of a Tenerife tour.
Playa Blanca Caleta or (Diego Hernandez) is a seashore on Costa Adeje which is only known by insiders or some locals. This beach has white sand, as the name says. In fact, it's almost snow white. It's also quite powdery and very soft.
This white beach by Armenime is an almost virgin seashore without any amenities, least of all a blue flag.
However there, the ocean is very clean which includes the occasional horse shoo type pools between rocks.

Where is this little known beach of Tenerife?
Let the map Tenerife White beach help you to get there.
Coming from Los Gigantes ?
It shouldn't take more than 40 minutes from there by using the TF47 road until Adeje. Then turn off to La Caleta.
Spot a catamaran on the left of one of Tenerife Catamaran tours which is depicted beside.
In fact, it is approaching the shore.
For sure, it's going to anchor there.
Why?
Private yachts or companies, such as www.tenerifedolphin.com offer such trips.
They depart from nearby Puerto Colón or Los
Christianos for watching dolphins and whales.
Then, tourists may bath at Beach Playa Blanca, as swimming with cetaceans is not allowed.
How reach the Tenerife Playa Blanca from Adeje on foot?
This beach which my friend César calls Playa Caleta blanca is located by Punta de las Gaviotas (cape of seagulls) between El Portito of Adeje and La Caleta de Adeje.
It is definitely a little off the beaten track but worth every effort to visit it.
Why?
The see-through pristine water is of the highest quality.

Like in the Caribbean?
Well, almost...

There are two routes to access this virgin beach. One is along the sea shore. The other one leads off from a block of flats nearby.
From there, it's a hiking descent of 10 to 15 minutes.
Does it sound like a short time? Wait and see...
A difficult hike which pays off at its end
This beach Playa Diego Hernandez is not for the faint hearted. To arrive there sounds like an adventure to me.
I've heard so many details about it that I sometimes think that I've tackled them myself.
The shore route means hurdles for coastal climbing over awkward terrain.
Last not least, you virtually have to cross a gap between two rocks.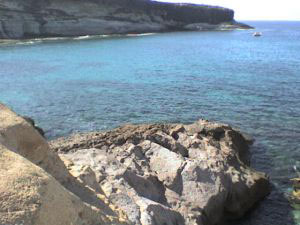 You must jump from a low rock onto a higher one, where a bridge would make sense. A stop over to snorkel in the clear waters below would be a pleasure if the rocky outcrops were not that high.
In the meantime, always mind unexpected big waves by Playa Blanca of Diego Hernandez.
The white Beach is for very fit fans of Tenerife sports in and out of the water, indeed. I admit that it must be an impossible terrain to judge by the last three pictures.
Peculiar Tenerife coastal geology
An unusual white sandstone rock is at the end of the small Playa Blanca bay. Surely, quite a bit of its white powdery substance is washed out into the sea by the ocean waves. Later on it's all returned in an almost eternal cycle. Also notice some different shades of white that change into a pale yellow...
The rare geological conditions of this white beach by Armenime are unlike those of the geology of el Medano beaches.
You can but admire this small wonder of rare Canary Island volcanology of Macaronesia.
First aid kit for Playa Blanca
Bring a minimum first aid kit to this beach! Just in case, as no life guards are there to help.
I haven't heard of Jelly fish by this White Beach but, a first one would be enough for bad luck...
However, some small angel sharks are said to have left bite marks on people's feet in the shallow warm waters during the summer of 2014. This also happened in other nearby locations. The mammals where stepped upon by accident.
The small mountain or cliff
by Beach Blanca runs all along the shore. It backs the 200 meter long beach with its width of 20 meters. No nearby hotels or residents of houses may look in.
By the way, the green spot that looks like pollution is only a shallow rock pool.
Compare with other Tenerife naturist beaches
And, most of all, Beach Blanca Diego Hernandez is a seashore where it's possible to swim without currents that are as bad as those of the nudist beach Playa Los Pintos of La Orotava. The white beach is also not known for excessive wind, as is typical for the naturist beach by Montaña Roja of El Medano.
Hotel accommodation by white Adeje beach
Find recommended Adeje accommodation near Diego Hernandez beach with info on a superb Tenerife region by Playa de las Americas. Have some days of vacation away from the usual tourist buzz. Use it to meditate, to read a book, or to day dream. There, enjoy the turquoise waves of a sea any time of the year. Of course, this oasis of a seaside is worth short or longer stop-overs for anybody with a holiday home in Tenerife.
Please, note that photos No.5, No.6, No.7, No.8 and photo No.9 have been shot with a (handy phone) cellular telephone ERICSON K320i.
Mind the Atlantic ocean
When a wave washed tourists out to the ocean by Playa Paraiso not far from Playa Blanca and a family holiday in 2014 had a tragic ending.
From Playa Blanca back to Tenerife beaches.
Please mind that the comment box below is meant to help others. In case you have a question or want to tell me something, kindly use this contact form.

Back to HomePage of the Tenerife holiday home insider