Amazing Tenerife houses in Santa Cruz.
Tenerife houses of its capital impressed me greatly during my first visit of the Rambla Santa Cruz in 1997, already.

Many huge mansions line its main avenue which is a great green living town feature.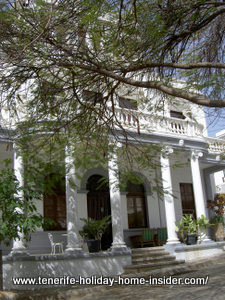 The Tenerife mansion depicted beside is a stunning home just off the Rambla which is lived in by people that don't look like millionaires.  Only their homes appear to be upper class.

I met them when they left their residence to go for a ride. But then, Rockefeller also didn't look the part in his later life, so they say.

This edifice with dimensions of a mansion could very well be in the old quarters of New Orleans that was featured in the movie "Gone with the wind". 
It has this classic colonial touch of an era where owners had many servants and threw lavish parties.

I also discovered 2 very large dogs. They calmly gazed at me when they strolled though its garden.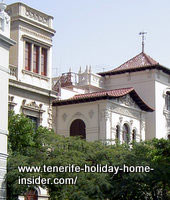 Shady old trees spread their healthy branches for man and beast in those town properties in the middle of a big harbor city.
Admire other neo classic features of Tenerife houses depicted beside.
Such town houses seldom surpass 1000 square meters which includes outbuildings and land.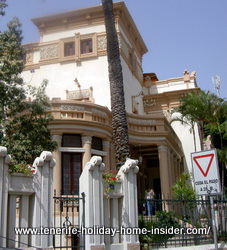 A young lady passed me to enter one of the perfectly renovated and groomed Tenerife houses in Calle Viera y Clavilo. The building hat a round tower and many bay windows.

The girl worked there. 
She went to dentist rooms or rather to an entire dental clinic. 

The latter street joins the Rambla with Plaza de Patos (Place of ducks) or Plaza 25 de Julio.

You will never get bored if you love looking at any type of architecture of houses in the green heart of the city of Santa Cruz de Tenerife.
What also makes such a town trip so pleasant are the colors of blooms of all types.
They greet you over walls and fences as well as by the Rambla.
They soften any house with tower . They do so from near or from far and if only by a neighboring property.
Anyway. The Rambla is abundant with lush plant life and trees of all sorts.
Another row of Tenerife town houses of the center hint at art deco. Those buildings could just as well be in any European street, such as in Bournemouth of the UK, in Amsterdam in the Netherlands, in Prag, in Germany or in France.
This is a different style whose lines are simple, yet elegant and practical for urban living.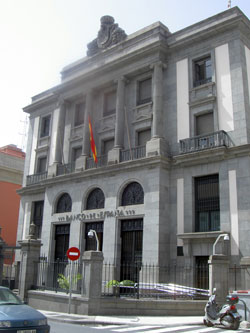 Much neo classic art by sturdy style which may be called neo classical is found in public buildings of Santa Cruz de Tenerife, such as by the Parlament building shown in page Tenerife capital.
The ancient structure of its free Masons' house is also very imposing, while it even has a Greek base and columns. .
So is the Santa Cruz Tenerife Bank of Spain Banco de España, in my mind. However, its gray stone facade is somehow dull. The gay Spanish flag changes little.
More styles of Tenerife houses
Discover the so called eclectic style 2nd empire architecture at the friendship club in the Tenerife capital here.
Spanish modern townhouse style
Return from Tenerife houses to Santa Cruz Tenerife
Please mind that the comment box below is meant to help others. In case you have a question or want to tell me something, kindly use this contact form.

Back to HomePage of the Tenerife holiday home insider