"So, why a holiday home in Tenerife and, what is it all about", our children asked us.
Explore all about the amazing holiday home in Tenerife. See pictures and videos of a magic island. This isle is your key to a future with fun, better health and more happiness.
Venture through the oldest Tenerife resort.
Comb through its most nostalgic hub. Admire the Museum Iriarte which is named after its picturesque street. Do Puerto shopping and sightseeing, all in one.
A holiday home in Tenerife is delightfully different and was suiting us very much. "Us" was my late husband and I in 1997 when we were hunting for property in romantic Tenerife North with a 2 week holiday deadline.
Where the biggest of all 7 or, actually 8 Canary Islands is, its size and, much more may be found in its information facts.
The topic 'Our island' in the navigation bar is related to a holiday home in Tenerife. Why? That's the best way to enjoy it. This is done ideally  during all the cold European winter months or several times a year. 
If your final choice for buying or renting was not a holiday home in Tenerife North or South you may miss out on carnival and amazing other festivals, on typical, nostalgic streets like Calle Iriarte, here in  Puerto de la  Cruz, North Tenerife , on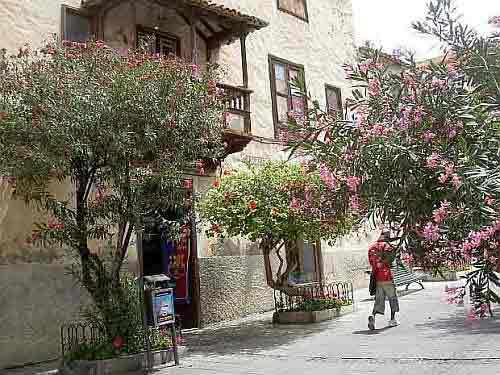 special walks or, on doing any kind of shopping while on Tenerife vacation. Calle Iriarte with its typical Canary house Iriarte museum and many interesting little shops is right in the hub of the oldest Tenerife resort and offers many holiday homes to buy as well as holiday home rental.
Cultural differences
One couldn't talk of culture chocks but, there is quite a difference between North and South Tenerife. Tenerife culture with typical details which is predominant in the north as well as history vary per location.
Climate differences
Mind 1 or 2 degrees difference in Celsius temperature between the southern and northern holiday home in Tenerife, while La Laguna may even be more cloudy and cool, occasionally. However, notice that many areas of Puerto de la Cruz are in lowlands and therefore warmer. Besides, most prefer a bit of altitude to sleep better at night without artificial cooling.
Business differences
Tenerife business is mainly tourist orientated, while much could still be done in trades with the capital's Free port.
Most Tenerife wholesalers and big malls are concentrated in the north east in the capital as well as by the Orotava Bay. Imagine the south resembling Miami where one resort after the other hardly leaves space for a local fisherman...
Wondering what this RSS 'whatnot'- button on your left in blue index bar is all about? Just left click on it and you'll find out what it can do ...
Residential property guide
Find any kind of Tenerife property related topics from buying, selling, inheritance, property law Spain, documentations, letting and much more. Even Spanish glossary terms round up this real estate guide, while pictures will help you to understand them better. Some recommended apartments  are offered for rent.
Tenerife insider tips on attractions.
They include off the beaten track
sightseeing and fun things to do,  some of which you don't easily find in the Internet.
The following topics are not to be missed
Tips that help with the holiday home in Tenerife
Priceless insider tips of the
retirement advice by Claude
are part of
life in Tenerife
seen with the eyes of a foreigner.
This guy knows; he has spent decades on the island on overseas retirement. Find links in the Frenchman's story about many a foreigner. Learn how they cope with health care and other... By the way, not all of those people have their own holiday home in Tenerife, as some of them rent.
You may of course pick more from the Index navigation bar beside. There you find secrets with many photos of towns as well as beaches which include free nature pools as well as pay-pools(lidos). Learn from topics revolving around holiday home in Tenerife in themes listed below. Otherwise locate them in the general site map for tourist information which has evolved into 5 maps because of lots for you to reveal.
I more and more, absolutely, love to create my Home Page thanks to services and help I use with hosting, tutoring and the most supporting and useful forum where I made many friends.
And, please, bear in mind, I am not a native English speaker. Take strangely spelled words or unusual expressions of mine with a grain of salt... Excuse American ways of spelling, if you are British... Let me know by my Contact link if there was something that sounded too strange.

Dive right into my island adventure and read about an amazing vacation... It was not normal. Besides, it included a holiday home in Tenerife hunt of residential property.
[netinsert=0.0.1.12.2.9.1]

Want to follow us at Pinterest?