The Taoro Park is one of the best suburbs for a holiday home in Tenerife or, for any residential property in Tenerife, Canary Islands, Spain.
The Taoro Park better known as Parque Taoro with its more than 100 000 square meters is the biggest of Puerto de la Cruz and includes the 'Mal Pais'. Its superb views, often gigantic shade trees and some soft, sandy pathways of La Sortija of former horse races are a jogger's and dog walker's paradise. It even has a free fountain for the sportsmen and the four legged visitors. Paved pedestrian walks which are good for wheel chairs run along the main avenue the Carretera Taoro.
This Taoro Parque of the Atalaya Gardens with its spectacular look-out also has one of most beautiful Tenerife water parks , besides the Risco Belo Aquapark.
Whoever has a private holiday home in Tenerife and, has chosen it in this area of Puerto de la Cruz is fortunate, indeed.
Almost a tropical oasis below Hotel Taoro
Admire the lush vegetation by the Cascadas de Taoro which are almost natural waterfalls.
There are no water parks on the biggest of all Canary Islands which may rival this landscaped one. Even its surrounding copies the nature of a rain forest, unlike the landscaped waterfall by beach Playa Jardin.
Taoro hotels with their own parks
Hotel Tigaiga of Taoro Park which is highly popular with German tourists has show gardens with categorized plants and trees. Hotel guests may get a free guided tour. It's worth a visit, while €3 buy you a folk dance concert there on Sundays at 11a.m. Hotel Tigaiga is also one of the most popular hotels of all Canary Islands, as per TUI surveys and statistics.

Panoramic views of Taoro Park
The panoramic views towards the Martianez coast and much of the Orotava Valley formerly called Aurotava by the aborigine Tenerife inhabitants the Guanches are stunning.
This lush country on a hill above downtown Puerto Cruz was a favorite residential spot of the Guanche Kings of Taoro. Only the views of the Humboldt look-out could rival it.
Gorge Barranco Tafuriaste for new Taoro access?
Depicted is the great view of the distant Taoro elevation with its historic hotel, as seen from La Paz. The Barranco Tafuriaste is between the two hill crest locations.

You best view the prominent crevice from an upper floor of the Bellevue Hospital of San Fernando which adjoins the Park of Taoro.  Since 2016, plans have been considered for a privately financed bridge over the gorge. That could add a helpful new infra structure between the long Carretera Botanico and the Taoro.


How get to Taoro Park from the coast?
Find directions to walk or drive to Taoro Park from the Puerto de la Cruz tourist hub, here.
Hotel Taoro and casino
Glimpse the Hotel Taoro through the plants above the waterfall.
That's where I last saw the entrance sign Taoro Casino at the end of August 2007. The Casino has been above and under ground in the Lido or Lago Martianez for more than seven years, now.
Now in 2014, the Casino sign is gone. 'Nothing happens there', said the cleaning woman I talked to in 2013. There were rumors that this venerable old building would become a 5 star hotel
again. Only the former casino's garden shows some change. Its big pond was drained in 2013 and all ducks and swans were removed. Repairs are due.
1893 was the year when this grand hotel which was one of most historic tourist mansions of Tenerife and Spain, opened its doors as the first Spa in Spain. It also represented Tenerife's first era of health tourism and was highly recommended by a famous London medical practitioner. The renown British Yeoward brothers supplied the ships which didn't only serve a lucrative fruit and vegetables trade but brought in the island's first mass tourism. This hotel where King Alfonso XVIII spent a short time in 1906 was designed by the Free Mason Adolph Coquet. In those days, the hotel was not only a symbol for the culture of its town. It was an icon and a show peace for Tenerife as well as for Spain until about 1975 when tourism demanded more modern hotels.
The hotel was converted into a casino only in 1976. Its gambling started in 1979 until it closed its doors in 2007.
The Hotel Taoro was not only known all over Europe by the end of the XVIII century. It was the biggest in Spain. It represented a period of elegant and romantic living.
This hotel had a turbulent past and burned down once.
A replica which was never as good as its original is still towering almost 100 meters above town. Its stunning views have hardly changed.
Needless to say is that it had the most famous guests in its best of times. Even Tsar Peter from Russia was seen there. 
Congress Center Taoro of Puerto de la Cruz
The Congress Center of Puerto de la Cruz is within the hotel gardens by the pond. The demand for the center had outgrown its size, at some stage. Suddenly, it was closed but, a beautiful Christmas concert which took place there, made the news in 2008. However, now, all is cordoned off again.
Congress center alternatives
A friend of mine attended a Tenerife medical congress in a very large seminar hotel called Semiramis in La Paz which is only separated from the Park Taoro by a gorge. The Spa hotel Botanico is by far the more luxury alternative. Both hotels can be seen from the upper rooms of Taoro hotel.
The hotel with its peculiar tiny turrets was designed by the Free Mason Adolph Coquet. In those days, the hotel was not only a symbol for the culture of its town. It was an icon and a show peace for Tenerife as well as for Spain until about 1975 when tourism demanded more modern hotels.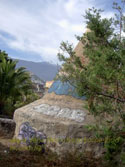 The Mal Pais
Mal Pais would translate into bad land. However, it was always fertile and water was nearby.
Also there, encounter ancient lime stone kilns there which date back 100 years. Imagine the lime used as Plaster of Paris for much art Nouveau, above all in the Tenerife capital. Marvel at one such limestone production kiln. This is one of 3 manufacturing domes at Las Capezas on the bottom of the sloping terrain of Malpais. Graffiti has become the order of the day, unfortunately. Vegetables are still grown near the little lime stone manufacturing park, which is good. Other buildings which supported production are gone, by the way.
Mirador look-out Taoro
The Taoro views depicted beside lead you over luxury villas towards Puerto de la Cruz and its coast
The photo was taken off Mirador Dulce-Doña Maria Loynaz which is part of the waterfall section of Taoro park. Maria Loynaz was a Cuban poet.(1902 -1997)
Dona Maria Loynaz as well as Agatha Christie were visitors of Taoro at about the same time.
Needless to say, the air in Taoro Park with its large landscaped public gardens is unspoiled. Smell blue Agapanthus, pink, red and white Oleander, yellow Frangipani from Hawai, Bougainvillea, Hibiscus, Lilies and also birds of paradise plants by its way sides. Once a year, huge Brazilian Jacarandas create a park ceiling of a gigantic show of purple blooms overhead.
Alberto's Bar of Taoro with great views
However, there is one bar in Taoro Park which must be mentioned. It is:
Bar with top Tenerife views
Name: Alberto's Bar
Street address: Calle Malpais,5
38400 Puerto de la Cruz
Serves: drinks, snacks and good cakes
Top floor rooms for small event bookings
Tel:922 386 061

This bar is not like many bars in Tenerife. However, the Alberto bar view from its veranda reveals breath taking Puerto Cruz sunsets as far as San Juan de la Rambla in the West.

Unfortunately, none of the charming old Canary houses can be seen from there. By the way, there are two different stairways leading down to Puerto from this bar.

One ends at kind of a large horse rodeo place which seems to have been a Tenerife North attraction in the past.

The puzzle below Malpais of Taoro Park

The latter means Art of Andalusian riding. However, its telephone number 922 385 540 doesn't help to solve its puzzle.

Other attractions of Taoro Park

The historic Tenerife Anglican church of Taoro which has a good choir and famous flea market sales with happy merry go rounds right through winter.


The British Yeaward school (Tel: + 34 922 384 685) near Carretera Las Arenas
The British library which is another icon of Tenerife history of the north
A small Orchid garden next to it
Sitio Litre historical estate and sight seeing attraction with wax figures of Agatha Christi and Hemingway who stayed there. Tel: 0034 + 922 382 417

Look from the Taoro Mirador towards el Lido/Lago Martianez.

Learn more about that Lido of Puerto de la Cruz...

It takes about a half an hour's walk to get back up the hill to the Park of Taoro. A rental car is definitely recommended for its climb.




This picture on your left shows the Mirador (viewpoint) called Dulce Maria Loynaz.

The former Casino of Puerto de la Cruz is within a few meters further up.

This center place under large trees and, palms invites to sit down on benches by fountains amids many yellow lilies and, blue Agapanthus flowers.

Great Tenerife photo shots of the panorama of the oldest resort of Tenerife may be taken from here.

 Also, one of the very few Tenerife garden restaurants is at the upper end of this look-out above the waterfalls.. Walk a few paces and spot the Restaurante Taoro now called Terraza Taoro and which is behind the fountain in the picture.

Anglican and Catholic Church of Taoro Park

Look at the funny picture with stuff bought at the Christmas Market Taoro of both the Anglican and Catholic churches. Norwegian friends of mine also adore its Christmas Bazaar which takes place every year.

Get to this massive gray stone structure named 'Church of all Saints' by walking or jogging along the Taoro Park avenue...

More church mass and quire session info at Tel: 922 38 40 38 and also inquire about the winter flea markets whose times may be different every year...

While the municipal Rastro flea market 'Mercadillo' in Puerto de la Cruz is free for sellers, the churches are charging about EU 10/table at the Taoro.

Risco Bello Park at Taoro

There is a tropical Tea garden to the left of the former Casino Taoro. This idyllic garden has more lakes and is called Risco belo aquapark where entrance to the water gardens costs something.




---




Tenerife Guanche History of Taoro




The picture above is a colorful mural with a rural scene of Guanche living. It depicts a Taoro location of the times of King Bencomo of the Guanches, before the Adelentado de Lugo disturbed the peace in 1498.

The kingdom of Taoro whose Guanche name was never lost stretched from the Guanche Icaude region of today's Icod de los Vinos as far as El Sauzal/Tacoronte. Learn more about a neolithic people who didn't only live at Taoro Park but all over Tenerife. Discover its customs and the geography which was typical for its native living before the conquest here.

Also, encounter wall tiles outside the fountains of the Taoro Mirador. They all show symbols and drawings about Guanche living and its culture.

Conclusion or last word about Taoro

Parque Taoro, as the Spaniards say, is certainly not the most practical suburb for getting up and down Puerto Cruz hills or for people who favor beach holidays. It's ideal for everybody with a rented car and for all who want to relax slightly off the beaten track. In this context, Taoro Park is a perfect location for a healthy life style with much jogging and walking in a garden suburb as well as for Tenerife property investments in elite surroundings.

A word of warning - Take care

By the way, note that more and more unemployed local youth seem to hang out by the Taoro Waterfalls since Recession 2009, just in case that this makes you uncomfortable. Generally, local youth are good kids. But take care... Simply never take valuables along when strolling through any parks, anywhere in the world.




From Taoro Park back to Puerto de la Cruz which includes a link for much exciting shopping within and near its town.








Back to HomePage of the Tenerife holiday home insider