Tenerife beaches' Las Teresitas for safe swimming, snorkeling and above all warm winter sun.
The photo of one of the best bigger Tenerife beaches Playa de las
Teresitas beach is by Ursula Astrid Ruppender.
This seashore is 7 km outside Santa Cruz, almost, by the most eastern corner of the island. Las Teresitas Playa is about 150 km from the coasts of Morocco of north west Africa, but below the latitude of the Moroccan beach resort Agadir. You can see it all by scrolling eastwards from the Tenerife maps to expand, Why maps? You can make more out of one.
The beach Teresita itself is about 1500 meters long.
The image which is shown above portrays the almost Hundertwasser type cluster village hugging the Anaga mountain slope on one side of the Atlantic seashore. It is the lovely fishing hamlet San Andres.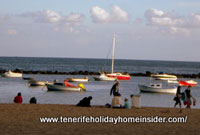 Playa de Las Teresitas is one of the most popular safe Tenerife beaches for people who are not strong swimmers and it is not a surf beach. Learn why Las Teresitas needed more than just a parallel breakwater by San Andres. The parallel stone barrier is about 500 m off shore in some places. It fences off high waves. It would be almost impossible to bath by this shore of Tenerife of Mount Teide without this barricade.
Learn more about this environmental precaution as well as about even more ancient times of this seaside by San Andres by the history of beach Playa Las Teresitas.
Also, its golden beach sand was carted to the Santa Cruz free port in big ships which was done for beaches of Tenerife down South too, by the way.
Las Teresitas beach guards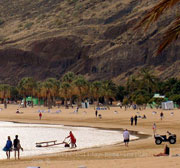 Click the photo on your right to make out two beach guards who are dressed in red. They are busy with a strange looking vehicle in the water. They are about to haul in one of the rescue boats of beach Playa de las Teresitas which they pulled up with a motor vehicle to park it off in a low building nearby. They also have their own Red Cross station.
A Tenerife Santa Cruz beach experience:
Playa de las Teresitas of Tenerife beaches is warm and cozy, even under the winter sun, unless you arrive too late in the evening. On normal days, it feels like looking at it through pink glasses with its typical Tenerife mountain scenery and African light.
Las Teresitas beach bay with San Andres is below the green laurel forests of Taganana and meadows of the Anaga mountains which protect the bay together with the barrier.. You wouldn't see Las Teresitas off the Calatrava auditorium as the view is blocked by large cliffs.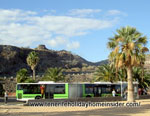 Titsa transport runs frequent buses along the coast to the bus terminal Teresitas which is depicted beside. They leave from the main station in capital Santa Cruz Tenerife, to this extended bowing out beach. Take bus Titsa 245. Santa Cruzeros make great use of that facility.
On the other hand, car parking is no problem, unless, on a public holiday, when all Tenerife beaches are crowded.
By the way, make out the drought stricken country side of December 2012 by this otherwise tropical Tenerife beach, by enlarging the photo.
A less common perspective of Las Teresitas beach and a bit of fashion
Also augment the next picture. It then portrays a rather uncommon sight of the Teresitas beach front. Again encounter the rare 2012 landscape by parts of the Anaga massif which are in dire need of rains. Their outcrops break off steeply above the blue waters. Those mountains with their unusual afternoon glow seem to echo the color of the sand while they separate the Teresitas seashore from the nudist beach Playa Las Gaviotas. There at the end of Teresitas, a vertical jetty stretches far into the ocean. You'll discover yet one more of the
fishings spots of Tenerife
at its end, albeit this time not on break-neck rocks.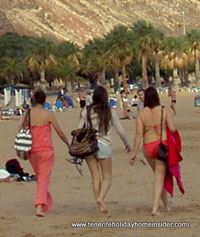 Bright orange and subtle colors of fashionable beach outfits of three beach beauties meet the eye. The girls seem to take a last lateafternoon stroll on the soft beach of Las Teresitas.
How Tenerife Chicharreros feel about their beach:
Santacruzeros called by that nickname and other island dwellers appreciate the main beach of the Tenerife capital with its protecting barrier wall very much. You see them swarming to the seashore on holidays for snorkeling, rubber boating or just swimming or sun bathing, while some bring water skies or boogie boards.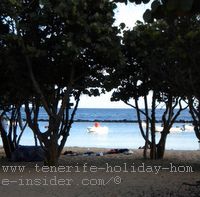 Others just meet up with cool beers, sandwiches filled with Cerrano ham and goats cheese to celebrate on the beach.
Camping or just sleeping over?
Look at the photo beside and click to enlarge...Do you also detect some beach camping? Is the big blue package under the trees a taken down tent? Lets hope that nobody was objecting. Imagine spending a romantic night in a tent by a seashore such as Playa de las Teresitas...

However, I know all kinds of North Tenerife people that love this beach by San Andres very much. And so do I... Whenever the north of the island is cooled down by a low front or wind, Playa Las Teresitas may not be windy, at all. The Anaga mountains keep it warm in its back and, the Santa Cruz sun does the rest to heat it up.
I, personally, love the beach area closest to the mountain where I always find a palm tree that provides just enough shade. There could be more palms, though, if you are asking me.
A windy beach
At times there is quite a bit of a wind at the Santa Cruz main beach, though. People's beach umbrellas fly away, then.
Therefor, the best time to go to this seaside is in the morning. That's when my friend Guenther calls it the most beautiful of all Tenerife beaches.
Las Teresitas beach amenities: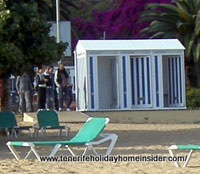 Tenerife beaches Playa Las Teresitas is not as rudimentary, as it was in the past. Notice some neat beach shower cabins with toilettes in the back. There were more such cubicles under trees.
In the past, you just washed off all sand in plain daylight at Teresitas beach, while being dried by the rays from above. You couldn't strip too much, then. Las Teresitas is not for nudists any more, although a legend tells that this was the case during the Anaga Baladero witch hunts above San Andres,
long ago.
Beach refreshments las Teresitas:
A couple of straight forward bistros invite you for snacks and cheap Tapas.
€ 7,- will easily buy you a lunch of a large Bocadillo sandwich or simple Tapas with a drink which taste good.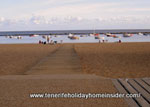 Wheelchair access
Click the picture beside to enlarge... Notice that this city recreational area of Tenerife beaches Playa las Teresitas has a generous beach on-ramp for wheelchairs. A long timber path leads from it to an extensive bay where many gaily colored leisure and fishing boats swing on gentle waves.
Who knows what is so special about this beach?
Perhaps, everybody is so fond of Beach Playa Las Teresitas, as it hasn't become a posh tourist location, as yet. It is rather unspoiled.

It has everything that is important, you know...
Big plans for Playa de las Teresitas:
Nevertheless, big plans are in the making for this still underdeveloped beach of all bigger Tenerife beaches. An innovative new set up that should attract more international tourism is occasionally much talked about. The French architect Dominique Perrault is said to be in charge of building design and planning for a new beach resort. My neighbor makes big fun of this and says that improvement plans for Tenerife beaches Las Teresitas have been big yearly news in some media since 1999 or so... By the latest, before a new government election...
The dream of a luxury beach resort Teresitas:
This is a sensitive topic and is not liked by all locals.
Postponed Playa Las Teresitas infrastructure:
Discover overwhelming
environmental problems by Las Teresitas...
The unspoiled country behind San Andres:

Explore the beautiful meadows and slopes of the Anaga by Las Teresitas Beach... Get some indication by the depicted map Taganana Benijo. There is a turn off from the coastal road at the entrance of San Andres town., before reaching Las Teresitas.
Buses from Las Americas and other southern towns to Las Teresitas:
From Las Americas: Bus 473 to Los Gigantes
Los Christianos: Bus 473 as above
Adeje: Bus 473 as above
Los Gigantes: Bus 325 to Puerto de la Cruz
Puerto de la Cruz- Santa Cruz by buses 101,102 and 103
Santa Cruz to Teresitas: Bus 245
Or consult: our Titsa information.
most convenient pick up stations: here
Book best hotel accommodation Tenerife for hotel holiday deals Santa Cruz capital to enjoy the stunning main beach by San Andres.
...
Please go from Tenerife beaches Playa las Teresitas to other Tenerife beaches, most of which are in the north.
Kindly note:
Please, pay it forward if you liked this information. Click "plus one" which is the icon below. Thank you...

Back to Top?
Back to HomePage of Tenerife Holiday Home Insider